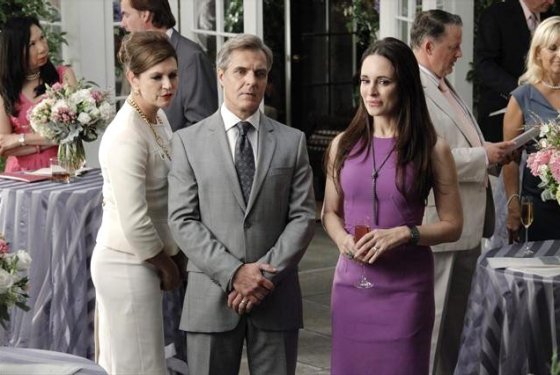 By: Dan
I've just enjoyed the latest episode of Revenge, 'Penance'.
This week had a dual focus of dealing with Mason Treadwell, and Kara's revenge on the Grayson family. After pestering Emily and Amanda, the latter decides it's time to deal with Mason and goes to his house to kill him. Emily stops her and reveals the truth to Mason, and gets him to play along with her scheme and tell Kara to leave. All does not go to plan when Mason goes off script and tells Kara about the Grayson family and their role in David Clarke's death. Kara goes on a revenge mission, and holds Victoria and Conrad at gunpoint. Emily eventually manages to contact Aiden, who deals with the situation, and Kara is finally sent on her way after a goodbye with Emily.
Meanwhile, Aiden has convinced Nolan to throw away his company to protect Emily, who Nolan considers the only real family he's ever had. Aiden and Daniel use Nolcorp in a power move, and the major investors in Grayson Global agree to back Daniel in his attempt to take over as CEO. We learn that Kenny wants revenge of his own on Jack and Declan's father, and that's why he's buying up the bar. When Mason returns home, he's arrested by police for killing Gordon, blowing up the plane that Victoria should have been on, and conspiring against the Grayson family. He's visited in holding by Emily, who offers him a deal as penance for his previous sins, and he takes it. The episode ends with Emily returning home to find Aiden waiting to check up on her, and she kisses him.
It was a very strong episode this week, once again, and was as enjoyable as ever. There were further twists and turns in the plot, with plenty more to come inevitably throughout the rest of the season. I can't wait to see next week's episode.