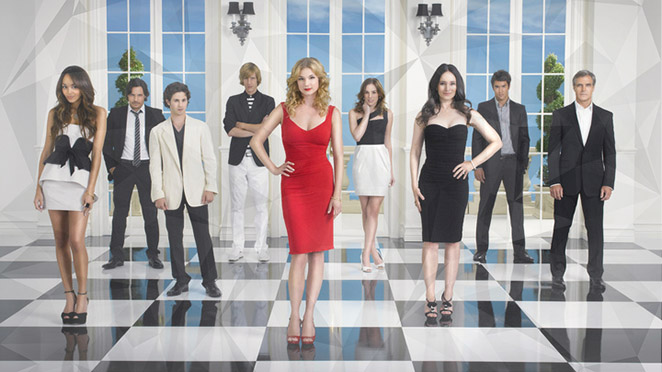 It's official, "Revenge" fans. The Emily Thorne drama is coming to an end after four seasons. We have speculated for weeks that this may be the end. it's felt like the story has been wrapping things up.
Entertainment Weekly reports that the Season 4 finale on Sunday, May 10 will be the series finale. "We can officially tell our fans that this will be the end of the story," says executive producer Sunil Nayar. "We've been talking to the network and we all just wanted to make sure that we felt very confident. Now that everybody has seen the finale — which is fabulous — everybody understands that as much as we all adore the show, it has hit exactly the mark it needed to to end. This is the series finale of 'Revenge' that will be airing in a couple weeks."
However "There's a tiny little cliffhanger in the series finale," Say Nayar "We don't want people to get weary of the stories we're telling, so we felt like they deserve an ending to this novel that Mike Kelley started four years ago. I really feel like the last couple chapters are worthy of the first many."
I don't mind a tiny little cliffhanger, as long as Jake and Amanda are together in the end! We've also heard that the "Revenge" creators planning to give us a show that as all the passion of "Revenge" called "The Kingmakers".
"The Kingmakers" Young man whose sister is found death at an elite Ivy League university. He adopts a false identity to infiltrate the school and its secret society to investigate her death.
"Revenge" wraps things up Sunday, May 10 at 10 p.m. ET/PT on ABC.