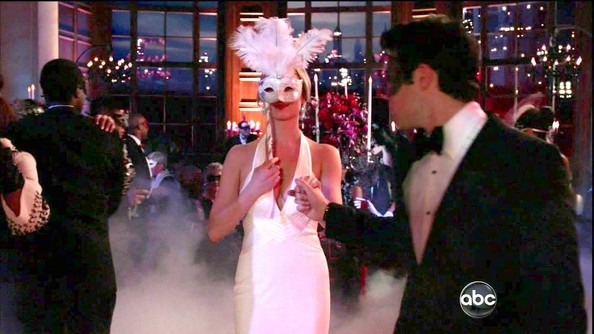 By:Dan
I've just enjoyed the latest episode of Revenge, 'Masquerade'.
This week is the Grayson's annual Masquerade ball, hosted by Victoria. She receives an RSVP that sets her on edge -from her lost son. She tells Conrad that the pregnancy was aborted, but that's a lie. Victoria bans Emily from the ball, but after Aiden wastes all of The Initiative's funds, they withdraw interest in Grayson Global, allowing Daniel to go public with Emily again, and getting her into the ball.
Aiden captures Trask, and discovers that he has killed Padma (only that morning), and that he was the one that killed his sister. Aiden kills him before fleeing. At a press conference, Jack and Nolan trick Conrad into agreeing to re-open the David Clarke case, causing a rift amongst his support team for the election. At the ball, Emily's trick causes Victoria to faint, Nolan is told of Padman's fate, and Jack learns some valuable information.
The next morning, Aiden and Emily fight over her relationship with Daniel, before Emily follows Victoria to the nunery where she left her son, and asks the nun for help, as Victoria did all those years ago. Nolan is seemingly arrested for Padma's death, and Jack and Ashley join forces to take down the Graysons, but only after they've taken them for all they can.
It was a great episode, with plenty of trickery and entertainment, as well as furthering the overall storyline nicely. It will be interesting to see how all of the characters react to the developments at the end of the episode.
Thanks for reading.
Twitter: @TheVRO
Facebook: Variety Radio Online
Tumblr: Variety Radio Online