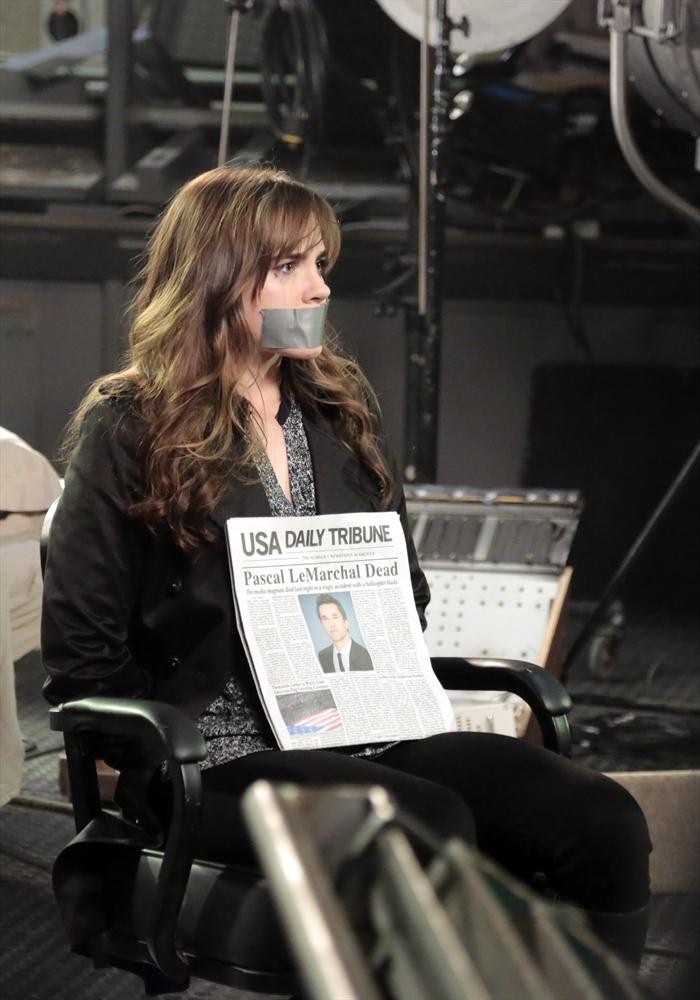 Aiden, Emily, and Nolar are behind the kidnapping of Charlotte. Daniel and Victoria think Emily had something to do with Pascals death. Margeaux is still irrelevant to the story & needs to be killed off. Javier goes to Jack looking for Charlotte. Suspicious, Jack calls Emily, but doesn't get an answer. Nolan thinks this is a bad idea, but sends a fake video to send to Conrad of Charlotte being slapped around. Emily assures him that she would never hurt Charlotte. Margeaux shows Daniel a video of a woman running down stars the night Pascal was killed. He instantly knows it's Emily.
Nolan asks Emily the first thing she will do as Amanda Clarke. She is so caught up in Emily Thorne she doesn't know who Amanda is anymore. Carl hurts himself on the playground and Victoria being her evil self picks him up as she is consoling him, but she is really collecting a DNA sample. Charlotte is shown a video of what really happened on flight 197 and how Conrad is involved.
When Conrad visits Victoria to tell her Charlotte has been abducted, she attacks him. They agree to have a press conference and come clean. Javier tracks Nolan's phone and Jack is able to find them. Seeing Charlotte held hostage makes Aide think of Colleen and tells Emily to take it down a notch. While at the pharmacy, a detective stops Emily and takes her i for questioning. While at the station she calls Nolan so he can listen in on the convo. Pascal was wearing a wire when he died that has a partial print on it. Daniel is behind the detective taking Emily in for questioning. He appears and tells the detective to pull Emily's juvie files to get her print. Aiden tells Jack he has to let her go, because no matter how many times he's tried their relationship just doesn't work. He can see tat Jack really cares for her.
When Aiden steps out, Jack sets Charlotte free. To Emily's surprise Aiden goes to the police station & attacks Daniel. Once Charlotte returns home, she lets Conrad know she knows all about flight 197. She threatens to tell th e police. Conrad then ridicules her calling he an ungrateful bastard. A camera is hidden in Charlotte's jacket and while this is going on it's being broadcast live on television. Emily has finally taken down Conrad. Back at Grayson manor Conrad tells Victoria she knew he was walking into a trap, but asks if she set it.
Conrad is arrested, but before he is taken out of the house Victoria says the most epic like ever! "Bye Conrad, do rot in hell" with an evil smirk on her face. Jack catches Emily and Aiden kissing, and gets a little jealous. It is revealed it was Aiden's idea to let Charlotte free knowing she would confront Conrad. Jack tells Emily about the supposed letters from David Charlotte received. In the guys apartment was a shrine to David Clarke. Whatever it was Jack took in last weeks episode, he gives to Emily. It belonged to her father.
In the final scene Emily visits Conrad in jail. He now knows she is behind everything and Victoria is next.
Twitter: @TheVRO
Facebook: Variety Radio Online
Tumblr: Variety Radio Online