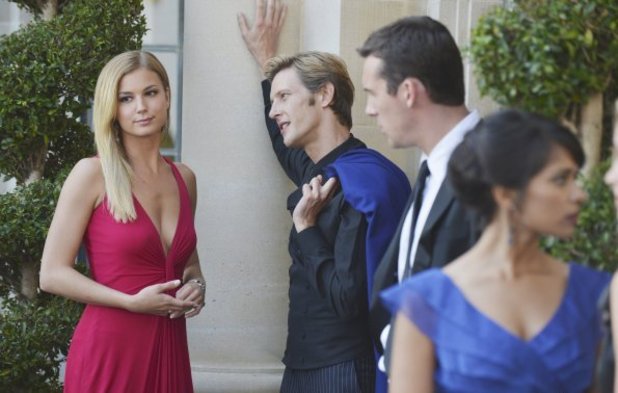 By: Dan
I've just enjoyed the latest episode of Revenge, 'Illusion'.
This week focussed on Conrad and Victoria's latest wedding. Victoria is understandably unhappy and looking for a way out, which is provided to her by Mason (though he was provided it by Emily, Amanda and Aiden). Victoria marries Conrad, knowing Mason has found Gordon's body, and evidence that Conrad had done it (planted by Emily and Aiden). Conrad is arrested and detained, but released after The Initiative come to visit him, and offer him the deal that he helps them with an unknown plot in the future and they set him free, if not he will likely die in prison. He later visits Victoria at the home, and tells her to sleep well.
Elsewhere the bar reopens (with Kenny being as suspicious as ever), Declan and Charlotte appear to be back together, Jack proposes to Amanda (who says yes), Nolan tells Padma he knows what she did and asks for her help to protect the company, Cara gets angry when Gordon is found dead, and Aiden tells Emily that she may have underestimated Ashley. The biggest news, however, comes when Mason finally figures out the connection between Emily and Amanda, thanks to a slip from Victoria.
It was a great episode, full of plotting and back-stabbing. I'm really looking forward to seeing how they develop this further, especially with everything in play at the moment.
Twitter: @TheVRO
Facebook: Variety Radio Online
Tumblr: Variety Radio Online