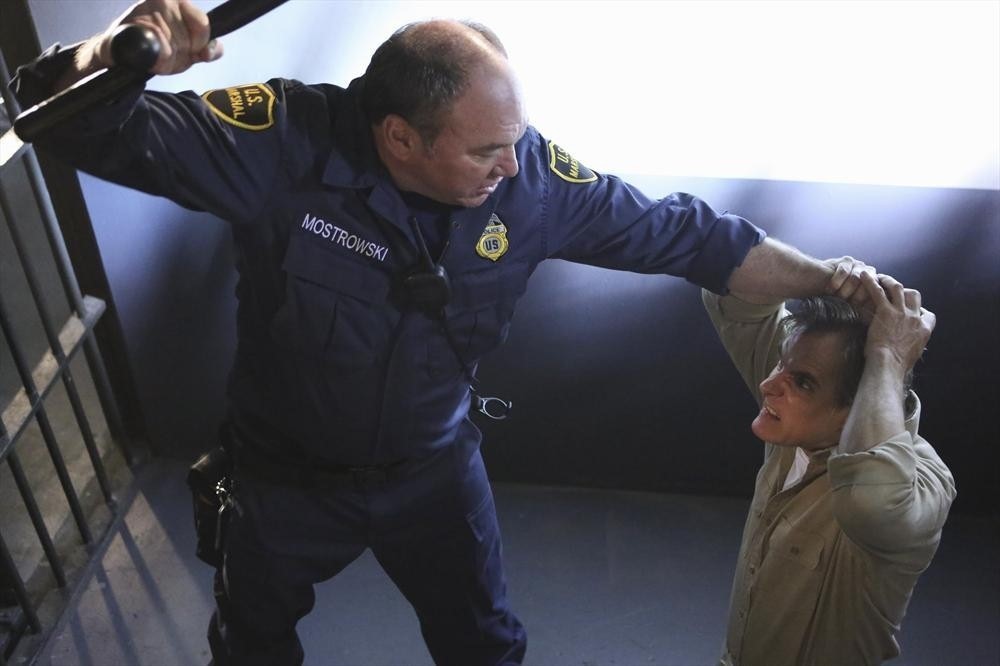 The scene kicks off with a flashback from Emily/Amanda. She's talking with her father about the ring Jack found. She believes she knows the cabin it was found at. For the first time, that I've recognized Aiden calls her Amanda instead of Emily. Victoria tells Margaux she considers her family. Now that Conrad is locked up Daniel wants nothing to do to him. Victoria threatens that Emily Thorne will feel the pain of loss. Because of Conrad's unknowing confession, the David Clarke investigation re-opens. Th cabin Jacks ring was found is a cabin that Emily's grandfather built. Margaux appoints Daniel as her second in command. Gideon is upset with Margaus for stealing the company, so he teams up with Nolan. Victoria has the DNA results and now knows Emily is Amanda Clarke, but still wants proof.
At the cabin Emily is attacked by one of Victoria's minions. She's able to fight him off, but notices a needle stuck in her. He was trying to get a DNA sample to confirm Victoria's suspicions. In Jail Conrad is beat up by a guard.
Victoria's therapist, Dr. Banks is the only one who can confirm Emily is Amanda Clarke so she has Aiden visit her. He asks her about Amanda Clarke and Victoria. The therapist leaves as if she's going to get some files, but isn't This is a trap that Victoria set up. He is drugged and falls to the ground. Then evil Victoria grabs a pillow and smothers him. While Aiden is being killed by Victoria, David Clarke is declared an innocent man. But that's not all,Victoria puts Aiden's body in Emily's house for her to find! Victoria hears her crying hysterically and knows she has now felt the pain of loss.
Emily wants the authorities to believe Aiden's death is a suicide, so she can go after Victoria. Nolan and Jack agree Victoria deserves to die, they agree to help protect Emily. The next day Emily pays a little visit to Dr. Banks. She shows her the video of being brainwashed into making her think David was a bad person
EMily gives David's ring to Charlotte and tells her she needs to move David's body. Charlotte refuses and tells her to get out so Emily decides to do it herself. She knew that Charlotte would tell Victoria everything that was said, so of course Victoria comes to David's grave and see Emily digging. Vicky tells Ems she knew something was always off about her and now knows she was seeking revenge. Emily threatens her saying she could kill her right now and no one would miss her. In turn Victoria tries to make Emily believe David is not who she thinks he is and asks why dig up his grave. But Emily isn't digging up David's grave she is digging up Amanda's. Emily then hits Victoria with a shovel!
Jack and Nolan have no idea what's going on and are worried. Charlotte confronts Jack about not telling her about the ring. When he grabs her, she recognizes the touch and knows he was apart of her kidnapping. She then calls the police and Jack is arrested. The guard who beat Conrad is actually one of his minions. Conrad gets out of jail and the minion gets paid off. While at a club with Gideon, Daniel flirts with one of the girls and takes her to a hotel. Margaux calls they agree to have a night cap. Little does he know his little one night stand has over dosed on coke and is lying dead right next to him. Gideon has a picture of this and is going to use it to blackmail Daniel. He is also the one who gave mystery girl the coke.
While Conrad is walking home singing a car pulls up behind him. A man in a hoodie jumps out and it's…David Clarke!!! He's alive!. David stabs Conrad and the show flips to Victoria who is now a patient in a mental institution. When she awakes and sees Emily beside her she asks what has she done. Ems plays it cool and tells her she needed help. Victoria screams for help and says they can't hold her without the authority of a doctor. Emily tells her they have one and in walks Dr. Banks. Yep the woman who played a role in Aiden's death is now working for Emily. The Finale ends EPICALLY with Victoria screaming "She's Amanda Clarke" over and over, then Emily walking away like her job here is done. Best finale EVER.
Twitter: @TheVRO
Facebook: Variety Radio Online
Tumblr: Variety Radio Online