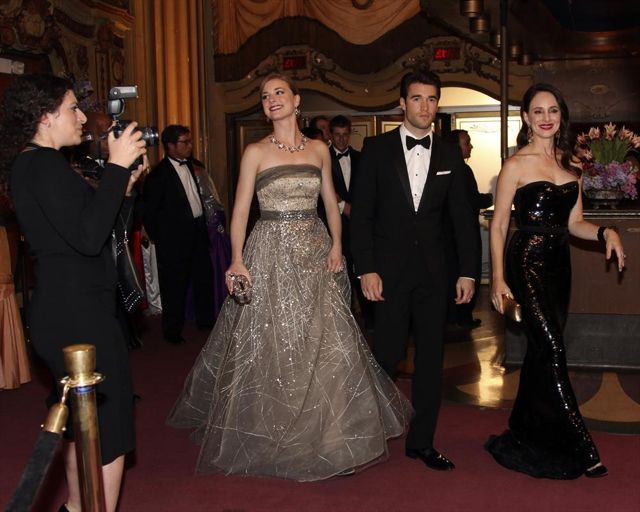 By: Parish
Opera blasting and Emily Grayson (Emily VanCamp) running down stairs is how this weeks Revenge started.  Now lets go back 36 hours.  Daniel (Josh Bowman)  and Victoria (Madeleine Stowe) are  at Grayson Manor discussing the upcoming opera event. Daniel shows Victoria the picture he has of Emily and Aiden (Barry Sloane) kissing.  He tells his Mother he's ready to get out of this marriage and Victoria says to make sure she has a front row seat when he tells Emily.
Stevie Grayson (Gail O'Grady) whose real name is revealed as Stephanie is not who she says she is. She visited Emilys dad David, while he was in prison.   Nolan (Gabriel Mann) and Emily try to figure  out why.  Meanwhile Charlotte (Christa B. Allen) meets Margaux (Karine Vanasse) at her office to discuss Conrad leaving the company.  Conrad and Margaux's dad Pascal (Olivier Martiez) go for a match at The Tennis Club. There isn't really much of a story with Margaux and her dad just her wanting Conrad Fired.  While at the tennis club Victoria shows up and of course she lets Conrad know how unhappy she is to see him.  Emily meets Stevie at her AA meeting, but it's cut short once Jack(Nick Wechsler) shows up mid conversation.  Jack warns Emily to leave his Mother out of whatever she is planning.  Back at the bar Margaux tells Jack she bought his Mom a ticket to the opera and how she wants her Dad to be the one to fire Conrad.
Later that night Emily sees Conrad at a bar and discusses Stevie.  She believes Conrad had her bring Stevie to the Hamptons to stir up trouble.  Back at Jack's home, Stevie apologizes for missing so much of his life and wonders if things would have turned out differently if she had stayed.  She tells Jack she met Amanda's mother once in prison and asked what she thought of her dad.  Back at Grayson Manor, Daniel shows Emily the picture of her and Aiden kissing and says "we're getting a divorce"  Victoria offers Emily money as a goodbye gift and say they will take her to court.  .  Emily then puts on her act and says how much she loves Daniel and can't believe how hes doing this to her after he shot her and reveals she will use that in court.
After seeing a picture of Emily and Amanda on Amanda's wedding day, Stevie knows something is wrong and decides to go to Emily's house and says "Emily Grayson. Why don't you tell me who you really are.
Once inside, Stevie tells Emily she believes David Clark was innocent and talks about her meeting with him at the prison. After she left the prison she was stopped for a DUI, which was just Conrad being Conrad because he knew she had found something out.
When Nolan returns home he finds someone in his home and attacks him.  Once he notice it's his one of his old hacker friends Javier, he asks what he's doing there.  It is revealed that Victoria is the one who hired the photographer to catch Emily and Aiden.  Pascal gives Victoria a Dolce and Gabanna dress for the opera.  Even though Victoria tells him his charms won't work she still accepts the dress.
Stevie and Jack meet at the boat.  Stevie tells him she met with Emily and wants to help her against the Graysons.  Stevie had a piece of evidence from david clarkes case, but it is not gone.  Nolan helps Jack get into the building where David Clarkes files are.    Once Jack is in he notices none of the files have dates on them, he contacts Nolan's friend who decodes them.
Emily yells at Jack for looking into her fathers files and tells him to stay out of it.  Victoria tells Daniel Emily is after their family and it's best to keep her close to them, but Daniel disagrees.  Victoria starts putting pieces together about Amanda, Emily, Aiden, and David Clarke.
The Opera is filled with paparazzi taking pictures of Emily and Daniel.  While there Charlotte comes across an article telling how Emily faked her pregnancy.  In true evil Victoria style, the Grayson Matriarch causes a scene and runs Emily out of the opera.  Now back to the scene at the beginning  of the show.  As Emily is running down the stairs she is faced by a TON of Paparazzi and gets a little dizzy.
Back at Grayson Manor Daniel has succeeded in kicking Emily out.  Victoria tells Emily that since she told everyone Lydia shot her no one will believe her if she says it's Daniel.  Daniel asks if Victoria still has Emily's medical files. She says no but, assures Daniel she will find out why Emily has been targeting them.  In one of the last scenes the story line with Pascal finally gets interesting.  Conrad wants to merge corporations, which Pascal refuses.  Conrad then offers Pascal something he has never had, but always wanted, VICTORIA
Jack visits Emily and asks what was in her fathers files.  There is a letter that was written and they find out it was written by Pascal. He had something to do with David Clarke  being framed and is now Emilys next target, which is why Emily doesn't want Jack involved.  Jack tells Emily they have to take the risk and Pascal won't know he was hit.
<p style="text-align: center;">Twitter: <span style="color: #0000ff;"><a href="https://twitter.com/TheVRO"><span style="color: #0000ff;">@TheVRO</span></a></span></p>
<p style="text-align: center;">Facebook: <span style="color: #0000ff;"><a href="https://www.facebook.com/VarietyRadioOnline"><span style="color: #0000ff;">Variety Radio Online</span></a></span></p>
<p style="text-align: center;">Tumblr: <span style="color: #0000ff;"><a href="http://varietyradioonline.tumblr.com/"><span style="color: #0000ff;">Variety Radio Online</span></a></span></p>
<p style="text-align: center;"><script type="text/javascript" src="//pagead2.googlesyndication.com/pagead/js/adsbygoogle.js" async=""></script><!– VarietyRadioOnline –> <ins class="adsbygoogle" style="display: inline-block; width: 728px; height: 90px;" data-ad-client="ca-pub-7346729492861726″ data-ad-slot="7989820070″></ins><script type="text/javascript">// <![CDATA[
(adsbygoogle = window.adsbygoogle || []).push({});
// ]]></script>