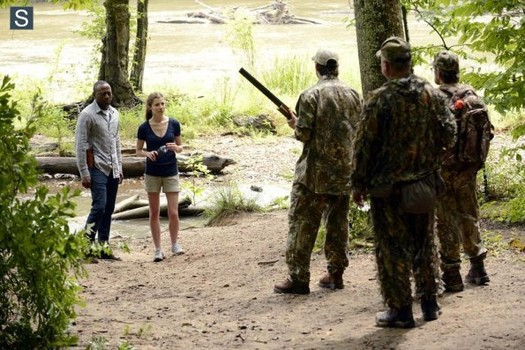 By: Parish
The 3rd episode of resurrection kicks off with Jacob's (Landon Gimenez ) body in a casket.  Yep they dug him up!  He has on the same outfit as the day he died.  It then skips to the live Jacob playing catch with his mom Lucille (Frances Fisher ) while his Dad Henry (Kurtwood Smith )stares uncomfortably.  He just can't believe that this is his son who died 32 years ago.
Agent Bellamy (Omar Epps) asks Maggie's (Devin Kelley) thoughts about finding Jacobs remains. She still has no idea what it means or what's going on.  Jacob asks Bellamy if his body was in the coffin and Bellamy quickly changes the subject.
It's obvious that Caleb (Sam Hazeldine) is hiding something, but what exactly is it?  Well Bellamy decides to let Caleb know he's been researching and is onto his dark past and won't stop til he finds out.  Caleb being the jerk he is tries to make a joke and Bellamy threatens him again
Maggie checks out Henry after he sprained his wrist.  He asks her what they found in Jacobs coffin and Maggie tells him it was Jacobs remains.  Bellamy in all his chocolate goodness shows up at the hospital to inform Maggie that Caleb is hiding something.
Back home Elaine (Samaire Armstrong ) is feeling the struggle.  She can barely make ends meet and her dad isn't helping by eating all the groceries and Ray (Travis Young) continues to let him know he doesn't want him there.  A family friend named Helen talks to Pastor Hale about Lucille.  Helen thinks Lucille is crazy because Jacob is dead and there is no way that little boy is her son.
Jacob and Sheriff Langston play cops and robbers.  Sheriff decides this is a good time to ask Jacob what happened at the river with Caleb.  He was trying to save her but couldn't.  The sheriff asks "Who are you?"  Jacob now frightened makes up an excuse to get out of the car.  Meanwhile Bellamy and Maggie go to the river to try and figure out what's up with all the dead people showing up.  Is it the river Jacob drowned in?  Half of Caleb's ashes are spread there.  A gun fires and it's some of Maggie's hunting friends being nosy wondering why she's there with agent Bellamy.
Drunk at a bar Sheriff Langston reveals a little too much info about his wife cheating and wishing the guy he cheated with had killed her to make it easier to track him down.  He sort of makes a threat by saying "If that bastard ever shows me his face"  Little does he know his wife's sidepiece is also at the bar and heard every word!
Back at the river Maggie and Bellamy find holes around the shack.  Bellamy digs into one of the holes and finds a mask.  He realizes someone is watching them and runs after him.  It's Ray who tells Bellamy and Maggie that Caleb dug the holes and knows who he is. Helen tells Tom that Lucille and Jacob are no longer allowed at the church, but Tom refuses to ban them.  Hmm now aren't Christians supposed to not judge?
Back at the house Ray tells Maggie and Bellamy what happened the day Caleb died.  There was a flood and aircraft crash.  Supposedly a space ship.   Henry finally starts to warm up to Jacob, until he has another accident hurting himself and lashes out.  He blames himself for Henry's death and it's hurting his health.
In the final scene Pastor Hale goes to the church and sees Rachel.  She asks if she really died and credits roll.
Twitter: @TheVRO
Facebook: Variety Radio Online
Tumblr: Variety Radio Online