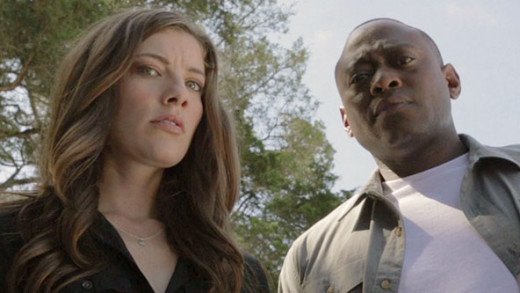 A storm is coming and Elaine and Caleb are sitting on the porch reminiscing. The sheriff and Maggie find a dead body in a home. Caleb is the prime suspect in the murder, but Maggie believes he's innocent. Back at the church Tom and his ex who has been resurrected Rachel try to figure out how she's back. Feeling guilty Tom tells his wife about Rachel and how she is his first love.
That night in bed Jacob sees someone at his window. They ended up being teenagers messing around. Scared from the incident, he has a small seizure. Because of them eating a lot and losing sleep, Caleb and Jacob are connected somehow. Bellamy and the Sheriff visit Elaine's house to take about Dale's murder. She believes Caleb did not kill him. They find out a gun is missing from the toolbox.
Bellamy and Sheriff look at files from the robbery that happened before Caleb's death. The robbery happened at the bank that Elaine works at. The same robbery happens again in present time. After the robbery happens Elaine calls Caleb, he tells her that he's going away for a while, but will come back.
While Caleb is packing food to go, he sees Ray on the phone. Ray has contacted the police to tell them Caleb's where-abouts, but he manages to escape. Elaine finds out Maggie has been keeping secrets from her. Bellamy and the sheriff pick her up for more questioning.
The police still search for Caleb. While in the car with Maggie, Jacob tells her they just past him. Maggie asks how he knows and he tells her he can feel him. Of course Maggie tells her dad where he is and they go to look for him. Usually when you're looking for someone you try to be quiet, but these police officers had their sirens blowing letting Caleb know they were there. Instead of running away, he surrenders. Sheriff tells Caleb it's over and he says no it's just beginning. Overall this episode was pretty boring.
Twitter: @TheVRO
Facebook: Variety Radio Online
Tumblr: Variety Radio Online