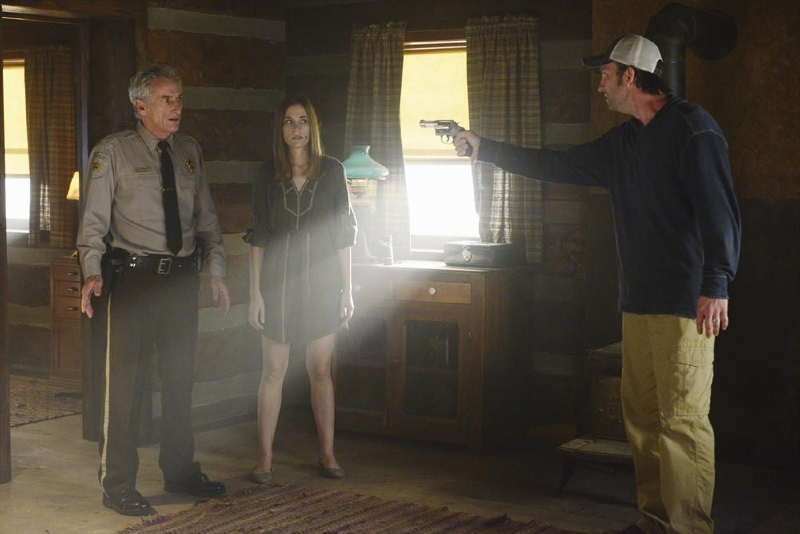 Resurrection starts off with Jacob making a new friend a the playground. Pastor Hale is worried, because no one has seen Rachel. Little does he know she has been kidnapped. Maggie tells him she could have disappeared like Caleb. Bellamy, Hale, and Maggie decide to ask Jacob to see if he can sense Rachel. The sheriff asks Henry if he really believes the little boy is Jacob.
Jacob has never sensed Rachel like he's sensed Caleb. He tells them he doesn't want to help them find her, because he's scared. Rachel tries to convince Gary and the others that she doesn't know Caleb or where he is. Two men helping Gary decide to leave. In the lab, Maggie discovers that Caleb's blood has disappeared from the sample tube. Bellamy and Tom find Gary's truck and start to put the pieces together. When Carl returns to the office Sheriff Langston knows something is up and asked him what he's done while holding him against the wall.
Tom & Bellamy go to Gary's house. No surprise he's not there. His wife thinks he left because he's unhappy in their marriage. She tells them there's a cabin he goes to when he wants to be alone. Upset about not being able to go back to the park, Jacob sneaks out. With Rachel still pleading for her life, Gary decides to see if she's really human by pulling out a knife. A knock on the door scares him into cutting her cheek, but just a little bit. It's the sheriff. Fred walks in and finds Rachel. He tells Gary he needs to take some time away from Arcadia. Gary then pulls his gun on Rachel and Fred. Which one will he shoot?
Bellamy comes in to save the day and Gary grabs Rachel and holds the gun to her head. Pastor Hale then comes in trying to calm the situation down, Rachel ends up grabbing the gun and shooting herself. She dies in Tom's arms.
While Maggie is visiting her Mother's grave she gets a call from Bellamy telling her what happened to Rachel. Jacob's parents go to the park to look for him. When they find him they also discover that his new friend Jenny and her parents are like him. Hmmm I was wondering why their clothes were outdated! At the sheriff's station another returned has popped up, but he is from a different time period. Suddenly dozens of phone calls come in. More and more people are popping up. On his way to Maggie's office Bellamy sees Rachel. She has returned once again.
Realizing that EVERYONE who has died is not returning, Sheriff races home to see his wife. She isn't there, but Maggie is. Maggie then goes to the house of her Mother's lover, and yes she is there.