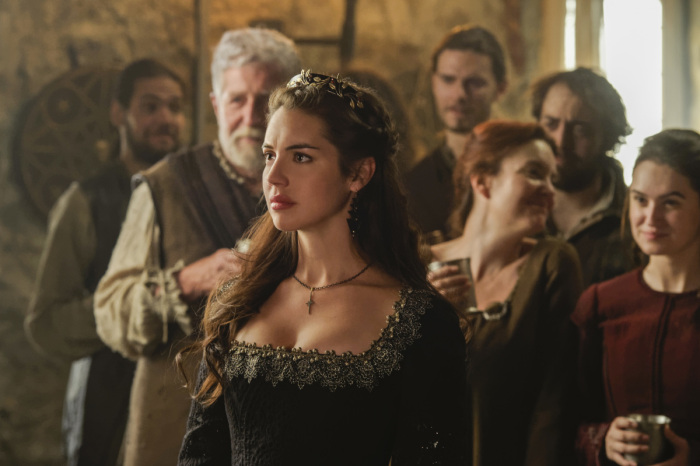 Well hello all you Royals, long time no see. Reign kicked off its final season and it seems like we're moving full steam ahead into history, which means my guess is our favorite queen might end the series without her head. But we knew what we were signing up for didn't we? Otherwise we could have still been basking in the glory of Francis (RIP) and Mary's young love. Now that Mary is back in Scotland there is not one, not two, but three countries to keep track of. And three countries means three times the drama. Let's begin.
I'll start with the old reliable, France. In France Catherine de Medici and Claude are holding down the fort, apparently Charles is in Paris. Catherine's oldest daughter, you remember her the one that got married way back in the very first episode of Reign (I mean how could anyone forget Mary and her ladies spying on the bedding ceremony not to mention Lady Kenna's moment on the stairs afterward), comes to French court with an agenda from Spain in hand. Claude is still holding out hope that Leith will return to her (so am I) but her older sister has other plans. She wants her to marry Martel de Guise, who Claude has had a relationship with in the past but now has grown to despise. Catherine doesn't want Martel getting a rise in station, since she killed his father after all, so she promises to help Claude get out the marriage. After being publicly rejected by Claude Martel tries to convince her that Leith is really dead by saying a love letter from her was found on a burned body in the village. Too bad Claude just saw that same letter in Leith's chamber a few days ago. She suspects that Martel had Leith killed, however Claude doesn't know the number one rule of TV if you didn't see a dead body anything is possible. Catherine tells her daughter that they'll handle it by killing Martel. Catherine stages his suicide in hopes it will get her daughter and Spain to back off. However it only makes the Queen of Spain want to stay at court indefinitely. Catherine duking it out with her own daughter who now outranks her? This should be fun.
Over in England Elizabeth is plotting moves against Mary. She has heard rumors that Mary is seeking marriage to her cousin Lord Darnley. With both of their royal blood lines the marriage would be a great threat to Elizabeth. She tries to prevent anything from happening by calling him and his mother to court, except his mother is the only one to show. Gideon also returns to court per Mary's request from last season to try and seduce Elizabeth. Things are still a bit chaotic after the failed assassination attempt and Lola's beheading. Narcisse is locked up in the tower and Lola's son John is nowhere to be found. Gideon tries to make Elizabeth see reason, that Mary was not involved at all in the plot. He goes to Narcisse to tell him he doesn't think Mary ordered Lola to kill Elizabeth. They realize that John's nanny was how Lola was getting letters in and out of the castle so someone could have been using her to trick Lola. Gideon tracks down the nanny who is waiting in a nearby village with John. Gideon's suspicions are confirmed when he finds out that John Knox was behind everything. He wanted to pit the two queens against each other. Gideon returns John to the castle and tells Elizabeth what he has learned. Because of this new knowledge, Narcisse is moved from the tower and allowed to arrange transport back to France. Finally Lord Darnley shows up at court despite his mother trying to keep him away and tells Elizabeth that if she allows him to come to court with the woman he loves he will stay far away from Mary and her marriage alliance.
In Scotland Mary is settling into life as a queen and working closely with her brother. She tells him of her plans to wed Lord Darnley, and he does not approve. He thinks marrying a Catholic will only anger the nation which at this point is for the most part Protestant. He tells her that the northern clans have sent a proposal of marriage for her to consider. They are still catholics but they could be a stepping stone to gathering the support of the nation before they march on Elizabeth. Before marriage alliances can be considered though, Greer arrives from France to attend Lola's funeral. At the funeral Mary is drugged and kidnapped by the northern clan. They plan to force Mary into marrying the son of the clan's leader. Mary agrees to the marriage, but really is looking for a way to escape. She manages to get away and while she is riding south runs into James and his rescue party. James has an army of 100 men, which sends red flags up for Mary. While she was gone James was conspiring with John Knox to stomp out the last of Mary's catholic supporters. He planned to bring an army to rescue her and then slaughter the entire clan as punishment for her kidnapping. However Mary pulls rank over her brother and insists that they ride north together. She will make the Earl bend the knee or he will die. When the Earl refuses to bow down she demands James be the one to kill him. That way they will have a Protestant man to direct their anger at and she will look merciful for sparing the rest of the clan. They return to Edinburgh and Mary lets her brother know that she is the one in charge and she definitely does not trust him at the moment. She plans to proceed with her marriage to Lord Darnley, but little does she know the deal he already made with Elizabeth. You know what they say, heavy lies the crown.