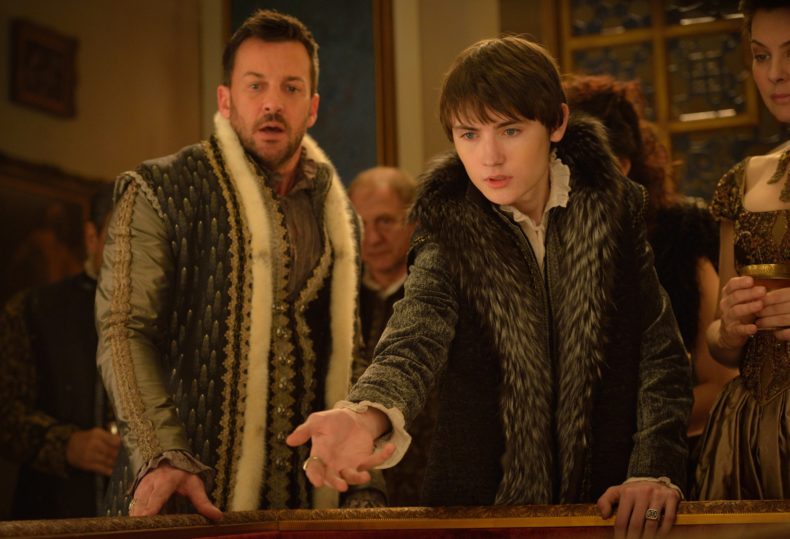 Mary and Catherine both need money and they need it bad. Mary needs money to buy herself an army, Catherine needs it to pay the army that has just returned home from fighting in Scotland so they'll defend the castle against the Red Knights. The Vatican however only has enough generosity to support one of our ladies and Mary is the lucky winner.
Now that she has the money she needs to find men who are willing and looking for another fight. Thankfully Bash knows where all the good mercenaries are. Political situations aside she's got some trouble to sort out with her friends. She hasn't heard from Greer in a while so she decides she'll just casually drop in. Greer is far past the point of being able to hide her pregnancy and Mary is obviously shocked to learn her last remaining bestie in France has been hiding a secret so big from her. Greer fills her in on the nitty gritty details, pirate lover (I'm really still pulling for him to make a comeback but it doesn't seem like that is in the cards sadly), betrayal by her sister and brother-in-law, how she's now left to raise her child alone. Mary has a plan; she'll test out her newly acquired mercenaries and have them extract Lord Castleroy from prison. If they can successfully retrieve him they're hired.
However when they mercenaries rescue Castleroy he's in pretty rough shape. After he gets some much-needed medical attention Mary and Bash take him back to Greer's place. He's naturally shocked to see that his wife is one running a brothel and two that she's pregnant. He agrees to hear Greer out but in the end decides he simply can't be with Greer anymore. Mary begs him to look deep in his heart for the embers of love she knows he must still have for her friend. Eventually Castleroy has a chance of heart and he and Greer set off to have a new life somewhere in the south of France. Thanks to Mary Lord Castleroy has a new identity and Greer has saved enough money from her business to help them land on their feet. The first of Mary's (current) goodbyes comes. Greer was the last connection she had to the life she lived when she first arrived in France. The two friends part ways and it's likely they'll never see each other again. If only France had Facebook, things would be a lot easier and probably a lot more scandalous.
After seeing Mary say goodbye to another person she loves Bash decides it's time he lay it all out on the line. Mary spoke of embers that still burned in Lord Castleroy's heart; Bash has some embers still burning for Mary. He knows that anything romantic is off limits, but he still wishes to serve her in any way he can. He wants her to be able to land in Scotland with someone by her side who will love and protect her. Was this a feeble attempt to resurrect Mash or a way to send Torrance Coombs out with a more profound storyline than being the court's Pagan crimes investigator? I'll side with the latter since sadly Torrance Coombs is exiting Reign at the end of this season. The moment was sweet, but if I'm being honest it felt kind of forced.
In other happenings Catherine is desperately searching for money to give to the generals so who else would she turn to than the cunning Narcisse. His first attempt is trying to collect taxes, but that plain fails because the peasants already can't afford what they have to pay. With no other options in sight Charles comes up with a brilliant idea, gambling! Turns out when he was just the sideline Prince with no intention of ever being king he spent a lot of time at a casino. Charles is pretty good and he and Narcisse manage to make about half of what they need to pay the generals. Since his luck is on a hot streak Charles decides to go all in. However that wasn't a smart move because he loses everything. Narcisse knows that this casino probably has some other illicit activities going on behind closed doors. Enter the French version of fight club! Narcisse challenges the club's undefeated fighter. This is a gladiator match to the death. Each fighter is equipped with a wolverine claw of sorts to make those punches that much more lethal. Narcisse makes quick work of the undefeated beast and they're on their way with the money to pay the generals.
Charles decides he and his mother will throw a banquet for the generals to present them with the money. However at the dinner party all the generals end up dead. Someone from the Red Knights is working inside the castle and poisoned all the glasses of the generals to make it look like Catherine was trying to kill them to avoid paying.
Meanwhile over in England they're celebrating the 50th jubilee of King Henry VII. Even though he's dead the anniversary of his coronation is a national holiday, that just shows you how patriarchal of a world we're dealing with here ladies and gents. This is a very important day for Elizabeth. She's invited the woman who accused her mother Anne Boleyn of sleeping with her own brother which ended up being one of the reasons she was executed, though Elizabeth and all of us know it's because she didn't give him a son and he wasn't having that. She plans to have Lola plant some stolen jewelry on Beatrice Somerset and fine her so she can reclaim the lands that once were her mother's. You see Henry paid off Beatrice by giving her the Boleyn lands.
However Lola isn't the suavest of blackmailers and she ends up in jail right alongside Beatrice. Elizabeth ends up getting Lola and Beatrice released after she finds out some things about her mother. Anee was so terrified of Henry she turned to her brother to help her have a son, but in the end she didn't go through with it. But the fact that it almost happened was enough for Henry; he already wanted to get rid of her. Elizabeth finds a new strength from learning more about her family history. She needs to strike fear into people like her father, but act with the kindness of her mother. As a thank you for Lola staying loyal to her she allows her to be reunited with her son. Who ever said Queen Lizzie was heartless?
Twitter: @TheVRO
Facebook: Variety Radio Online
Tumblr: Variety Radio Online
//