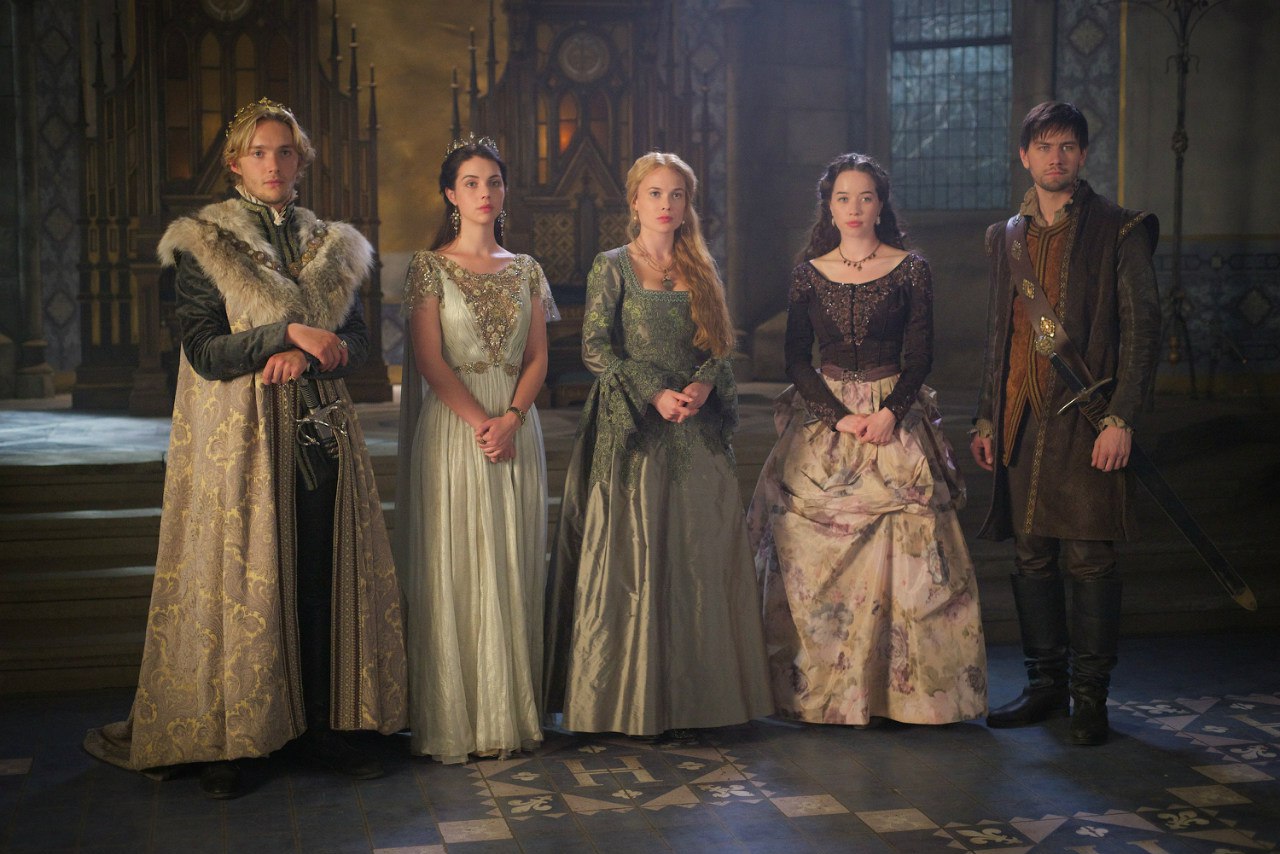 by: Emily Konopka
As we learned in the season finale last spring, Francis is in fact dying, so he's trying to savor every moment he has left with Mary. The King and Queen have rekindled their love after it seemed like all hope was lost for them. This means they spend a whole lot of time in bed, until Mary insists that they have royal duties to attend to. (What fun is that?) One of those duties is finding a way to keep hold of Scotland. If they don't come up with a way to financially secure support in Scotland, it may be lost to England.
And speaking of England, not only is Queen Elizabeth housing Catherine, she's also taking advice from her too. Catherine is supplying Elizabeth with plans on how she can remove Mary from her throne that doesn't involve military involvement. The disgraced Queen Mother of France has gathered a group of loyal witnesses who are willing to go the Vatican and testify to the Pope Mary's affair with Conde.
With nowhere else to turn, Mary decides pirates are their best bet at getting their hands on some gold. I like where this is going already. And what would a CW show be without another handsome man to stare at right? Martin De Lambert is everything you'd imagine a pirate to be, a broody face, long swooping hair (it's a shame man buns weren't in vogue back then), dude even travels around with a tiger. Though he could probably use a little more leather…and some guyliner? (Sorry still must be thinking about a certain pirate on the other show I cover). Anyways, Martin says he'll only pillage and plunder for Mary if he gets to pillage and er plunder Greer. He's seeking a high born lady to marry, and Greer has recently been welcomed back to court. Mary turns down the offer at first, but Greer tells her friend that if it will save Scotland she will gladly promise herself to the pirate…at least long enough to get his gold. Then she can just end the engagement and move on.
While we're on the subject of marriage, Narcisse has made it quite clear that he's no longer into Lola just for the sexy baths; he wants to commit himself fully to her. He offers to court her properly, but Francis isn't having it. He doesn't want his son to grow up with Narcisse as a father figure, since he knows he won't live to see his son grow up. Now that the pressure of major commitment is off the table, Lola is more willing to give herself to Narcisse, but the former playboy doesn't want just a physical relationship with her.
So Lola doesn't want Narcisse as a husband right now, but Greer has warmed up to the idea of marrying a pirate. She lets Martin below deck and is smitten by the next day, hey who wouldn't be? But unfortunately Greer was just another highborn lady to fall for his "I need a wife" charade. He has pulled it many times before. Though I'm sure we'll see his sails on the horizon again soon.
Mary finds out that Elizabeth has tried to arrange an engagement with Francis' younger brother. She takes this as news that there will be peace in Scotland, because even if Elizabeth had a Prince of France on her side, she has a King. But not for long Francis tells her. Mary is obviously heartbroken over the news and now Francis' recent behavior all makes sense. He tells her that he is doing everything he can to ensure her safety once he is gone, but they must keep his illness a secret for as long as possible. In the meantime Francis brings Charles back to court to help train him in his royal duties.
Catherine has staged an elaborate reuse to make people think she's off living in isolation in Italy. However when her decoy accidentally kills her lover during a passionate tryst (King Henry would approve), her cover is blown. Mary and Francis now know that Catherine is lurking about somewhere, and it doesn't take long for them to figure out where. Narcisse brings word that a group of people has arrived in Rome to spill the beans about Mary and Conde. The thing that gives them away is that they are carrying documents of safe passage from Queen Elizabeth. Since she is protestant and has no ties to Rome, Mary and Francis immediately know Catherine is behind the stunt.
They lead Elizabeth to believe that they are going to meet to discuss the engagement to Prince Charles. However when no ships show up to meet Elizabeth and the majority of her castle guards, the fiery haired monarch realizes she's been tricked. With the castle unguarded, French soldiers are able to slip in and capture Catherine. She is greeted by Mary who says she should have done away with her the last time she betrayed her son, who is also present to share his disdain for this mother. Mary wastes no time accusing her of treason and she locks her away next to Martin's vicious tiger until they can get back to the castle.
Twitter: @TheVRO
Facebook: Variety Radio Online
Tumblr: Variety Radio Online
//