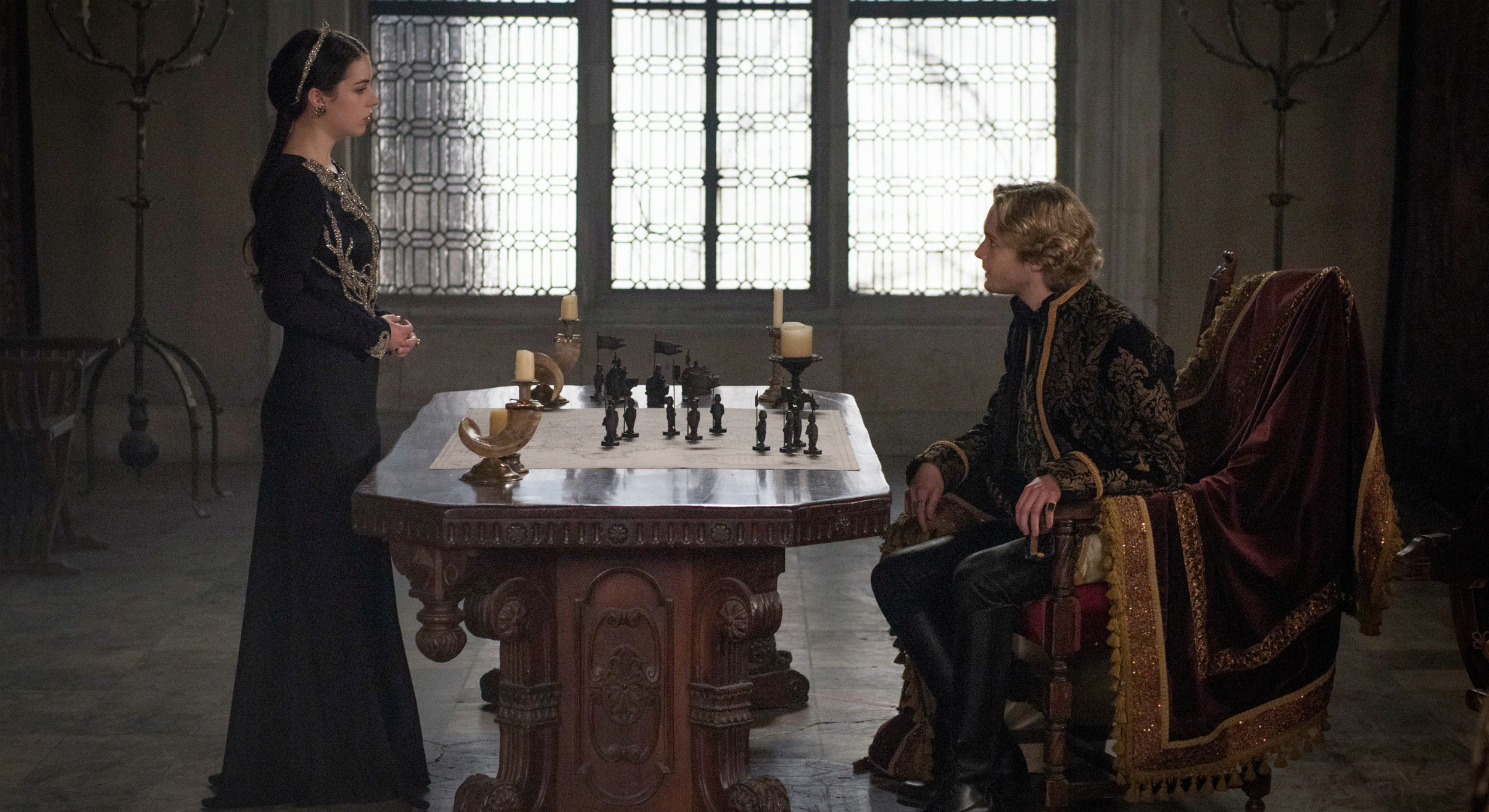 by: Emily Konopka
With the Queen of England now on his side, Condé gathers support for his coup. Meanwhile Francis and Mary scramble to find a way to combat his eminent attack.
The threat of Condé's connection to England lingers in the castle, but not everyone has gotten the memo. Kenna has decided to go full speed ahead with General Renaude, however that is short lived as he is blackmailed into serving Elizabeth, if he doesn't he'll never see his son again. But Kenna doesn't know this so when Bash returns to court with Delphine she asks him to proceed with getting their marriage disbanded. She believes she's finally found a man worthy of her.
However, in this episode, any romantic interaction should be a mega red flag so cue Catherine and Narcisse, out on a date? You heard that right. Catherine is still feeling mega insecure about being in a romantic relationship again. (I mean can you really blame her? Her husband used to bed anything that could walk and Narcisse is a known playboy). As a way to secure her new beau's loyalty, Catherine has tracked down Narcisse's prized horse that he lost when his estate was taken. Their whirlwind romantic experience is cut short when a messenger arrives warning them to return to the castle immediately.
Condé has managed to amass quite the following, and some of that following was already residing in France. Condé is greeted to a group of Protestant rebels who begin chanting King Louis of France. They're ready to see the fall of the Valois line, and now so is Condé. He tells his messenger to ride to the castle and tell Francis that he is coming for him.
Francis heeds the warning and insists that his whole family flee the castle in different directions. Francis gives Lola his baby blanket so that no matter what happens his son will know how much he loves him. Catherine tells Francis she will not be leaving the castle, his other brothers and sisters are safely abroad so she will focus all of her attention on keeping him safe. Mary vows she will do the same but Francis says she must leave. If harm comes to her after another Protestant attack he wouldn't be able to forgive himself.
Mary leaves at dawn and on her way she runs in to General Renaude, who is on his way back to the castle. He warns her that Condé's men are up ahead and offers some of his men as escorts. Mary catches one of the general's men in a lie and realizes he has been compromised. She manages to escape back to the castle as her guards fight to defend her. Thankfully she arrives back at the castle before Renaude and warns Francis, but the General manages to get past the gates before they can close them.
With the gates now closed it is up to Bash, Francis, and the rest of the guards to fight off the men that did make it inside. Bash ends up sword to sword with Renaude, and thanks to some sideline coaching from Kenna Bash is able to overcome him. With their general captured, Renaude's men retreat.
While the castle is on the brink of war Delphine decides to do some more of her voodoo magic, this time with a random servant boy. She says she's performing a bonding spell with one of Bash's bloody shirts and somehow she channel's Bash's personality into the poor servant guy. Not really sure what was going on there, but one thing is for certain Delphine is definitely off her rocker. And speaking of off their rocker Catherine has prepared a meal for her and Narcisse, since it may well be their last night in the castle. However Catherine snaps and tells Narcisse she knows he went to say goodbye to Lola. She takes her crazy to a whole other level when she lets Narcisse know he just feasted on his prized horse. She lets him know that if he loves her she will not share him with another, not again.
Now that he has lost the element of surprise with his double agent, Condé requests Francis come out and meet with him. Francis agrees and when the two cousins meet in no mans land Condé's one request is unconditional surrender. He let's Francis know that none of the help he thinks is coming even knows he's in trouble, he intercepted all of his messages before they could reach Spain. Condé tries to convince Francis that the only way to assure Mary's safety is for him to surrender. However he does not concede, Condé's army will attack at dawn.
Francis returns to tell Mary about his meeting with Condé. He tells her he would have surrendered if he believed it truly would have saved her life. He knows that Condé is still in love with Mary and can picture a future with her once Francis is out of the way. However Francis knows better and knows Mary would never be able to escape Elizabeth. Mary lets Francis know that no matter what happens this was not the ending she dreamed of for them.
Francis mentioned that it would take a miracle to stop Condé's forces, which gives Mary an idea. She slips out of the castle and finds Condé. She begs him to save her life because drumroll…..she is carrying his child!
I don' t know about you, but I don't buy it for a second. I think the resourceful strong Mary we came to know in season one is finally making her way back to the surface and this is her last ditch effort to save Francis and her rule.
In the finale it looks like Catherine finds out Mary has slipped away and decides to pay Mary's greatest foe a visit. We finally get to meet Queen Elizabeth!
Twitter: @TheVRO
Facebook: Variety Radio Online
Tumblr: Variety Radio Online
//