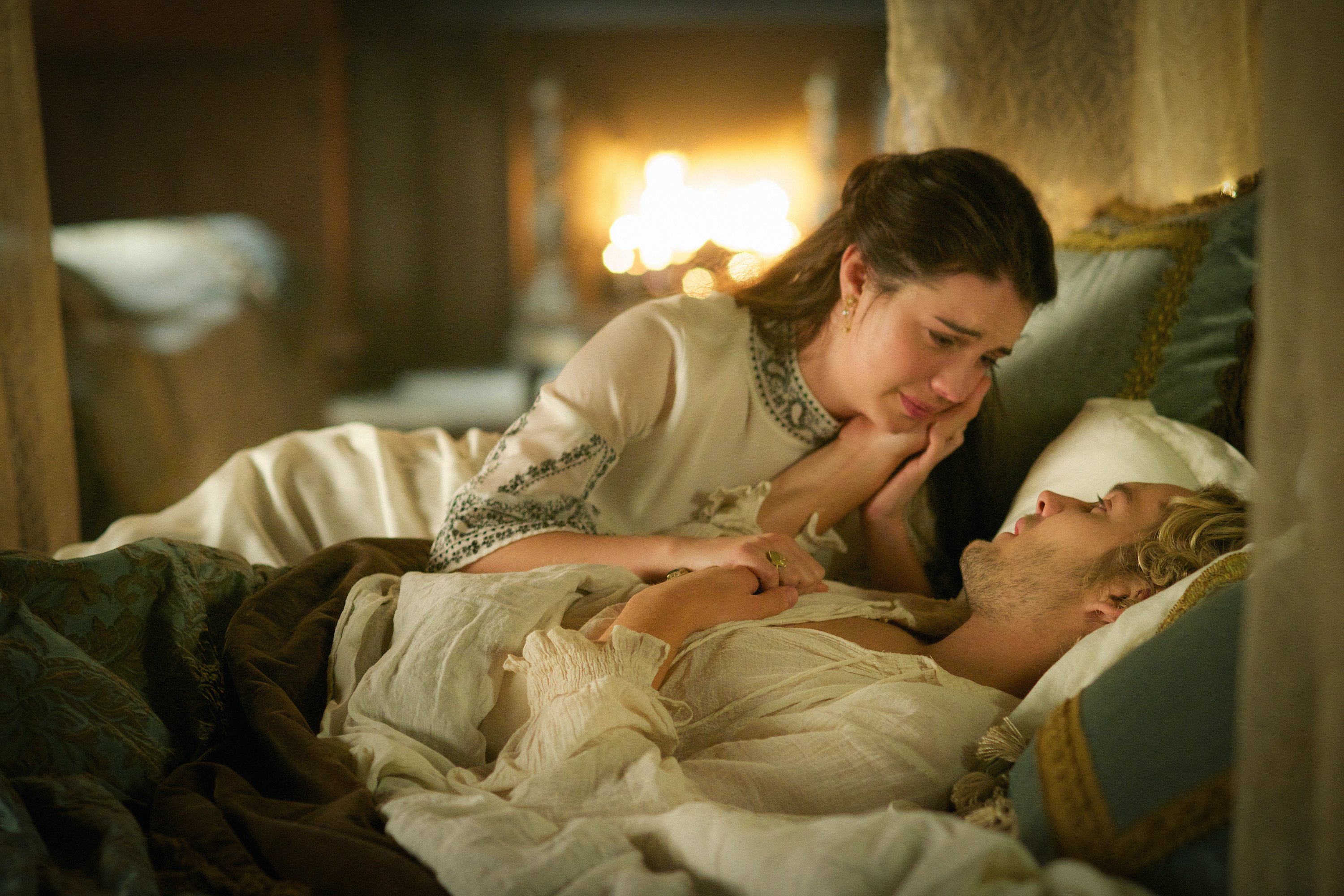 by: Emily Konopka
Spirits are up at court because Francis' condition seems to be improving, but there's bad news afoot. Word from Mary's mother arrives that the Scottish forces and Marie De Guise's health are hanging on by a thread. Help must be sent soon or Scotland could fall to England. Francis takes this news as proof Elizabeth knows of his illness. He wants to take action immediately as not to seem weak.
After Charles suggests the fancy new war ships they have would give them an advantage over the English, Francis orders two be sent to Scotland straight away. However, that wasn't the best plan, because England has newer ships that easily sunk France's. Catherine rubs it in that if they would have consulted with her first, she could have easily told them about the ships the English navy had at its disposal. Of course the only reason she knows this is because of her treachery, so Francis reminds her that he'll throw her right back in the dungeon if she doesn't do as she's told.
In the meantime Catherine is petitioning for votes from the Privy Council. She's all but secured her place as regent, but there are a few loose ends she needs to tie up to win the majority. Catherine tries to woo the final vote caster at court. She even gets Claude's help to try and win over his son, but no dice. The guy just wanted to see Catherine squirm. Touché sir, an uncomfortable and groveling Catherine is quite the sight to see.
But there's still one vote she could count on, and that is Narcisse. He and Lola are off on their honeymoon, but the new Mrs. Narcisse can tell something is off. A woman storms upon the couple as they're dining out in the courtyard and blames Narcisse of swindling land away from her father. The man is illiterate so he had no clue what he was signing away. Lola finds out that Narcisse was only doing it to help beef up John's place on the privy council, which now that he and Lola are married, he will manage until John is old enough. Well as long as it's for a good reason right?
Over in England Elizabeth is feeling pressure to wed. Don Carlos, the prince of Spain arrives to offer her a proposal. Her advisor reminds her that a marriage to Spain would mean a connection to the most powerful nation in the world, and it would give her strong advantage against Mary. She decides she will accept the his proposal. That is until he offers up his conditions for marriage. In order for Elizabeth to become his wife she must prove that she is indeed a woman. There's a vicious rumor around court that the reason Elizabeth has not gotten married is because she is secretly a man. When he asks Elizabeth to lift her skirt and prove herself she immediately rejects the proposal. Elizabeth vows that she'll never marry because in a patriarchal society any husband she takes would automatically have power over her. She doesn't want any man to be able to take her power away from her. I know we're supposed to view her as the villain, but can I get an amen for Queen Lizzie's badass female power moment?
Besides entertaining marriage proposals, Elizabeth has been busy trying to defeat Marie de Guise's forces in Scotland. Her advisor in France Nicholas has been spying on Mary. He bribed one of her servants. He even gets his hands on her cypher. But thankfully Mary is one step ahead. She sends a bogus message to her mother, a letter which she knows will be intercepted. The English fall for the fake information and Mary's mother is able to get supplies to her troops. They're ready to stand strong and defend Scotland.
Francis continues to share the secrets to being king with Charles. The biggest secret, being king is a performance. While the brothers are out riding Francis falls off his horse, his illness is back in full force. Things look bleak for Francis; he can tell he's entering his final hours. He asks Mary to stay with him; he wants to spend his last hours in peace, lying in her arms.
In the past few weeks Bash has been on a wild goose chase looking for Delphine. Anytime she feels pain he feels it too. This time things go to a whole other level when the brand of a cross starts burning its way onto Bash's chest. He questions a clergyman to find out what group performs such a ritual. He lets it slip that there is a group of nuns who perform exorcisms with an iron cross. Bash rushes to rescue Delphine, I would too if I were him, anything to stop from getting injured by proxy.
Francis grows weaker, and to cope with the pain he asks Mary to tell him about their future. The life they could have had together. She speaks of the children she would have given him. Francis' delirious mind picks up the story from there. He fantasizes about their children, Anne and James, running around the castle. Of course Anne takes after his mother, strong willed and beautiful. Francis draws one final breath, and then it appears he is gone.
Charles is desperate for a way to save Francis. She he comes and orders Bash to bring Delphine to the castle. Even if the cost of saving Francis means loosing his life he's willing to try. When Bash and Charles arrive with Delphine Francis is already gone. But Mary begs Delphine to save him. She offers her life for his if that is what it will take. Delphine performs her ritual, and Francis awakens. As he draws breath again Delphine falls to the ground. The cost of saving a king was apparently her life. But it wasn't only her life. We see a flash of Mary's mother in Scotland writing a letter to assure her daughter Scotland is safe and secure in her hands when she drops to the floor. Mary has Francis back, but her hold on the Scottish throne may have just died with her mother.
Twitter: @TheVRO
Facebook: Variety Radio Online
Tumblr: Variety Radio Online
//