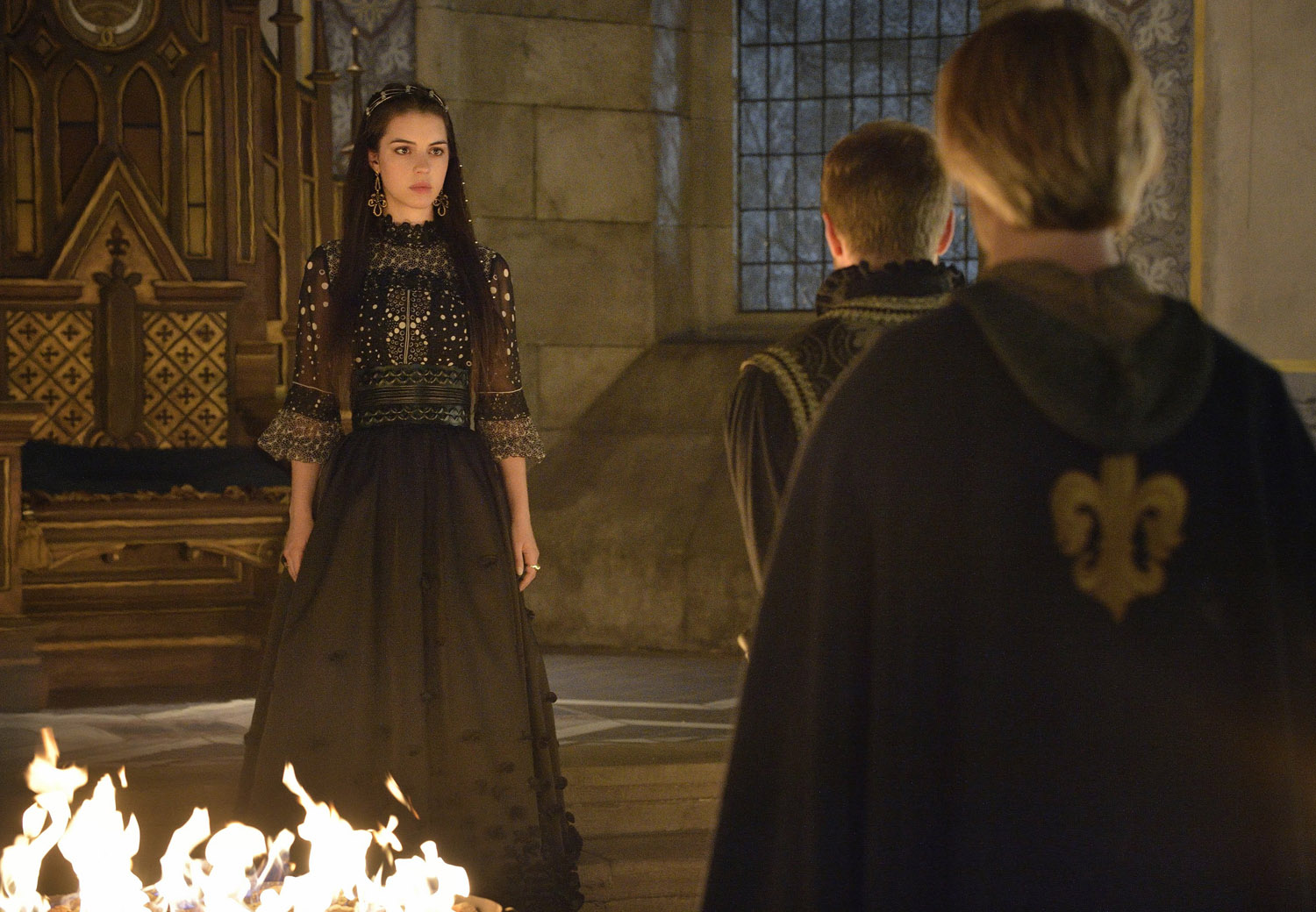 By: Emily Konopka
Reign returned for season two and brought the plague with it.
We pick up right where we left off last season. Francis is on his way to Lola and Mary has secured the castle gates to try to protect everyone from the plague. When the episode opens we see that Mary and Catherine have gathered everyone at court to announce that there have been reports of the Black Death in neighboring villages. Nostradamus informs the crow of the warning signs, and Mary tried to convince the crowd that they have the best means to survive, but Catherine knows better they are very unprepared. During this ordeal Greer finds out that Leith has taken notice of Lord Castleroy's daughter and is convinced that he did this on purpose so he could keep to his threat of making her witness his ascent to wealth and happiness.
Greer and Kenna manage to talk to Mary before she must isolate herself. They ask Mary where Francis went and she tells them about Lola giving birth. Outside of the castle we see that Francis has made it to Lola, but not before witnessing signs of the plague on his way. When he arrives he finds that Lola and his child, a son, are both alive.
Not even a full day later people in the castle begin to come down with symptoms of the plague. Catherine and Mary put protective measures in place to keep themselves safe. The former queen of France is worried why her son hasn't returned yet. She can't understand why Francis would risk his life just to help one of his wife's ladies. Since Catherine has been around the block quite a few times she realizes there is probably something more that Mary isn't saying. Mary orders Catherine as her queen to hold her tongue. Nostradamus comes to inform them who has fallen ill, and to volunteer his services in helping to find Francis, because he has survived outbreaks of the plague not once but twice before.
Lola can tell that Francis is reluctant towards the child. She reassures him that he doesn't have to be a part of the child's life, they can keep his paternity a secret and he can carry on Lord Julian's name. Francis tells Lola he resents her for keeping this a secret from him. One of the young boys who lives in the house they're in begins to show signs of sickness, and Francis, Lola, and the baby leave at once.
Back at court Mary gets a rude awakening to what ruling is actually like. One of the nobles has a favor to ask of Queen Mary. He has an enemy he wants dead and he sees this moment as opportune for getting what he wants. He wants Mary to order that the man be placed in the catacombs with the rest of the sick so he will contract the plague and die. Mary is appalled at his request, but he tells her it is more of a demand than a request. Since Lord Eduard's family owns many fields of grain, be will only signal his people to come resupply the castle with food when he gets his payment. This ordeal has Mary realizing that Henry and Catherine kept their favor with the nobles by doing their dirty work over the years. Mary does not like these methods and will not sacrifice a life. Mary wants to be a different kind of queen, one that Francis can be proud of.
Former lovers Leith and Greer find some face time among all the death. He promises Greer that meeting Castleroy's daughter was pure coincidence and not meant to hurt her. She begs him not to pursue her, because if he does he will someday become her son in law and they'll have to remain in each other's lives forever. When Eduard finds out that Mary has declined to act he returns to tell them that now his target has retreated to his private suite with his family, so now more lives must be taken if he is to get his revenge. Also the other grain holdings Mary was counting on are currently burning to the ground with the surrounding villages. Eduard is the castle's only hope to get food.
While Francis is off with his one time lover, Bash is searching for his wife. He is worried because he told Kenna to lock herself up in their chambers, but she didn't listen. Kenna has gone to search for Pascal. When she finally finds him he has been held up by a man who contracted the plague, and is beginning to show symptoms. One of the maids mistakenly identifies both of them as infected and they are barricaded in the man's quarters.
Speaking of Francis, he and Lola run into a semi-familiar face while they've stopped for water: Francis' distant cousin Louis. He gives them shelter at his camp in the woods, a safe distance from the villages infected with the plague. Francis is still torn about what he wants to happen with the child. Lola is prepared to leave and start a new life with the baby, but Francis isn't sure if he will allow that to happen yet.
In the castle, Catherine is trying her best to justify killing and entire family to Mary. She blames Mary for letting it come this far. If she had agreed to Eduard's terms in the first place only one life would have needed to be lost. As the two ladies go head to head Nostradamus returns with news that the house Lola sought shelter at was burned down because it was infected with the plague. Mary believes in her heart that Francis and Lola escaped and that they are still alive. However horrified Catherine is that Francis could possibly dead, she sets that aside to look towards the future. If Francis were dead then she would rule as regent until young Charles could be king. Mary is appalled that Catherine's first instinct is to reach for power. Catherine tells her that her number one instinct has always been to protect the rule of her children.
Elsewhere in the castle Kenna remains locked up in the suite with Pascal. She has managed to quarantine herself off from him in another room. As he grows weaker Kenna talks with him through the door. She tells him how loved and cared for he has been, first by his mother and now by her. When she gets no response she knows that the plague has overtaken him. Bash is still on his quest to find her. When he eventually finds the right quarters, he breaks down the door to save Kenna. Husband of the year award goes to Bash.
Catherine calls Mary to her chambers. She has developed a cough and is most certain she has contracted the plague. She thanks Mary for preventing her from meeting her maker with more blood on her hands. She wasn't able to murder that family before she fell ill. She also tells Mary that the way she turned out isn't the way that she wanted to be either, but ruling next to a king who doesn't love you is very hard. Ever perceptive Catherine realizes that Lola's child is Francis' and she tells Mary not to let Lola get in between her and Francis. When Mary leaves Catherine's chambers Nostradamus meets her. Catherine is not stricken by the plague; she is just feeling the effects of some potion Nostradamus slipped her. He, like Mary did not want to see Catherine raise the death toll in the castle.
Francis' cousin has caught on to the situation Francis is in. He has a boat at his disposal that is going to the Netherlands, and there is room for one more person on it. He offers that spot to Lola so that Francis can live his life without the burden of a bastard child, and Lola can one day marry again and be happy. Francis tells Lola that she will leave in the morning for the Netherlands with the baby.
Back at court Mary has summoned Eduard. She tells him that the family is not to be harmed. He tells her that it is too late because he already has slipped poison into the water that was delivered to their household. When Mary goes to investigate she finds the entire household is dead, including Lord Castleroy's daughter.
Things turn a bit freaky when Bash starts seeing ghosts. A little girl tells him that there is a reckoning coming. It seems that Reign isn't done dabbling in the supernatural just yet. When the time comes for Lola and her child to leave for the boat Francis hears the baby crying and Lola is away from the tent. Francis finally picks up his son, and in that moment he is instantly attached. He decides that he can't let Lola leave with his son. As punishment for what Eduard has done Mary has him locked in the catacombs with the sick. Eduard swears to Mary that his father will find out, and since his father helped keep Francis' family in power, he could help tear down that power when he finds out what has happened. He tells her that Francis will resent her when he finds out what she has done. Looks like Mary finally understands what it takes to be queen.
Reign airs at 8/7c on The CW
Twitter: @TheVRO
Facebook: Variety Radio Online
Tumblr: Variety Radio Online
//