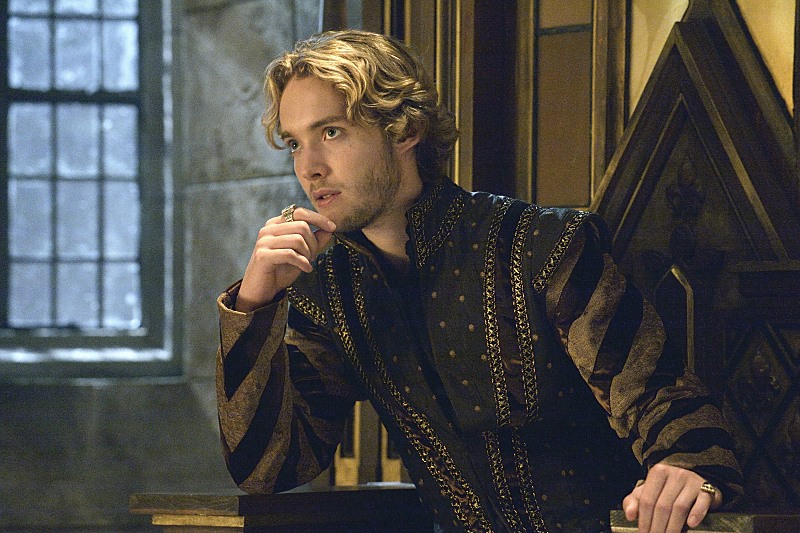 by: Emily Konopka
This week on Reign there were supernatural threats, friendships were tested, and preparations for a christening took over the castle.
The castle was bustling thanks to party planner extraordinaire Catherine de Medici. She has planned an extravagant christening ceremony for her bastard grandson, whom she claims to be growing fonder of. Without any scheming to do, planning parties is about all the Queen Mother can do to entertain herself. With all this fuss being made over the baby, there is some underlying tension between Mary and Lola. Lola wants to move into a cottage on the grounds so she can get some distance from everything. As a result, Mary releases Lola from her duties as one of her ladies.
Despite her rift with Lola, Mary has some good news to share with her husband. As she's admiring the vast castle grounds she suggests that it would be a perfect place to learn to walk. The look on Francis' face when he realizes what she is saying was priceless. Mary confirms that she has thought it for a few weeks but she wanted to be sure, she is finally pregnant! The happy couple retreats to their chambers where they celebrate in between the sheets. Francis proclaims that this is the happiest he's ever been in his life, and right on cue his mother barges in to burst that happy bubble. Catherine has been suspicious of Mary's pregnancy for some weeks now…she even had her chamber pot tested (horse pee and wine are apparently the original ClearBlue).
During all the commotion in the castle Lord Narcisse arrived with his new bride, a very familiar face to Lola. Estelle, the young girl who took care of Lola while she was giving birth, has been seemingly forced into marrying Narcisse and she seeks out Lola's help. The young girl has heard terror stories of how Narcisse has treated his previous wives, so Lola goes to Francis and Mary to ask them to help. Her pleads with the royals are heavy with subtext about her own life and it leads to an argument between Mary and Lola. The anger that Mary has been holding in finally surfaces. Mary pulls the "I'm more than your friend I'm your Queen" card on Lola. She decides that maybe it is best that Lola is housed elsewhere so she doesn't have to see her…ouch.
Lola decides that she is still going to help Estelle get away from Narcisse. Things don't go according to plan and Estelle ends up stabbing one of his guards. Mary finds Lola trying to help her and although she is angry she agrees to help because now Lola's life could also be in danger. Mary manages to use her power as Queen to help Estelle to freedom. Lola makes amends with her friend, and asks Mary to be her son's godmother. The next morning before the christening Mary doesn't feel well. She has Conde help her back to her chambers where they find blood running down her legs. Mary is loosing her child, but she doesn't want to draw any attention to herself so she changes gowns and heads to the ceremony.
During the ceremony Kenna notices that both Greer and Leith are missing. The two had a run in at the ball the night before and it was evident that there was still passion between them. However the two haven't run off together, much to my dismay. Greer has instead gone to find Lord Castleroy. He has been very distant lately. When she arrives he tells her that he was going to end things with her over letter but since she is here he'll tell her in person. She argues with him that she and Leith would not make a good match, which is why she chose Castleroy. She tells him that she chose him because he values her as a person and not a prize. Greer decides that it is time to act on the passion that fuels her life, and offers herself to Lord Castleroy. Kenna had told her that the passion between her and Bash grew after they decided to give each other a chance. Look's like there's no turning back now for Greer. Does this mean she and Leith are officially done?
Afterwards Lola finds out from one of the maids that helped Estelle escape that when they arrived at the cottage Estelle disappeared. When they found her she was at the edge of a cliff saying she was going to meet her parents at the bottom. She did not survive the fall. Lola meets Narcisse, and it turns out the man isn't as heartless as he comes off. He married Estelle so she could keep her family's land. His motivation was that he needed new heirs. Estelle had been haunted by her dead family and previously tried to take her life. Lola discovers that his previous wives all died of natural causes, and that the man has never really been in love. I'll admit I do feel some sympathy towards him…but I haven't fully come to trust him.
Bash and Conde have been inspecting a report that a shepherd is being terrorized in the country. Some supernatural threat is demanding people's souls: a group of riders forcing the devil upon people. The reckoning is in full force, and it's only a matter of time before things turn dire. Blood will pay for blood.
Before he left, Louis told his cousin that Mary seemed troubled after the ceremony. When Francis finds her she is laying in bed. In the most emotional moment of the episode Mary tells her husband that she lost the baby. She didn't want to tell him because he seemed so happy. She admits that she spent the weeks prior imagining what their child would look like. Would he have Francis' curls? His eyes? Or would he be a blend of them both? I had a feeling Mary would end up miscarrying, but did it have to happen so soon?
To make his wife feel better Francis arranges the most romantic surprise. He tells a story of when they were young how they used to go searching for fireflies. He tells her that while she was frustrated when they didn't show up, they eventually did in time. And he says that his favorite part was the waiting, because he got to do it with her. Francis has arranged a release of hundreds of paper lanterns, a la Tangled, to represent that Mary is the light in his life. He gave her the fireflies she was always waiting for. All right, is anyone else crying at this point? Where do I sign up to get a guy like Francis?
Next week on Reign tensions between the Catholics and Protestants are at an all time high. Will Francis and Mary be able to calm the flames of rebellion? Or will they add more fuel to the fire?
Twitter: @TheVRO
Facebook: Variety Radio Online
Tumblr: Variety Radio Online
//