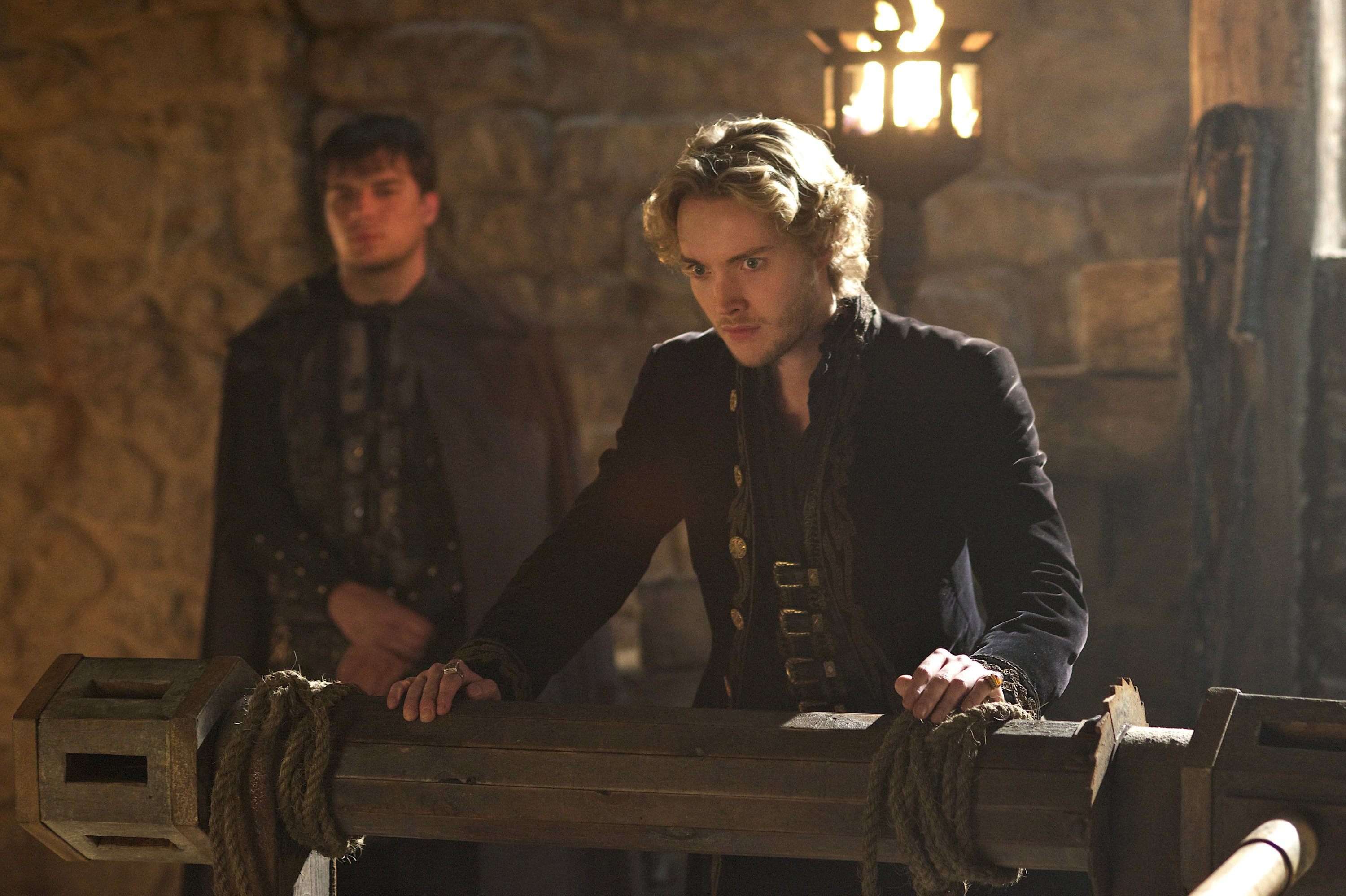 by: Emily Konopka
This week on Reign the consequences of Francis' actions caught up to him as Catholic and Protestant blood was spilled. And as Mary lost faith in her husband Catherine began to loose her mind.
After the edict was signed the Vatican responded by sending Cardinal Vasari and a pack of Swiss guards to help enforce it. Anyone suspected of being Protestant was questioned and if they were found lying they were punished quite horrifically. How is it that one has their lips removed? I most certainly do not want to find out. Francis and Mary get word of the terror befalling their Protestant subjects and Mary decides not to take Francis' offer to return to Scotland. She will stand by her people even if she and her husband can't see eye to eye.
Newly declared protestant Condé gets a shock when he is kidnapped, it wasn't by angry Catholic nobles but a group of Protestants who see him as their ticket to an audience with the king. The minister and leader of this group, Jacob Revel, requests that Condé appeal to Francis to hear their plea to rebuild the barn they used as a place of worship, the same barn Condé's nephew was killed in thanks to radical Catholics.
Meanwhile in the forest Lola seems to have lost her horse, but never fear her knight in shining armor Narcisse is there to save her. Lola is suspicious that Narcisse organized this situation; he tells her that he hasn't and offers her a ride back to the castle in that venomous yet alluring voice of his. When he can sense Lola might be getting a little hot and bothered from being so close to him, Narcisse not so subtly reminds her that he's already seen her in the bath so there's no need to be shy. He tells her that the forbidden fruit always tastes the sweetest. Casanova here is holding nothing back.
Condé agrees to bring the minister to have an audience with Francis and Mary. When Francis agrees to allow them to rebuild their house of worship the minister reveals his true intentions for meeting with him. Revel threatens that if Francis does not call off the Vatican, Catholic blood will surely be shed. To insure this he has hidden a bomb, and if he doesn't get what he wants in time it will go off at the expense of Catholic lives. Francis sends Bash and Condé to the minister's village to scope out who his possible co-conspirators could be.
With Claude still at court Catherine tries to find a way to get her to leave and she finds it in the form of a Bavarian duke who will become Claude's finance. However Claude's future father in law has heard rumors that she is not exactly chaste. He won't allow his son to marry her unless she can prove her purity. Catherine arranges a "virginity test" that she of course bribes the examiner to say Claude is an untouched woman. Apparently the excuse 'girls just wanna have fun' didn't fly in the 16th century.
After her run in with Narcisse Lola seeks out Francis. She can tell that things between he and Mary are on the rocks so she tells Francis that Narcisse divulged his secret to her. Francis is extremely paranoid that Narcisse may have shared this information with other people and is curious as to why he would share it with Lola. She tries to convince him to just tell Mary what he did, but Francis isn't having that. He can tell that Narcisse left out a valuable piece of the puzzle when he tried to sway Lola to his favor. Remember when Narcisse threatened all of Francis' family, including his son? Well when Lola finds out that tid bit of information she sees red. Looks like she won't be bathing in front of Narcisse anytime soon. Lola tells Francis she lied earlier when she said she didn't plant the envelope. Plan frame Narcisse for treason is back on.
Mary is having some trouble understanding why the minister would come to court just be captured. Thankfully she's got her wits about her and realizes he intends to make himself a martyr. Meanwhile Francis is down in the dungeon pushing the minister closer and closer to his desired sacrifice. Finally he tells Francis where the explosives are being held. But when Condé goes to the location there are no explosives, just a bunch of saw dust…they've been hoodwinked. Francis is furious and has his torturers give the minister a round on the medieval torture table. When Francis goes blind with rage trying to pry real answers out of the minister the torturers end up dislocating the ministers arm from the socket. Mary was there to stop Francis before he killed him giving the Protestants the martyr they were searching for. However, the injury causes the minister's health to deteriorate quickly.
The best chance at saving his life is to transport him to a village half a day's journey from the castle. As Bash rushes to get the minister to a doctor he is ambushed by protestant rebels. Never fear though, Bash isn't gravely injured so he is able to overhear the conversation the minister has with his rescuer. Turns out the poor guy thought there really was gunpowder, but he was tricked but a group of radicals who sought to make him their martyr so instead of rescuing him, the man impales the minister with his sword. The minister's village gets word of his death when they find his body displayed in the town square. The village is outraged and riots break out between the Catholics and the Protestants.
As if things couldn't get worse when before all this went down Bash went to Narcisse's house to investigate the allegations of treason and the planted evidence was not there, proving that Narcisse was on to Lola and destroyed the evidence. That doesn't stop him from offering himself up to Lola once more when he finds her in her bedroom, right after he accuses her of framing him. Add betrayal to Narcisse's long list of strange fetishes.
Let's not forget about poor forgotten Claude. As it turns out there is a reason Catherine keeps her distance from her daughter. Those creepy shining twins as we know are two of Catherine's deceased children. We learn in flashbacks that as a young girl Claude was jealous of the babies and is mean to them because they pulled some flowers off her dress. When Catherine finds her daughters dead the doctor tells her they died because their windpipes were blocked by cloth flowers, the same ones from Claude's dress. So Claude murdered her baby sister's out of jealousy? What?!
If that wasn't crazy enough it seems like Catherine is taking a page out of her late husband's book and is about half a flew over the cuckoos nest. Catherine seems extremely dominated by the presence of her children's ghosts and their apparent obsession with punishing their older sister from beyond the grave. It seems that Catherine is going to let Claude stay, but when the little twins make another appearance it's off to Bavaria for Claude. Except she isn't having that so she makes a very public display of indecency in front of her mother and the two Bavarians when she plops herself in Narcisse's lap. Catherine is not pleased.
So what do you guys think? Are these riots the beginning of the end of Francis and Mary's happy marriage? Will Francis ever tell Mary the truth? Hit me up on Twitter
Reign is taking a week off for Thanksgiving so I'll see you all back here in two weeks!
Twitter: @TheVRO
Facebook: Variety Radio Online
Tumblr: Variety Radio Online
//