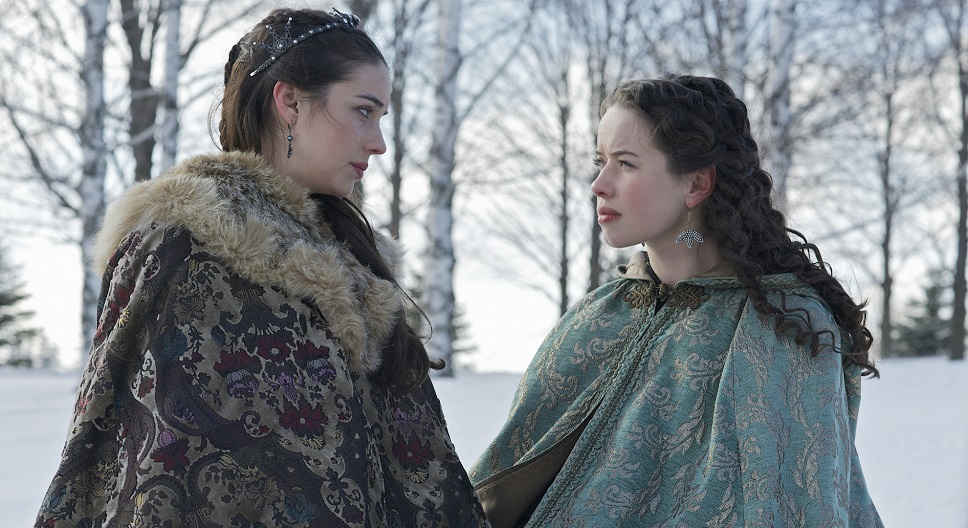 by: Emily Konopka
This week on Reign Mary and Conde tried to keep their affair a secret while remaining at French Court. But with Queen Catherine snooping about, more than just their secret affair was revealed.
After getting Francis' blessing to remain at court, Mary and Conde have been sneaking around, but it has been getting harder and harder to do so. Catherine has grown suspicious of Mary and confronts Francis about it. He assures his mother there is nothing going on between his wife and his cousin. He tells her not to speak of it again to anyone. Meanwhile, Conde has gone to meet with Elizabeth's envoy. The terms of her engagement offer are she wants to see Conde first before agreeing to marry him. This comes as a shock to Conde, since he will have to sail for England in two days time if he is to keep the offer alive.
While her lover is out secretly meeting with her cousin Elizabeth's envoy, Mary finds out her letters did not make it to Scotland. When Conde returns to the castle she asks him to discover more about what happened. Conde finds out the man who was supposed to deliver the letters was killed and robbed of all his possessions. Conde fears a French spy could be responsible, a sign of Francis going back on his deal, Mary is certain it is an English spy.
Claude has been causing trouble around the castle as per usual. Her latest scheme has landed herself in Lord Narcisse's bed, and surprisingly he did not invite her there. The princess has been trying her hardest to do anything to upset her mother. Narcisse lets Catherine know what her daughter has been up to since they have become so close recently. However the Queen Mother doesn't appreciate the knowledge, especially since it is coming from Narcisse.
Bash and Kenna are still on the outs, and Bash doesn't want to stay at court and pretend he's the man Kenna really wants. Kenna tells Bash that she's only ever encountered men who lied to her, but he was the only one to put her needs above his own. Is anyone ever happy at French court?
Maybe the secret to happiness is life outside of court because it appears Leith and Greer are quite happy since they finally got together. They may have been interrupted a few times by Greer's ladies of the night, but otherwise they're still pretty in love. Leith however wants more. He wants to be able to marry Greer, but she's already married. Leith thinks that since Lord Castleroy is technically Protestant they can get a divorce, but that would require consent from him and Greer can't even get a letter to her husband in prison. The only other option is an annulment, and that requires favors from the Vatican that neither of them can afford.
Mary is starting to lose hope of ever returning to Scotland, so Conde tells her there is one way they can get information on the English. He tells her he has a high-ranking English contact, who happens to be in town. This means however, that he also has to tell her why he is in town. Mary is furious with Conde for entertaining the idea of a marriage alliance with Elizabeth. She feels betrayed that she opened her heart to a liar. She realizes Conde did not have faith they would ever make it to Scotland; he thought she would stay with Francis in the end.
Heartbroken over Conde's betrayal Mary takes some time to herself. Lola notices her friend is troubled and offers to be a sounding board for her problems. Mary realizes that Lola knows about her affair with Conde. Lola offers her some friendly advice, telling her that if Conde is what brings her happiness then she should be with him. Mary tells her friend of Conde's betrayal, but Lola isn't so quick to judge Conde. She tells Mary that if he refuses Elizabeth he's creating an enemy in England for the chance at an uncertain future. That's a big risk he's taking for her.
Inspired by her conversation with Lola, Mary tells Conde that they are by no means reconciling at the moment, but she will use his English contact to find out where the Catholic strongholds in Scotland are. Mary has Elizabeth's envoy arrested and puts on a very convincing show when she confronts him in the dungeon. She leads him to believe that her guards have seen him meeting with a known Protestant sympathizer. She warns him that if he does not confess she will send his head to Elizabeth in a basket. There's the spitfire of a Queen we've come to know. Conde asks her if the envoy bought her charade, and she tells him that she was only partly bluffing. She will spill blood to assure her rule in Scotland.
Bash has some business to attend to in the North, or so he says to Francis before he leaves. His work is freeing a woman from an abusive husband. He strips the man of his title by order of the King. This doesn't turn out well for Bash though, because the man finds him in the forest and stabs him with his sword. A woman rescues him, and when he wakes he finds out it is the nun whose seemingly magical abilities were causing a ruckus a few episodes ago. He asks her to lay hands on him and save his life even though he knows that means something bad could happen to someone else as payment.
In town Narcisse is meeting with the man who killed Mary's messenger. He tells Narcisse of the letters and of their contents. He now knows that Mary was planning on escaping to Scotland to secure her rule and takes this information straight to Catherine. Catherine had thought Mary was being unfaithful to Francis with Conde, she had never guessed she was planning to return to Scotland, leaving Francis and France weak in her departure. Narcisse says he can have their plans thwarted, her letters will be returned with the seals still in tact so they'll believe they are free to continue with their plans. Then they can catch them in an act of treason. Catherine however doesn't want to bring harm to Mary, she has grown fond of her, especially in recent months. She knows the only way to stop Mary is to tell Francis and have him try to stop her.
Leith pays a visit to his friend the King to ask for a favor. He tells him of Greer's situation and how he wishes to marry her. Francis feels for Greer, but she is still technically a traitor in the eyes of many, and the Vatican would require payment for such a favor. Payment he cannot or will not provide. When his request to his friend falls flat Leith seeks out a cardinal in the village. He implores with him that he has high ranking in the King's guard and his status is rising. He also saved the King's life in war. This peaks the interest of the cardinal. Uh oh Leith, I hope you know what you're getting yourself into.
Conde breaks the envoy out of the dungeon to make it seem like he is still entertaining the idea of a marriage between he and Elizabeth. He tells the man that his men will sail him to Scotland via the port he and Mary had planned on entering, but the man asks him to be sent to Aberdeen, because the other port is still held by Catholics. Now that Conde and Mary have their information they are free to start prepping for their journey once more, that is if Conde is still invited to come along. Mary admits to him that she thought she needed him to find happiness and find her strength again, but she was wrong. It was inside her all along. She tells him that now she can offer her full strong heart to him. When Conde tells her they should slow down because he will wait as long as it takes for her to be ready to be with him, she tells him she doesn't want him to stop. Alas Monde shippers, your moment has finally arrived.
As Mary and Conde are consummating their love, Catherine has gone to warn Francis of Mary's plans. Francis seems completely in a daze, and he is white as a ghost. He falls to the ground, and Catherine screams for help. Afterwards Narcisse finds her and she is hysterical. She is muttering on and on about how Nostradamus' prophecy is coming true. Narcisse assures her that Francis only fainted and he has an ear infection at most. He'll be fine, but she cannot be calmed. That is until Naricsse kisses her. It seems we have a new ship at French court Natherine? Carcisse?
Anyways Catherine's fears might not be so misguided because if you know anything about history you'll know that the real Francis died of an ear infection. The last shot of the episode is a parallel to Nostradamus' vision, Francis with blood trickling down his ear.
Uh oh! Would they really kill off Francis so soon? Do you think this is just a scare that will give Mary a reason to stay at court? Is Francis' ailment the price of the woman saving Bash's life? We'll have to wait until Reign returns April 16th to find out.
Twitter: @TheVRO
Facebook: Variety Radio Online
Tumblr: Variety Radio Online
//