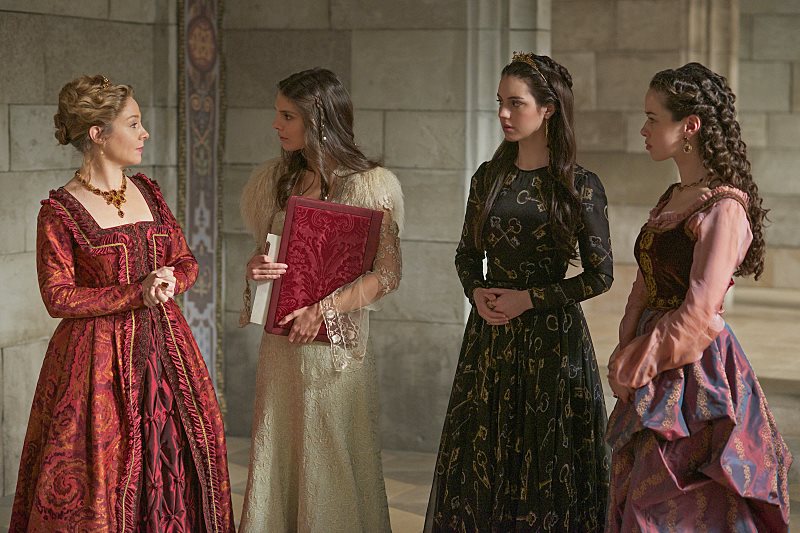 by: Emily Konopka
In this week's episode of Reign Mary prepped to leave for Scotland, hoping Conde would join her. And Francis made a shocking decision regarding Mary.
It's been a few weeks since we last visited French court, so here's a quick refresher of how we ended up here. Mary tried to rekindle her love life with Francis to no avail. Her mother was at court pushing her to produce an heir, and informed her of the growing instability in Scotland. Kenna helped Antoine throw a party which drove a wedge between her and Bash. Antoine also asked Kenna to be his next wife when his ailing Queen passes on. Mary told Francis of her desire to be with Conde, to which his response was to forbid their union for the sake of Mary's life. Mary decided to throw caution to the wind and invite Conde to start a new life with her in Scotland as she secures her rule.
Now on to this week.
The castle is buzzing in preparation for the King's wine tasting banquet. A special wine was bottled the year he was born in honor of the future king. Catherine has put Kenna in charge of the celebration, since as we learned in the last episode she throws a mean party. This celebration has attracted a specific kind of crowd, young women hoping to become the King's mistress. Mary tells her ladies not to worry about her because she was the one who insisted she and Francis live separate lives.
Catherine has realized that Francis' relationship is sinking fast, and she wants her son to be happy, so she is thrilled with the guest list. However she does drop hints to Lola that maybe she should try her luck at winning over Francis' affections. And speaking of relationships on the rocks Kenna and Bash are still experiencing some turbulence. Bash feels it's time they talk about what has been going on between them, but Kenna says they're already too far-gone to talk about it, plus she is too busy planning the party.
While Mary is making plans to head to Scotland, Conde is receiving pressure from his brother to meet with Queen Elizabeth's envoy. Ultimately Conde chooses Mary over being king of England, but he doesn't tell Mary that of course, just that he wants to go with her to Scotland.
Lord Narcisse has brought his daughter to court in hopes that she will win over Francis and he will take her as his mistress. Francis is telling Lady Amelie that he won't be attending the wine tasting because he and Mary have business to attend to, but Mary interjects that she will be spending the evening away from the castle, so he is completely free to do whatever he wishes. Francis is on to Narcisse's plans for his niece and he asks him to spread the word that he is not seeking a mistress.
Mary however is still intent on her plans to take Conde as her lover. That night they flee the castle to a cottage where they meet one of Mary's informants. He tells them it will take about a week or two to find out the safest place in Scotland for them to enter the country. Conde thinks they should head back to the castle, but Mary tells him that they don't need to rush, no one knows they're there. This leads to the couple's first kiss, which ends up turning into a steamy make out session. But sorry Monde fans, no clothes were shed. They decided to keep their first romantic encounter PG-13.
Back at the castle Francis attends the wine tasting, and Lady Amelie says she has a message from her Uncle to give him. Once they're alone she reveals that there is no message, she just wanted to get him away from the party. Francis is reluctant to her advances at first, but then something in him changes. He ends up sleeping with Amelie, but afterwards he doesn't feel better. Lola noticed that Francis left the party and she discusses it with him the next day. He tells Lola of Mary's desire for Conde, and Lola suggests that if he wants Mary to heal he should let her go. Then maybe one day when she can truly love again, she will find her way back to Francis.
In other acts of infidelity Kenna has invited Antoine's wife to the tasting to see for herself how grave her illness is. When she arrives she sees that she is massively pregnant. She then realizes Antoine was never going to marry her, just bed her and ruin her and Bash's marriage. Antoine tells her that his wife is ill on top of being pregnant, but Kenna has had enough of his lies.
In the village Greer continues to help her new friends out in acquiring new customers. After their success at the King Antonie's party she has found a way that she can make money for rent. However she gets a surprise visitor, Leith. He comes bearing news that Lord Castleroy was charged with treason, but his wealthy friends bartered for his life so he will live out the rest of his days in prison. Leith lets her know that even though she is no longer in the favor of the court, she is still in his favor. He'll be there if she needs anything. The two cross paths again, but this time he finds out how Greer has been earning her keep at the inn when he witnesses her defending one of her prostitute friends. At first Leith is judgmental, but he later realizes he doesn't care what anyone thinks of Greer, because he still wants her. He storms into her room to let her know and the two share a passionate kiss. Greer tells him not to stop. At long last Greith lives!
The morning after almost consummating their relationship, Mary and Conde are displaying their affections while getting their horses ready. Unlucky for them they notice that someone has spotted them. Conde runs after the witness and when he finds her he also finds his brother. Antoine had Conde followed after he missed his meeting with Elizabeth's envoy. He gives his brother an ultimatum, break things off with Mary or he will tell Francis of their affair, which could cost both he and Mary their heads.
Meanwhile Antoine departs court, but not before stirring up some more trouble with Kenna and Bash. Kenna is ready to cash in on the trip to Paris Bash so sweetly offered her during the wine tasting. But Antoine has left the letter Kenna sent to the Queen of Navarre inviting her to the castle. She then has to explain how Antoine proposed to her and offered to make her his new queen. She admits that she had wanted things Bash could never give her. Bash walks away because there is "no reason" for him to be there. Couples are dropping like flies on this show!
When Mary returns to the castle she finds Francis to ask him something but not before he can get something off his chest first. He tells Mary that if Conde is what will make her happy than she should be with him at court. It pains him to say this, but he can't stand to see her miserable any longer. He says he will do whatever he can to squash any rumors he hears, but they obviously have to be careful and they cannot be seen by anyone.
Now that Francis has officially let Mary go, he visits his son's nursery. Originally with the intent of pursing something with Lola, because he tells her that the happiest he is when he is in the Castle is when he is with her and their son. Lola however turns him down because she knows that if one day Mary can truly love again he'll realize he's not as free from her as he thinks. The winner for sanest person at French court goes to Lola. Four for you Lola!
Mary is overjoyed with Francis' decision and rushes to tell Conde, but he doesn't see this a good sign. He thinks Francis is using this to trap them and eventually win Mary back. He can tell how she has softened to him again just by the way she talks. Mary has also decided that they no longer need to rush to Scotland. They will go eventually, but now they can take their time. However Conde isn't feeling like playing the waiting game because in the final moments we see him speaking with Elizabeth's envoy about the marriage treaty.
Next week Mary learns of Conde's dealings with England. Could this torrid affair crash and burn before it can truly begin?
Twitter: @TheVRO
Facebook: Variety Radio Online
Tumblr: Variety Radio Online
//