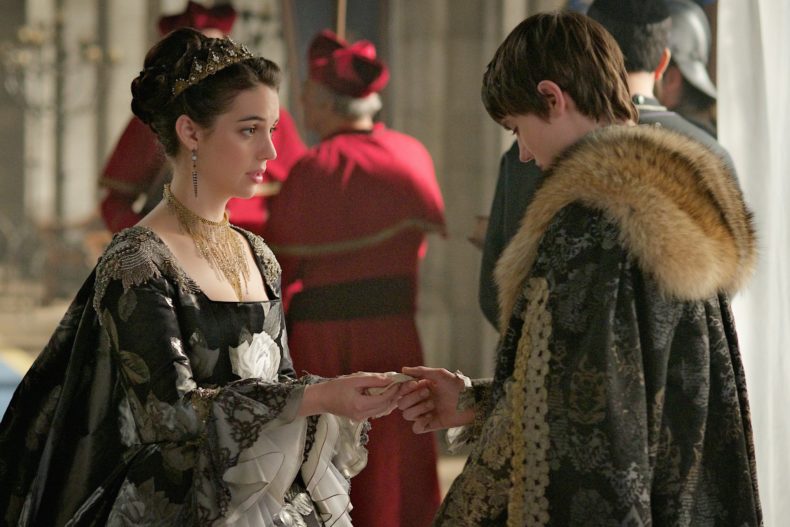 A new king of France was crowned a secrets were unveiled as the tension between two countries, and two cousins, grows.
Reign returned for its spring premiere with a royal celebration. The time of mourning has passed so Charles is ready to officially be crowned King of France. However he won't get to do any solo ruling until he turns 18. That's why he's got mommy dearest as his regent. And even though the kingdom is still struggling from sending troops to Scotland, Catherin wants to spare no expense for her second son's coronation. Because hopefully this time his reign will be a lot longer than her first's (brief pause to remember the beautiful Francis, who is still missed greatly by this blogger).
As we know there is a fair share of dirty laundry at French Court, and Catherine has a Laundromat's worth. First of all being her dirty little affair with the castle servant, who has now been promoted to castle guard, fishy? No one of interest seems to have noticed.
Mary on the other hand has some dirty laundry of her own. Her little flirtation with Gideon has come to a standstill. Their hot and heavy kiss from when we last saw them has turned to cold shoulders. Things are strictly diplomatic between the two of them now. Mary's advisors have warned her of growing unrest in Scotland. The Protestants are nearly overrunning the country, lead by a man named John Knox. She needs to strengthen herself and the country by securing a marriage. Her ambassador suggests King Eric of Sweden (Eric Northman, my Swedish vampire lover from True Blood? Only kidding a little bit). There's only one problem; he's not Catholic. Mary feels marrying a Protestant king will look like a betrayal to the Vatican, and she needs their support more than she needs to make it look like she's tolerant of the Protestants.
There is one thing that could help her though; if her cousin has as must hatred for Knox as she does, you see Knox has a vendetta against female monarchs. Mary will have to resume talking (and perhaps making out) with Gideon if she wants to find out how her cousin feels about the misogynist. Mary's cold shoulders get a little warmer when Gideon has his daughter tag along. Elizabeth kept her promise and released Agatha to him. Gideon tells Mary that Elizabeth hates Knox just as much as she does, but she can't speak out against a Protestant leader. Gideon's daughter is all kinds of confused. She's spending time with a dad she's never really known, oh and she wants Mary to be her mother. The wounds from Francis' death are still fresh for Mary. She had hoped to have children with Francis someday, but now those chances are gone. Gideon persuades Mary that marrying the Swedish king could be a good thing, but it appears it's too late for making peace with the Protestants; Knox has stormed Edinburgh Castle and is burning effigies of Mary for good measure. Mary's only option now is to ask the Vatican for funds to raise an army.
Preparations for the coronation continue, much to the dismay of the financial advisors. However there's a halt in preparations when bodies are discovered in the castle tunnels. Looks like the resident serial killer is at it again. The only way to deal with the stress of finding bodies you had no part in killing is to hit the sheets, right? Catherine and her torrid lover Christophe have been going at it for a while. You could even say they're kind of dating, but not really because different social classes and all. But those differences start to drive a wedge, you give a guy a job promotion and he can't even stick around. Christophe admits to Catherine that he has been sleeping with the baker's wife. They were lovers before and now they're back at it. Catherine is upset but not heartbroken. She's more upset that her lover didn't understand her still present grief for Francis.
There's something fishy going on and all signs point to the butcher, okay wrong meat analogy but you catch my drift. Christophe tells bash that he thinks the butcher has been stealing salt barrels, and using them as a way to preserve the bodies of his victims until he can transport them. Except it's not the butcher who is doing the killing, Catherine puts the puzzle pieces together and realizes it's her lover who is the mass murderer. His rekindled affair with the baker's wife was just a cover, so he could frame the butcher for the barrels of salt. Catherine is set to turn her lover in when he counters with some good old-fashioned blackmail. He knows what she did to Claude to free her from her marriage and secure the regency. If he gets turned in, or even if he turns up dead, he's made sure Catherine will be exposed. So mastermind killer herself Catherine has to watch as an innocent man hangs for a crime he didn't commit.
Across the pond in England, Elizabeth has caught word of Mary's interest in John Knox. She's hoping she can hit up her resident Scott Lola for some insider scoop on Mary. When Lola refuses to betray her friend Elizabeth torches all of Lola's dresses because, you know, logic.
There is one thing going on that Lola does discover, and is willing to share. Elizabeth's trusted advisor Lord William has the major hots for her. So much so that he pays a prostitute to wear a red wig while he calls out for Elizabeth in the throws of passion. What more could you want from a man? William's distaste for Dudley suddenly becomes clearer, and Elizabeth realizes one other important detail, he was the reason she lost her child. He slipped her a potion the working girls use to rid themselves of unwanted pregnancies. With that knowledge in hand Elizabeth kicks William to the curb.
Back in France Charles' coronation goes off without a hitch. Mary stands by his side as part of the ceremony, which is totally breaking tradition but Charles doesn't care. Charles is officially the king of France, and maybe one person ended the episode happy. That's what we call a win here on Reign, right?
Twitter: @TheVRO
Facebook: Variety Radio Online
Tumblr: Variety Radio Online
//