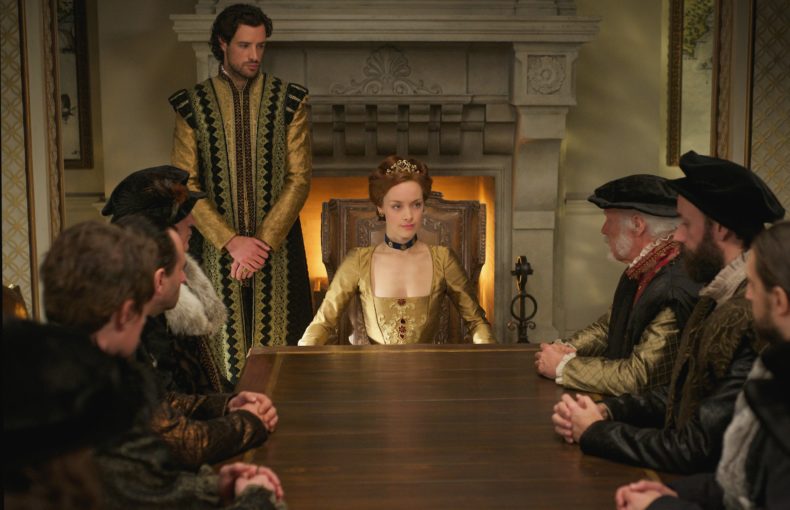 This week on Reign, Mary got help from an unsuspecting ally to help thwart the Vatican's plot against her cousin while still trying to keep herself in favor with Rome.
Mary and Gideon are trying to find a way they can keep Elizabeth safe from the Vatican without tipping them off that Mary is working against them. In the meantime she's going along with Elizabeth's succession plan to bide some time. Dudley arrives to court Mary and almost instantly upon arrival asks for her hand in marriage. Because who needs to waste time with romance when you both know the marriage is for political reasons only?
But Mary doesn't need to worry about her fake fiancé because she's got Gideon waiting for her to crawl into bed with. The two have grown quite fond of each other, and not just because they like rolling around in the sheets together. The two come up with a plan to stop the Vatican's plan. Mary realizes that the male Catholic heir they'll have lined up is a mutual distant cousin of hers and Elizabeth's, Joseph Tudor. Back when Elizabeth took the throne she drove Catholic supporters out of England and Joseph Tudor took sanctuary in France. And who happened to be the people who gave him asylum? Henry and Catherine of course!
Gideon's mission will be to find Joseph Tudor and prove that has been in cahoots with Rome all along. Gideon manages to find the long lost Tudor and kidnaps him along with a slew of letters he's been sending to the Vatican. Gideon puts him on a boat sailing straight for England. Between the letters and the returned traitor there's enough evidence to put Elizabeth on high-alert against Rome and to clear Mary of any suspicion of being involved. Except there's a small hiccup in the plan, the Vatican knows Gideon saw Joseph Tudor, and they know that he's now missing. They see that as a crime against the faith, so Gideon's life has an uncertain future at the moment.
There is one person left who can help him though, the bran new Earle of Leicester, Dudley. Even though he hates Gideon's guts, this gives him a chance to return to England a hero. He'll be rewarded for thwarting an assassination attempt on their queen. Gideon convinces Dudley to go to the boat headed for England in his place. When he returns to England with John Tudor in hand Elizabeth welcomes him back to court with open arms, and her council has no choice but accept him.
Even though the plan worked Gideon still isn't in the clear, he's been released but the Vatican still wants his head. They need someone to punish for messing up their master plan. Catherine however lobbies on his behalf with Elizabeth. If Elizabeth hands over a French general that she keeps in the tower, she'll send Gideon back to her safe and sound. Elizabeth doesn't see it as a fair trade, but Dudley convinces her to do it by telling her it was actually Gideon that uncovered the plot on her life. Elizabeth finds some solace in the fact that Gideon succeeded in seducing Mary. Dudley assures her it will be worse punishment for the man she wants to be with to be alive but out of reach, than dead. Something he understands completely. So before they can really begin any kind of real relationship Mary and Gideon must bid each other adieu.
Aside from the cousin capers there was a lot going on at French court. Leith and Claude (I almost just typed Greer, who has two thumbs and still harbors resentment over that failed relationship? This girl) are off being cute as ever. They're about to head off to Paris for a little romantic getaway. Leith sadly has to decline his princess, he's got a friend in need. Someone is blackmailing Greer and her sister. They know that Greer is the one who is really pregnant.
When Claude learns there's going to be scheming involved to catch the blackmailer she instantly wants in. She's like French Court's very own Blair Waldorf (though no one could ever really compare to Queen B let's be real here). Except when Leith uncovers the truth he finds that Greer's brother-in-law has been stealing from her. Turns out he and his wife were planning to buy a house out in Switzerland. They didn't like that Greer was trying to control everything about the baby's future. They thought she would just hand the child over and she would just play the doting aunt. But Greer is progressive and amazing and strong, so she was okay with none of those things. Now she has to have the child and find a way to raise it on her own. Anyone else hoping her sexy pirate baby daddy comes back? (I have a weakness for pirates in case you didn't know) If anyone can handle this situation, it's Greer.
All this time Bash was out investigating the Red Knights. He hits up a brothel that they used to frequent, hoping to find one of the mistresses who may have gotten knocked up by one of them. The Madame assures Bash her ladies know their job, and rule number one is no getting pregnant. But it appears one slipped through the cracks. A woman tells him how she left the child to die in the woods after she had it, not wanting any ties to the devil-worshiping brute that fathered it.
And the aforementioned child happens to be going around getting in cage matches with just about anyone who will challenge him. He dons his father's helmet, but that's the only connection he has to the Red Knights. He was approached by a group of men about avenging his father's death. He told them he wasn't interested. Which was the wrong answer because one of those rogue men swings by and gives him a swift running through with his sword. The good news, Bash was able to catch the man and turn him over to Catherine. She now has someone to punish information out of. She doesn't get much other than the fact that their mission is to end the entire Valois line. Not wishing to give up any more information the prisoner runs himself into Christophe's knife. And since Catherine's lover loves killing so much, he certainly didn't do anything to stop it from happening.
Speaking of Christophe, he's vowed he will protect Catherine. He's going to spend every night sleeping at the food of her bed. He has the feeling all that torture and murder has Catherine all hot and bothered. So he starts, sucking on her toes of all things. If Henry hadn't banged a girl out the window, this might have taken the cake as the weirdest thing that's happened on Reign in the bedroom.
Twitter: @TheVRO
Facebook: Variety Radio Online
Tumblr: Variety Radio Online
//