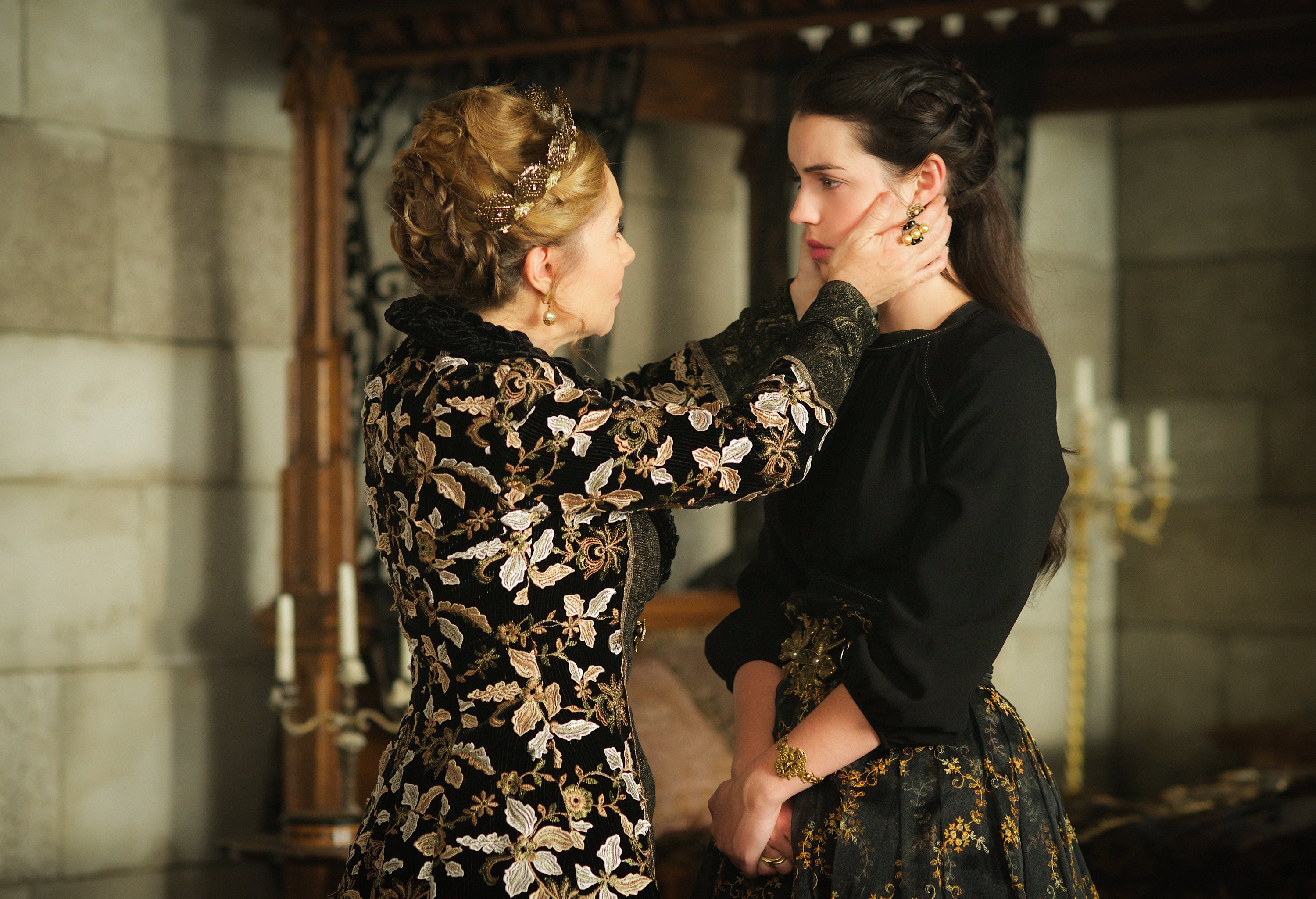 by: Emily Konopka
Hello fellow royals, long time no chat. Don't you just hate it when the real world gets in the way of your avid TV watching? I know right, the worst.
So here's the deal: Reign returned from its winter hiatus, and then was gone again in a flash just as soon as it returned (leaving this blogger completely perplexed and caught off guard). So I decided to do a round up of all the loose ends that were tied up, and what we still have yet to look forward to when the show returns and an undetermined date in the "spring."
Mary's search for a suitor
 Since Francis' tragic death (may he rest in peace), Mary's main mission has been finding a new marriage alliance to keep Scotland safe. So far Don Carlos of Spain seems to be the lucky winner. With Charles' permission she invites him to French court to well court her. Don Carlos is a playful, and decently attractive, prince with a dirty little secret. He's a bit forward for Mary's tastes but she plays along because she knows she needs a new husband. Many other eligible royals have rejected Don Carlos, and the reason could be they can't handle his dirty little secret. Don Carlos like's it 50 Shades of Grey if you catch my drift, though in this scenario, he's the one who's tied up. Mary enlists Catherine to help her get through Don Carlos' initiation; he must have a wife who can handle his vices. When the prince realizes Mary isn't the only one in the room he trips and falls, impaling himself on his "sex horse."
Mary and Catherine are convinced he's dead, so they leave him and head for Catherine's chambers. Unfortunately for them Don Carlos is still alive, wandering the castle with a piece of wood skewering his neck. The diagnosis is that he's got a lot of swelling in his brain; chances he'll recover are slim. But this is Reign, so they have to make things interesting. Don Carlos miraculously recovers, but his brain isn't up to speed. He doesn't remember a thing. All he remembers is how much he likes "pretty Queen Mary." Now that he's been injured, he's practically useless to his father as an heir. But Mary is so desperate she agrees to marry him anyways, she needs Spain and they now need her to be able to hide their son away in Scotland. The wedding date is set, but first Don Carlos' advisors ask Mary to sign something, an old school pre-nup of sorts. If anything were to happen to Mary, Don Carlos would still be the King of Scotland. Mary is able to sort out that something isn't right. Don Carlos is starting to gain his memories back, and he was using the agreement to usurp Mary's country. He planned to have assassins kill her right after the wedding. Mary unveils Don Carlos' fraud at the alter and sends him packing for Spain.
But Don Carlos wasn't the only one who caught Mary's eye. Elizabeth's spy Gideon, who was sent there to seduce Mary and ruin her courtship with Don Carlos, actually managed to weasel his way into her heart. The two had some thick sexual tension, and a few steamy kisses. This relationship will no doubt be continued when the season picks back up.
The quest for a Regent
 Catherine is all but set to become regent when a small roadblock presents itself. But turns out royals get their organs harvested during burial and someone discovers that Francis' is tainted black from poison. First suspect on the list is of course the Queen of Poisons herself Catherine. Narcisse uses this as an opportunity to raise suspicion and suggest the council vote him regent in the meantime until the Queen Mother's name is cleared. Narcisse runs rampant with the regency, pushing his own agenda. But after some digging, literally, from Bash and Catherine they're able to prove that Francis was never embalmed properly securing Catherine's innocence. But Narcisse still has his grips in Charles. Narcisse supplies a husband for Claude and she's forced into marrying him. But when Claude gets roughed up by her new husband she flees, but not before getting a few punches in (you go girl). When Charles sees what happened to his sister he realizes Narcisse has lead him down the wrong paths as regent so he convinces the council to remove Narcisse and instate his mother. As it turns out, Catherine paid off Claude's husband to hurt her so Charles would be motivated to get rid of Narcisse. There is nothing she won't do for power or for family.
Princess Claude's budding romance with Leith
 Pre-quickie wedding things were heating up between Claude and Leith. He taught her how to fight, and they meet frequently for "Latin" lessons. But when Claude makes it clear that they can't be together officially because of their different stations, Leith makes himself distant. Poor guy has fallen head over heels in love with the princess. Dude can't catch a break, always falling for girls of higher birth. But after Claude's 24-hour marriage she realizes the error of her ways professes her love for Leith. And the two lovebirds finally get under the sheets and take things to the next level. Leith swears he will find a way to rise in station until he is of high enough standing to ask for her hand. Gotta love a guy who is willing to work for it.
 How things are going across the pond in England
 The drama was in high abundance over in England. Elizabeth's love life is all sorts of crazy. Dudley's wife has gone practically mad knowing she has failed at keeping her husband away from Elizabeth. The Queen is harboring a big secret too; she's got a bun in the oven. She's trying her best to hide it while she finds someone to marry but time is running out. Suddenly no one is interested in marrying her. She tells Dudley of her predicament, so he of course decides he will divorce his wife and they will get married ASAP. But his wife doesn't take it so well. She figures out that Elizabeth is pregnant. To get back at them once and for all and make sure they can never be together she throws herself from the balcony in their home. The primo suspect in her death is Dudley, so a quickie wedding to Elizabeth would set off all the red flags. In the meantime someone tries to poison her, and she looses the baby. She's forced to say goodbye to Dudley for good when the courts can't convict him for killing his wife.
Elizabeth also summoned Lola, who has fallen out of love with Narcisse after finding out all the terrible lies he's told her, to court as part of a ransom; her family was captured by English soldiers.
Other odds and ends
 Bash and Delphine continued their hunt for the mad heart-snatching murderer. They come close to catching him thanks to Greer and her ladies. And speaking of Greer, she's got a bundle of joy on the way as well. And who is the proud daddy to be? The pirate she had a one-night fling with. He finds out when he's back in port, but even though he asks her to keep the child, she's already found a family to give it to. That family is her younger sister and her new husband. They can't have a child of his own, and her husband is dead broke. Greer buys them some land nearby so he can have a title and so she can remain in her child's life.
And there you have it. The CW hasn't yet made it clear when Reign will be returning. The CW promises new episodes will be arriving in the spring. Since the current Friday night line-up is filled with The Vampire Diaries and The Originals, my guess is we'll be back in French court sometime in May.
In the meantime the VRO is still covering all your favorite shows. Make sure to follow us on social media, and visit TheVRO.com regularly for updates on all things entertainment.
Hope to see all you royals in the "spring." Don't be a stranger!
Twitter: @TheVRO
Facebook: Variety Radio Online
Tumblr: Variety Radio Online
//