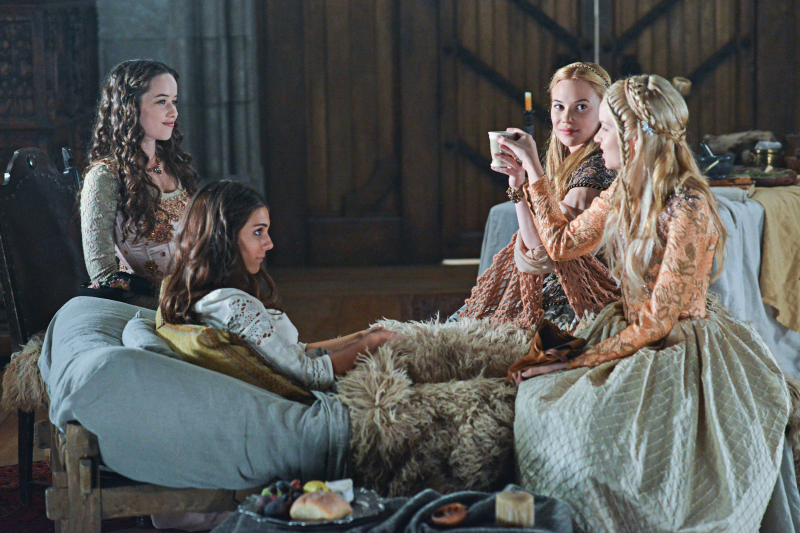 Reign Season 1 Episode 8 – "Fated"
By: Emily Konopka — January 8, 2013
The Reign mid-season finale was packed with angst, scheming, death, and heartbreak. There were some jaw-dropping moments packed in alongside some extremely sweet and romantic moments. The episode began blissfully, if only we would've known then the heartbreak that was soon to come.
The first scene of this episode was one of the highlights. We find Francis and Mary in bed enjoying a brief moment to revel in the happiness of their newly declared love. I especially loved when Francis told Mary he hoped she was pregnant so they would have to get married immediately. That boy is so in love with her, I'm glad he finally realized it.
We find out that the Vatican has sent a Cardinal to deliver some news. News that suggests Mary should make a claim for the English throne. I quite enjoyed how honorably Bash acted; standing up to his mother when he believed the cardinal was there about his legitimization. He really is a great brother, and he doesn't ask for anything in return because he knows his place. I feel bad for Bash. It's not his fault his heart decided to fall for the most unattainable woman it could find.
Something that shocked me was how bold Kenna seems to be becoming. First it was simply requesting the King remove tiles from his bedroom but now she has become very cunning and is even bold enough to scheme with the Queen. I thought it was very brave of her to go confront Diane. I loved that she was mistaken for Diane and learned about the legitimization. It gave her that much more of an edge to pursue what she wanted. She definitely is ambitious, unfortunately for her so are Diane and the Queen.
I liked that the issue of Mary claiming the English throne showcased Mary and Francis working as a unit, whereas before he probably would have tried to make decisions for her. This brought about one of my other favorite moments in the episode, Francis' proposal. It was really endearing to see how much Francis has changed. He finally sees Mary as his equal, his partner. I definitely had a big grin on my face the entire scene. What girl wouldn't want a man who was willing to put her not only above his country but also his own father's wishes? Talk about a deep commitment.
Of course things couldn't stay all sunshine and happy feelings forever. The ever-worried Queen goes to Nostradamus for guidance as usual. I still can't decide how I feel about how much faith she puts in his "gift." I understand her concern, but sometimes I think she is worrying herself too much with superstition. I am very interested to see how all of this superstition plays into the second half of the season. Another thing I still don't quite understand is how this mysterious girl Clarissa fits into the big picture. One thing for certain is she seems to always have Mary's back. However this episode showed that maybe the cost of that protection is too big of a price to pay.
At this point it seems like there is nothing that Queen Catherine won't do. She proved this when she blackmailed Diane by asking her to poison Kenna in exchange for her life. Catherine de 'Medici is definitely not a woman you want to cross. She gets what she wants no matter how twisted her methods have to become to get it.
The way I see it there are two major things we learned from this episode. The first is how deeply in love with Mary Francis is, and that he would do anything for her. The second is that the forces that conspire against Mary finally were too much for her to handle. Aylee's death was both heartbreaking and extremely eerie. When she recalled that Nostradamus told her she would never go home again as she was dying it not only fulfilled that vision but also his vision that one of Mary's friends would die before the frost melted. This death definitely served the purpose it was orchestrated to; it made Mary believe in the power Nostradamus' gift. And since she loves Francis and knows that he would die for her she simply can't allow the prophecy to come true.
The last 5 minutes of the episode were an emotional roller-coaster for sure. From Mary using Francis' exact words about love from the Pilot as an excuse for why she has to leave, to Francis begging her to wait for him while he things over with his father because he loves her so much and all he wants his her no conditions or terms. By far the most heartbreaking moment was when Mary told Francis she would wait for him and then fled anyways. The image of Francis calling after Mary as she rode away with Bash was so painful. It will be interesting to see where things go from here when the show returns January 23.
Twitter: @TheVRO
Facebook: Variety Radio Online
Tumblr: Variety Radio Online