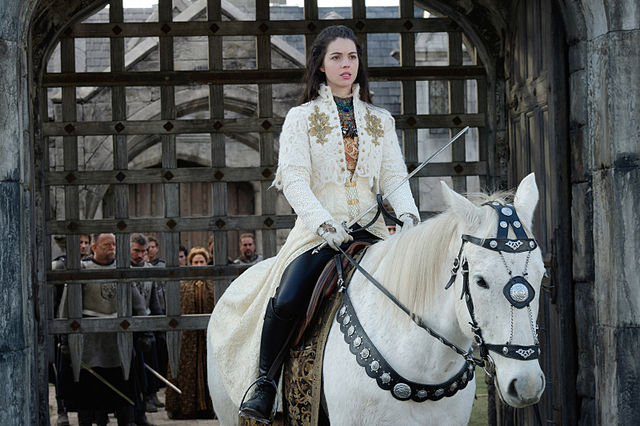 Mary's time at French court draws closer to its end but can she leave the home she's known her whole life during such a turbulent time?
For the first time in a while Reign had me yelling, "YES" at the screen however after this episode the fabric of the show is going to be entirely different.
Over the last three years we've gotten quite used to being at French court. This year we ventured into England, but now it looks like the time has finally come for Mary to bid adieu to France and head back to Scotland.
Mary has gathered her army of mercenaries and there is a window of opportunity to cross the English Channel. Thanks to Lola Mary has received word that the English Channel is currently unpatrolled. This is her chance to head back to Scotland, but she won't be bringing Bash with her. He's needed at the castle because Catherine and Charles are trying to do damage control after the whole dead generals situation. The current plan is to bury the generals under the castle and tell their soldiers that the generals never arrived. Then they'll pay them the money they are owed and hope they don't ask questions. Sounds like a solid plan right?
Charles' idea of damage control is hiring Delphine as the court seer so they can know when the inside man will make his move again. Bash has to let Delphine know that he doesn't carry any embers in his heart for anymore, poor girl after all of that sleuthing they did to find a heartless killer you'd think they were headed off into the sunset together. Delphine gets the sense that the killer is still in the castle and that he is choking the person who is protecting him. Ironically enough Catherine and Christophe are going at it and he decides a little breath play is what's on the menu. Catherine can't exactly say no to him because he could ruin her with one word.
However all of their attempts at covering up the fiasco are for naught. The soldiers arrive at the castle well aware that their generals are dead. They're demanding Catherine come out and face them at a tribunal court. Narcisse implores Catherine to take Mary's mercenary army from her. Right now her need for an army is far greater. Catherine doesn't want to steal Mary's chance at reclaiming her throne. Can we just take a second to appreciate how far these two have come? Remember when Catherine's life mission was to get rid of Mary? Feels like centuries ago.
Narcisse isn't too happy that Catherine is making herself weak for Mary's sake. Narcisse gives Mary quite the guilt trip and she offers her mercenaries to Catherine. However Catherine again refuses Mary and insists she make haste for Scotland. Her destiny lies there and even though she wants Mary to stay because having her at court was like having a piece of Francis still with her (excuse me while I cry) she knows it is time for them to be the queen's of their own countries.
Elsewhere in the castle Delphine has the unfortunate luck of meeting Christophe. She can sense immediately that he is the killer and sadly she becomes his latest victim. However Bash is smart and realizes that since Christophe was the one who discovered the body, and Catherine has choke marks on her neck as of late that he must be the killer. Bash waits around for Christophe to be alone and he hits him with a surprise attack. Crossbow in hand he decides to bring Christophe to justice. Before he does him in Bash finds out just how much Catherine knew about all of this.
Catherine is at the castle gates ready to turn herself over to the soldiers to stand trial. However a badass queen on a white horse rides in and saves the day. Before Mary left the castle for the harbor Bash gave her a gift that was left behind by Francis before he died. When she opens it she finds a letter from Francis telling her how proud he is of her that she's going to reclaim her throne and how he always thought he'd be standing by her side on this day. The gift he gives her is a sword he had made just for this occasion so she can storm into Scotland and take back what is rightfully hers. To close his letter Francis tells Mary he loves her "forever." Anyone else crying? Okay good I'm not the only one.
With the love of Francis stoked in her heart she realizes she can't turn her back on France just yet, much to the chagrin of her generals she leads her army back to the castle. Mary convinces the angered French soldiers that Catherine is innocent and that if they turn their backs on her they are turning their backs on France. Inspired by her speech the soldiers stand down and Mary rides off back to the harbor with her army, one last parting gift from one queen to another. Mary was a total bad ass in this episode.
However, that's where the happy and fuzzy feelings stop. Bash confronts Catherine about Christophe. He found the letter that had the evidence to expose Catherine. Knowing what she did to Claude Bash also realizes that the reason he hasn't heard from his mother in months must have something to do with her. He gets Catherine to admit to killing his mother, and he almost kills Catherine with his bare hands. Instead of choking her out though he gives her his formal resignation. It's time for Bash to bounce out of France for good.
Bash leaves his half-siblings a parting gift, the letter exposing Catherine's sins. Claude and Charles vow that they'll find a way to make their mother pay. Looks like Catherine is all alone once again.
Bash decides he's going to hitch a ride to Scotland with Mary after all, and Narcisse is along for the ride too. Narcisse has been inspired and he's off to rescue Lola from England. As the ship is crossing the sea it encounters a storm and Mary gets tossed around in her cabin and almost washed out by a crashing wave. Will the Queen of Scots land on her home soil safely?
Speaking of England Lola and Gideon were working together help Mary and also get Lola and her son their freedom. At first Lola was ready to stay with Elizabeth a little while longer, Elizabeth seems to finally trust her. However Gideon warns that if Mary is about the make the crossing she probably has an army in tow. Elizabeth will see it as an act of aggression and Lola and her son will become even more valuable hostages. The time to flee England is now.
Like I said at the beginning this was the first episode in a while where I was truly enthralled and excited by something that was happening. Seeing Mary be the badass Queen we know her to be was so great. When she rode in on that horse sword in hand, it was truly epic. It will be interesting to see where the story goes from here now that Mary is returning to Scotland. Will we split our time three ways now? Scotland, France, and England? We will have to see when the next episode airs June 6th.
Twitter: @TheVRO
Facebook: Variety Radio Online
Tumblr: Variety Radio Online
//