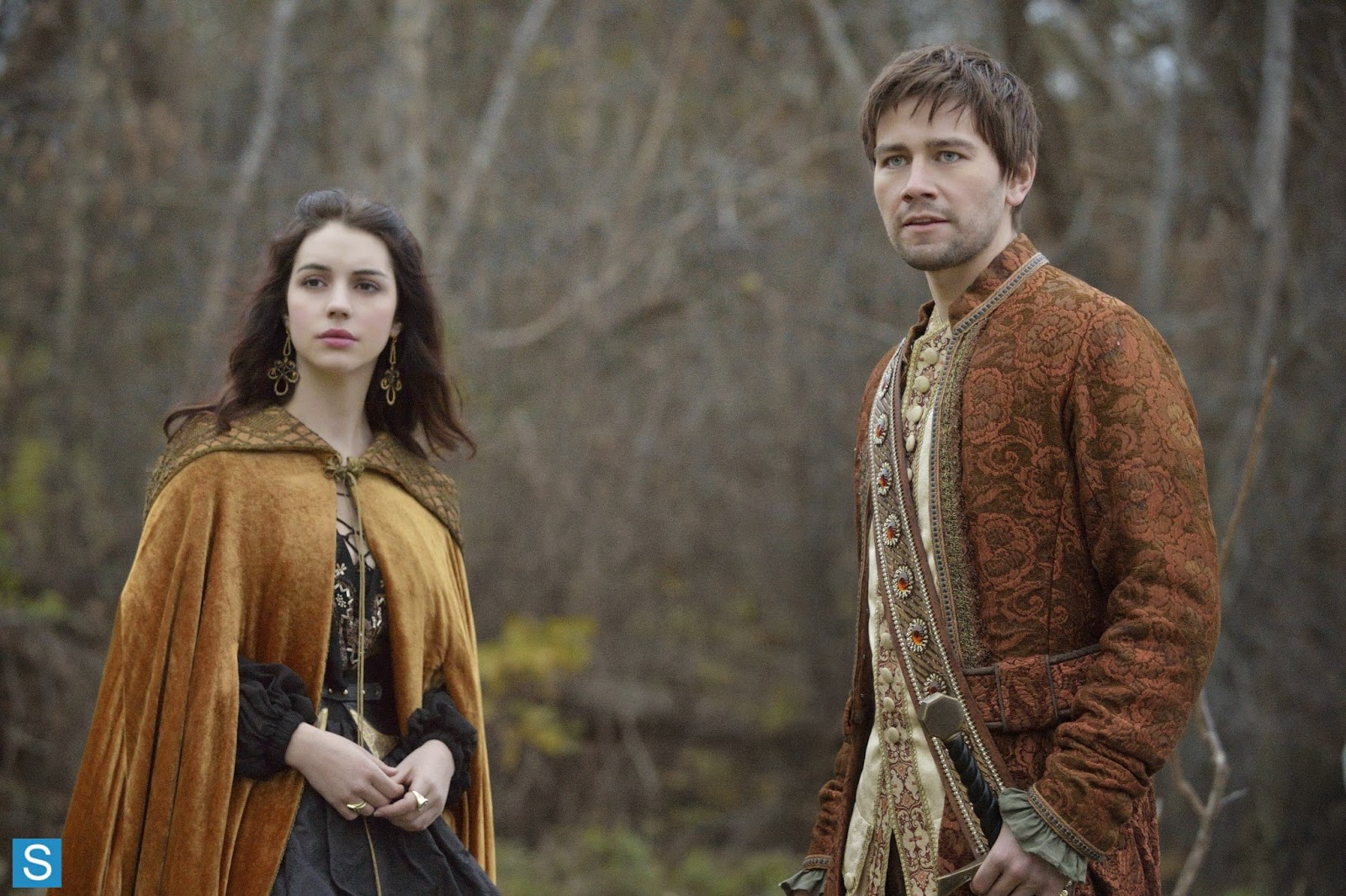 By: Emily Konopka
Last night things got heated on Reign. Bash got to play King while his father was away, Catherine plotted assassination, and Mary started cozying up to Bash. Not to mention her ladies in waiting found some gumption. Here's a recap of all the royal drama.
First things first, Francis seems to have taken off to relish in his new freedom and no one is sure where he has gone. Bash has to act as regent while the King travels to Rome. However, he doesn't take to well to his responsibilities; he even seems a bit bored with it. Things got a bit more interesting for him when a pregnant girl was brought in. Bash had a sense of familiarity towards the girl because he had her kept at the castle while her suspected crimes were investigated. That wasn't the last bit of excitement. Turns out some of the people in the kingdom aren't too happy that Bash is sitting on the throne instead of Francis. So much so that a woman attempted to take Bash's life.
Apparently even locked away in a tower Catherine de 'Medici still has a lot of power. The knife intended for Bash had poison on the blade, and we all know how the Queen loves her poison. This of course does not sit well with Mary. She orders every servant the Queen has to be removed and that her chambers be stripped bare. It seems that Catherine has awoken a sleeping giant in Mary.
We find out that the mystery girl, Isabelle, is Bash's cousin, only after Mary assumes that she is carrying Bash's child. Turns out, her father was executed as a traitor, which would not be good for Bash's pursuit of the throne. Of course Catherine had her hand in getting her arrested, another plot to get Bash out of the way. The castle is not the safest place for Isabelle, so Bash and Mary come up with a plan to get her to safety, since she is almost ready to give birth.
One of Catherine's confidants manages to bribe his way in to her chambers. They spend his visit plotting to kill Bash and Isabelle, shocker, framing them to look like two lovers running away. The Queen orders him to send some of her guards after Mary, Bash, and Isabelle. To escape the guards Bash has them detour through the blood wood, which is obviously dangerous. Luck definitely wasn't on their side, because Isabelle goes in to labor that night.
As if things weren't going bad enough for them already, their camp comes under attack by pagans. Mary is terrified, but Isabelle and Bash's bodyguard seem almost calm. Bash pulls out some pagan gibberish from his memory and they leave them alone, slaughtering a horse instead. Mary doesn't know about Bash's connection to the pagans like Francis does, so she freaks out. She accuses him of being a heretic. He explains to her that he remembers some pagan prayers from his childhood when he would visit Isabelle and her family. The group that dwells in the woods is a small sector of the faith that practices human sacrifice, but Isabelle and her family are not part of that group.
While all this drama is going down in the woods, Mary's ladies are stirring up some trouble with the Queen back at the castle. The girls come up with a plan to forge notes from the Queen. One note is about her plots to kill Bash, the other is an order to spare no expense preparing a feast in his honor. Lola tells Catherine that she can either stop plotting against Bash, or she will hand over the first letter to the King. Since he is practically searching for a reason to behead her, the letter would give him that.
Things remain a bit complicated back in the woods. Mary fears that deep down, Bash does not really want to marry her and take the throne. She tells him that once they're married he'll instantly be the King of Scotland, and his number of enemies will grow immensely. Mary knows that Bash doesn't always think of the consequences when he acts, which could be bad when he is king. Their conversation is interrupted when Bash's guard tells them that something is wrong with Isabelle. She has bled out after giving birth.
When Bash and Mary return to the castle, they find someone in secret to care Isabelle's baby girl. To convince those still loyal to the Queen that Bash has no connection to her, they have to pretend that he killed Isabelle while he was out hunting because she attacked him. Later on Bash buries Isabelle. Mary mistakenly brings flowers to her grave, and Bash tells her that pagans don't put flowers on graves. He shows her how they do honor graves, by slicing his hand with his knife and letting some of his blood drip onto the grave. Shockingly, Mary takes the knife and does the same. Bash admits to Mary she was right that he never wanted the crown. He tells her that he will accept it if he must, but that he is not his brother. He does not live to serve France over everything else. He promises that once they are married, Mary will be the only thing he is 100% devoted to, even if that isn't what good kings do. Mary responds by kissing him.
Sound off:
Where do you think Francis has gone? Hopefully we see next week. Do you think Henry will be successful in Rome? And will Catherine ever run out of ways to cause trouble? From the looks of it, her bag of tricks isn't empty yet.
Reign is back again next week with an all-new episode at 9/8c
Twitter: @TheVRO
Facebook: Variety Radio Online
Tumblr: Variety Radio Online