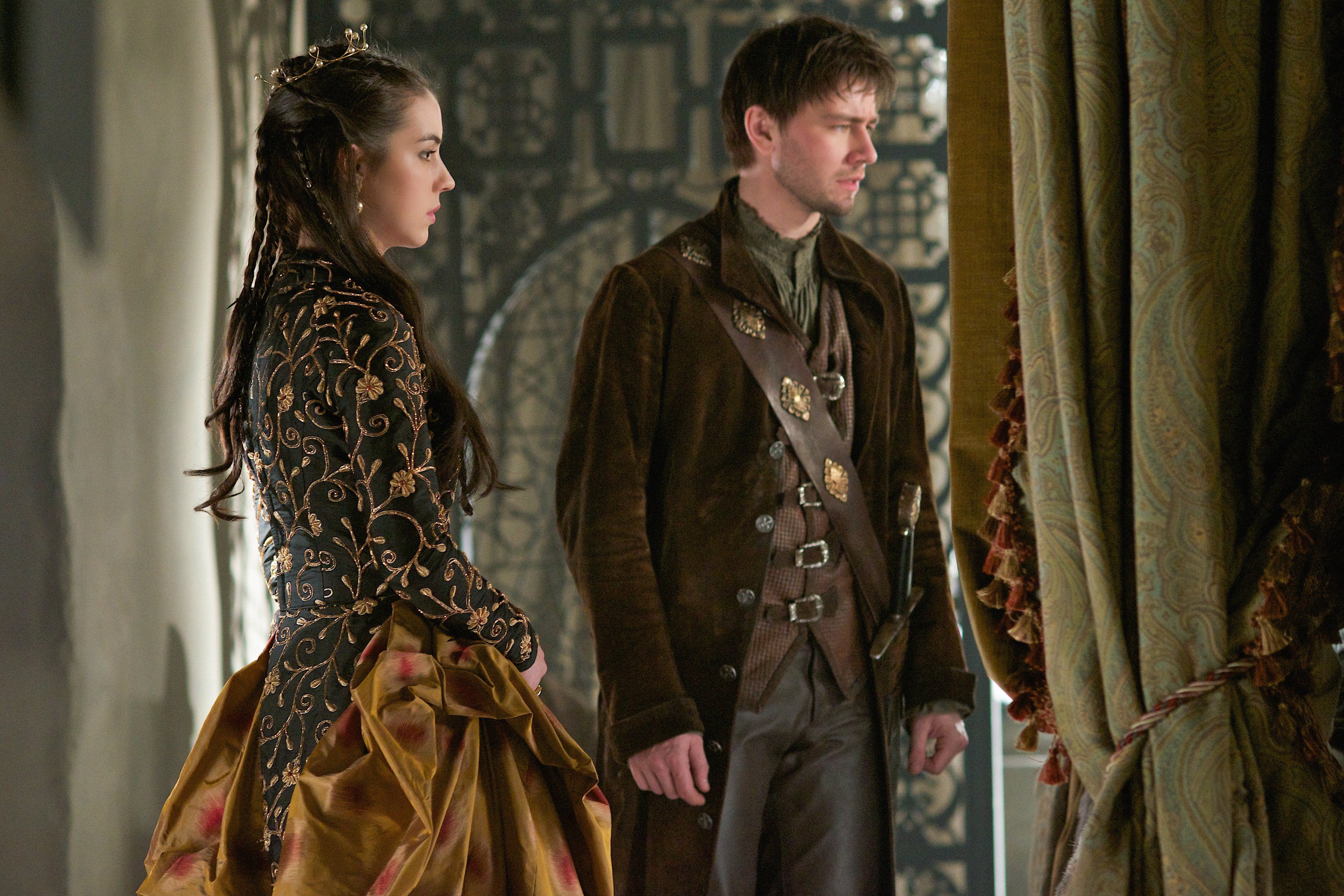 by: Emily Konopka
As Francis fights for his life Mary has to assume the duties of the King and decide whether or not to send French troops to defend Scotland.
Mary learns of Francis' sudden illness when Lola arrives to interrupt her and Conde's morning after bliss. They rush back to the castle straight away. The doctors say if he doesn't break his fever soon he'll surely die from the infection in his ear, which in case you didn't know is how the real Francis dies so should we be worried? For now the answer is a big ol YES.
One person we don't have to worry about now is Bash, who thanks to Delphine's voodoo powers is all patched up. Too bad Bash doesn't know he might have traded his life for Francis'. Delphine tells Bash the man who tried to kill him is set to hang and that he should go to town to make sure they caught the right man. When Bash arrives he confirms the man is the one who stabbed him but he notices the next person in line for the noose is none other than Clarissa. Bash rescues her from being killed and drops her off at Delphine's house for safe keeping while he returns to the castle.
Mary has a tough time figuring out what she should do, she has Conde in one ear telling her that she should send troops and Catherine in her other ear who is adamantly against weakening France's border defenses. Since sending French troops is a no go, Conde reminds Mary that Narcisse has a private army. Narcisse however isn't too keen on helping Mary since he's on Catherine's, so he lies and says his army is two days away. Two days is enough time to wait and see if Francis lives or dies. Either way troops won't be sent to Scotland because Catherine surely won't allow it as regent, and Francis probably won't either if he wakes up. But hold the phone Catherine; you might not know your son as well as you think.
After Bash returns to the castle and sees that his brother is hanging on by a thread he returns to Delphine's house. He shares what he knows about the prophecy with her and manages to slip some poison into Clarissa's wine. He apologizes to Clarissa but tells her this is the only way to assure Francis recovers. Now Nostradamus' prophecy is officially complete. Now it makes sense that he saw Francis bleeding from his ear back in season one and blamed Mary, however he didn't know about Clarissa at the time so things are all falling into place. Let's hope this means our boy Francis is safe from the chopping block for a while.
Bash's plan seems to have worked because while Mary is pleading for Francis to live at his bedside he wakes up! The doctors say he will be up and moving in a few days, and that his recovery is miraculous. Bash breathes a sigh of relief when he realizes Clarissa's death was not in vain.
However there is still a war about to break out in Scotland so Francis surprises everyone by sending 2,000 French troops to Scotland. He does this not out of affection to Mary but to show that he honors his alliances. Now that Francis has made this show of loyalty to Scotland, Mary tells Conde that she cannot leave with him now, maybe not ever. Conde tells her that staying at court will kill their love and Mary accepts her fate. Conde tells Mary that her love might not be enough for him anymore.
Twitter: @TheVRO
Facebook: Variety Radio Online
Tumblr: Variety Radio Online
//