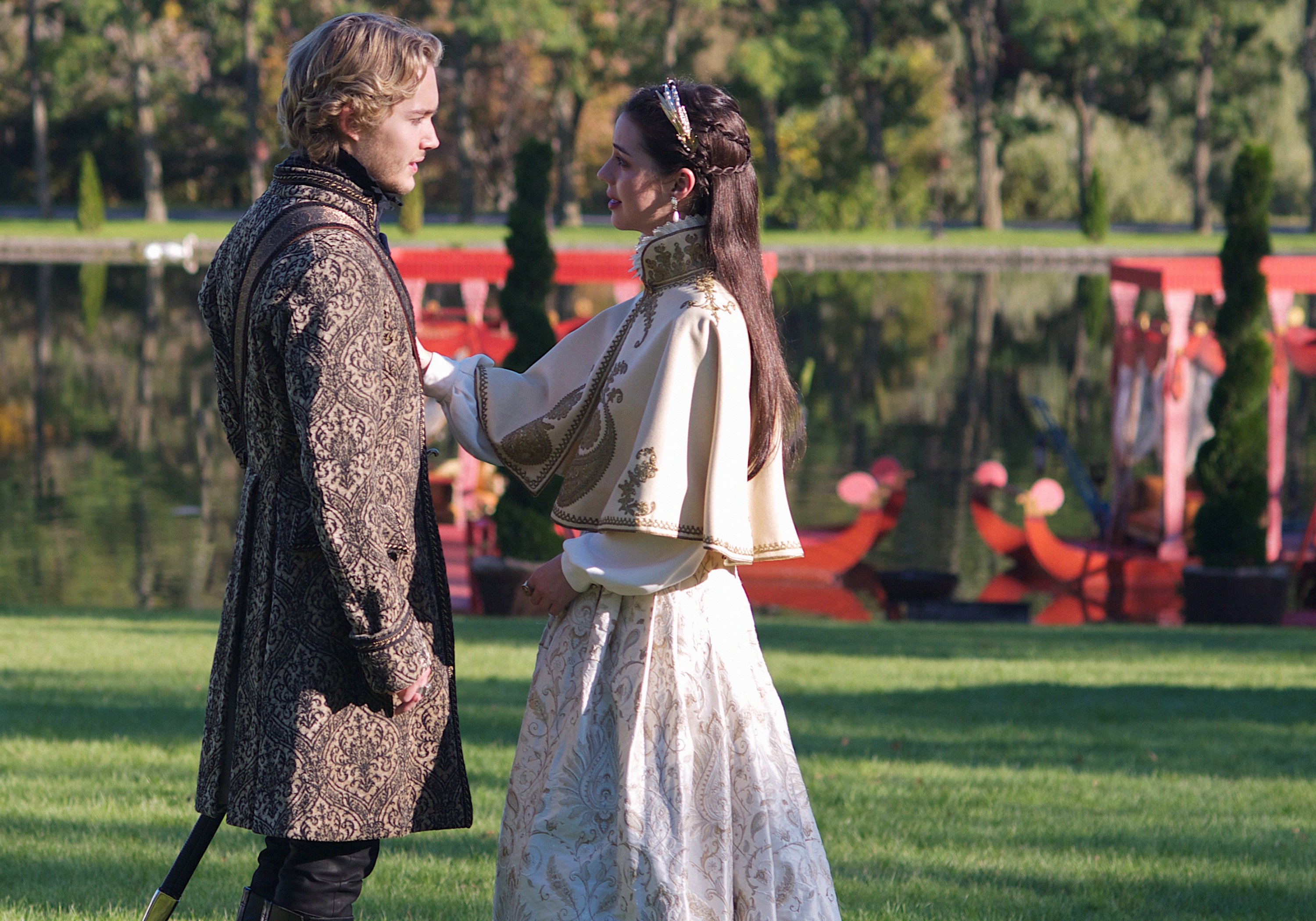 by: Emily Konopka
This week on Reign the future of France was at stake as religious tensions ran high forming a deeper rift between Francis and Mary.
As if French court didn't have enough drama, Princess Claude returned home to court to stir up some trouble. Narcisse has another trick up his sleeve in his ongoing blackmail against Francis. Narcisse has rallied the nobles to stand behind a law that would require all French citizens to declare their loyalty to the Catholic faith. Mary is obviously not in support of this, and in the open neither is Francis. But behind closed doors Francis knows he may have no choice but to give Narcisse what he wants.
As if Mary wasn't already against the prejudice against Protestantism a more personal reason comes thanks to Greer. She and her husband were attacked on their wedding tour because there were rumors that Lord Castleroy did not take mass. Mary vows to protect her friend and make her husband see that this law is the wrong thing for France.
Bash has been keeping tabs on Narcisse for his brother and his curiosity finally gets the best of him. He manages to get Francis to spill the beans, and when he finds out he is blackmailing his brother he swears he'll kill Narcisse himself. He even understands why Francis needed to get rid of their father. Three cheers for Bash and Francis' bromance, so happy their days of pining over the same girl are over.
When it appears Francis is still on the fence about the edict Mary goes to Conde to give her what she wants, since her husband can't give it to her. Was that a double entendre there Mary? Does anyone else get the sense Conde has a bit of a crush on Mary? Mary's grand plan is to get Conde to find a noble who has converted to Protestantism and get them to stand against the edict. She knows there has to be one or even more that are merely pretending to still be Catholic for fear of Narcisse.
Thanks to his mother Francis has his own chess piece to play against Narcisse. A codex used by English spies was found among the belongings of Mary's traitorous guard Gifford. This gives Francis the idea to plant the cypher among Narcisse's things so he has a way to have him executed for treachery. Meanwhile Catherine continues to be haunted by two little ghost girls a la The Shining.
Francis learned from Bash that Lola has been spending a fair amount of time with the sly Lord. Therefore Francis asks her to do him a favor: plant the codex, hidden in an envelope, as insurance incase Narcisse ever becomes an enemy to the crown. When Lola gets to his estate she takes advantage of his strange obsession with watching her bathe and asks him to draw her a bath. She hides the cypher behind a painting. Narcisse feels that there is something else has motivated Lola's visit than just a casual drop by on her way home. He asks her to trust him because he knows once Francis finds out they're seeing each other he'll try to use her against him. Too late Narcisse he's already done that, but I have a feeling he might already know that.
Narcisse manages to manipulate Lola to take his side by telling her Francis' biggest secret. His defense is that unlike Francis he has told her the whole truth. When Lola returns she tells Francis that she was unable to succeed. She tells Francis that of the two of them Narcisse was the one who didn't use her. It looks like battle lines have been drawn.
At Claude's welcome home party Mary and Conde make a move to convince a suspected Protestant nobleman to take a stand against the edict. But when the time comes the next morning to take a stand the nobleman does nothing. Conde sees this as an opportunity to be daring and steps forward as a Protestant. He gives a riling speech that convinces three other noblemen to come out as well. Francis takes this as an opportunity to think some more on the matter, much to Narcisse's chagrin. Mary expresses her gratitude for Conde and he tells her he did it for her…again I'm sensing a little crush forming here.
After seeing the lengths his wife went to Francis decides it is time to call Narcisse's bluff, no matter the consequences it might bring upon himself. Even it means his life. He goes to his wife and pledges to her that he will not sign the edict. She has inspired him to do the right thing. He warns her there may be consequences, but what can they do to him he's the king right? Oh Mary, if only you knew what you were getting yourself into.
Unfortunately Francis is not successful in calling Narcisse's bluff. Narcisse has some new information to bring to the table. Narcisse knows that Mary and Catherine conspired to kill Henry days before Francis did it himself. If Francis' secret gets out, Narcisse will make sure that Mary and Catherine will loose their heads too. And with all three of them gone, he can see to it that the rest of the Valois line is disposed of.
Catherine's two little ghost friends lead her to Claude's chambers. As it turns out, the girls are the ghosts of two of Catherine's children who died as infants. They're jealous that Catherine might love Claude more than them, so Catherine changes her mind and tells Claude she has to leave court immediately. Claude also has a dirty secret of her own. She and Bash had a little family loving back in the day. Claude convinced him that Henry wasn't his father and the two got a little bit closer than siblings should.
Lola is feeling conflicted about siding with Narcisse, so she goes to him to tell him she cannot betray Francis because he is not only the father of her child, but her king and her friend. When she tells him she cannot see him anymore he tries to change her mind with a passionate kiss. Lola's resolve crumbles for a moment before she comes to her senses and doles out a well-deserved slap to Narcisse. She tells him he should never take before she has offered to give. Way to go Lola, let your 16th century feminist flag fly.
Mary is happy with the fact that things turned out her way until she finds a distressed Greer who tells her that Francis ended up singing the edict. Furious, Mary seeks out her husband. His excuse is that he realized he couldn't rule without the support of his Catholic nobles, but Mary is not buying it. She tells Francis that man she fell in love with is dead, and she is tired of waiting for him to return. His solution for Mary: go back to Scotland. When his wife is gone Francis goes to sit on his throne, alone.
Alright, who else thinks that at this point Francis should just tell Mary everything? Now that he knows she tried to kill Henry too there is nothing he can do to protect her, so she might as well learn the truth right?
Reign airs Thursday's at 9/8c on The CW
Twitter: @TheVRO
Facebook: Variety Radio Online
Tumblr: Variety Radio Online
//