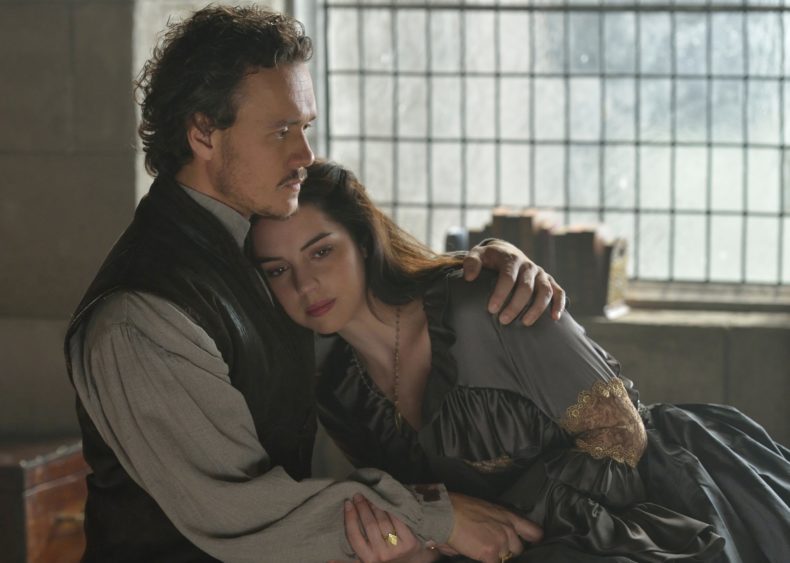 Mary's plot to return to Scotland and reclaim her throne grows thicker as she makes a bold show of trust.
Mary returns from an unsuccessful trip to Rome, or rather that's what she'd like everyone to believe. She tells Gideon that the Vatican refused to support her, which is something Elizabeth will most certainly be getting word of whether or not Gideon tells her himself. News from Rome travels fast. Once her cousin finds out Mary is running out of options, Elizabeth decides she's going to name Mary as her successor. Sounds like a strange power move, but Elizabeth knows what she is doing. Part of the deal, should Mary accept it, is that Elizabeth gets to pick Mary's next husband. Which means instead of marrying her off to a king, she'll be married to a highborn Englishman that Elizabeth can easily control.
Mary feigns innocence when she finds out about Elizabeth's deal. Trying to determine whether or not she should take it. The reality is, she's got Rome whispering in her ear. They have agreed to fund her, and now that they know she's one signature away from being the successor to the English throne they're definitely on board. But Mary realizes the Vatican plans to murder her cousin in order to put her on the throne, and if she doesn't comply with what they want they'll just get rid of her and put another catholic on the throne, most likely a man this time.
Mary is in a bit of a dilemma. She realizes that just like always she is merely a pawn in someone else's game. She can't very well say no to the Vatican, so she has to make it seem like she's going along with their plans. All she needs to seal the deal is an ally. Let's see, who could possibly be a good candidate for that?
Mary still has a bit of an itch she needs scratched, if you catch my drift, and her tool of choice is English in nature. Catherine convinces Mary that she could benefit from hitting the hay with Gideon. As the mother of her dead husband, she's giving Mary full approval to give in to her basic needs. In other words, her former mother-in-law just told her to get it on.
Over in England Elizabeth is having some troubles in her love life as well. She's stealing away to an estate in the country to visit Dudley on a regular basis, and Lola has found out about it. One day she accompanies the queen to his home; the visits are purely platonic Elizabeth doesn't have anyone she trusts to talk to at court anymore. However while they're in town an angry mob comes knocking. A man challenges Dudley to a duel, because they all believe he murdered his wife and ruined the Queen's reputation. The man who strikes the duel decides the weapon of choice is going to be pistols. Luckily for Dudley, the man's pistol misfires. Dudley however gets a clean shot as Elizabeth watches on from far enough away that she won't be recognized. Dudley may not have been a murderer, but he sure is one now. He begs Elizabeth to allow him to come back to court, because he can't live his life wandering around England any longer. Too many people recognize him.
Elizabeth grants Dudley his wish and invites him back to court. She even gives him a promotion in station, but he won't be sticking around England for too long. He's being sent to France to be her cousin Mary Stuart's next husband. Elizabeth is heartbroken to send Dudley away, but this way she'll know that Mary's new husband is devoted to Elizabeth's wishes. Most importantly, this way she'll know he is safe.
Mary decides she's going to give in to her feelings for Gideon and the two finally seal the deal on their dalliance. Before they spend the night together Mary decides that he is the perfect ally in her mission to save her country and her cousin's life. She gets Gideon to agree to help by telling him that the Vatican is going to come after Elizabeth. But their bliss is almost short-lived. Elizabeth has enlisted Gideon's servant Jeffery to make sure he's doing his job and seducing Mary. Jeffery saw Mary meeting with a representative from the Vatican, so he knows her trip wasn't as unsuccessful as she's making it seem. He's ready to send word that Mary is building an army off to Elizabeth. In order to protect Mary's plan from being thwarted Giedon bludgeons the poor guy to death with a chair, and an update letter to Elizabeth. Mary his horrified when she finds out what Gideon has done, but you know what they say: all is fair in love and war.
Speaking of complicated love lives Catherine is having some complications of her own; dating a serial killer will do that to you. She can't kill her lover, or expose him because then bad things will happen. Catherine's best solution is to convince Bash to have him put on a mission that will send him far away from the castle for an extended period of time. At least if he's not residing under her roof she can sleep a little better, even though he'd still be killing people. And Catherine's love live isn't the only drama she's got going on. She's brought a troupe of Italian actors to perform a comedy about the lives of royals, Catherine why don't you just turn on your DVR and watch Reign…oh wait. Except the comedic play takes a dark turn when guy in a creepy mask shows up on stage and demands justice be served for a group of men who were killed by the royals. Most people think it is just part of the play, but Catherine knows better, and so does Bash.
He can recall a time from when he was young when Henry showed a group of men who were brutally executed, their heads placed on spikes outside the castle walls (Henry really knew what good father son bonding was). Catherine admits that she and Henry owed money to the group of men that they could not repay. So they accused them of devil worship and had them executed for it. Catherine wanted to execute them quietly, but Henry insisted upon making an example of them, so no one would dare threaten them ever again. The group insisting on revenge shows up outside the castle walls one night. Catherine learns they call themselves the Red Knights. Narcisse finds out that Cardinal Morell, the one who tried to frame Catherine for taking Francis' life, has turned up dead. Catherine's life is most certainly in danger.
Twitter: @TheVRO
Facebook: Variety Radio Online
Tumblr: Variety Radio Online
//