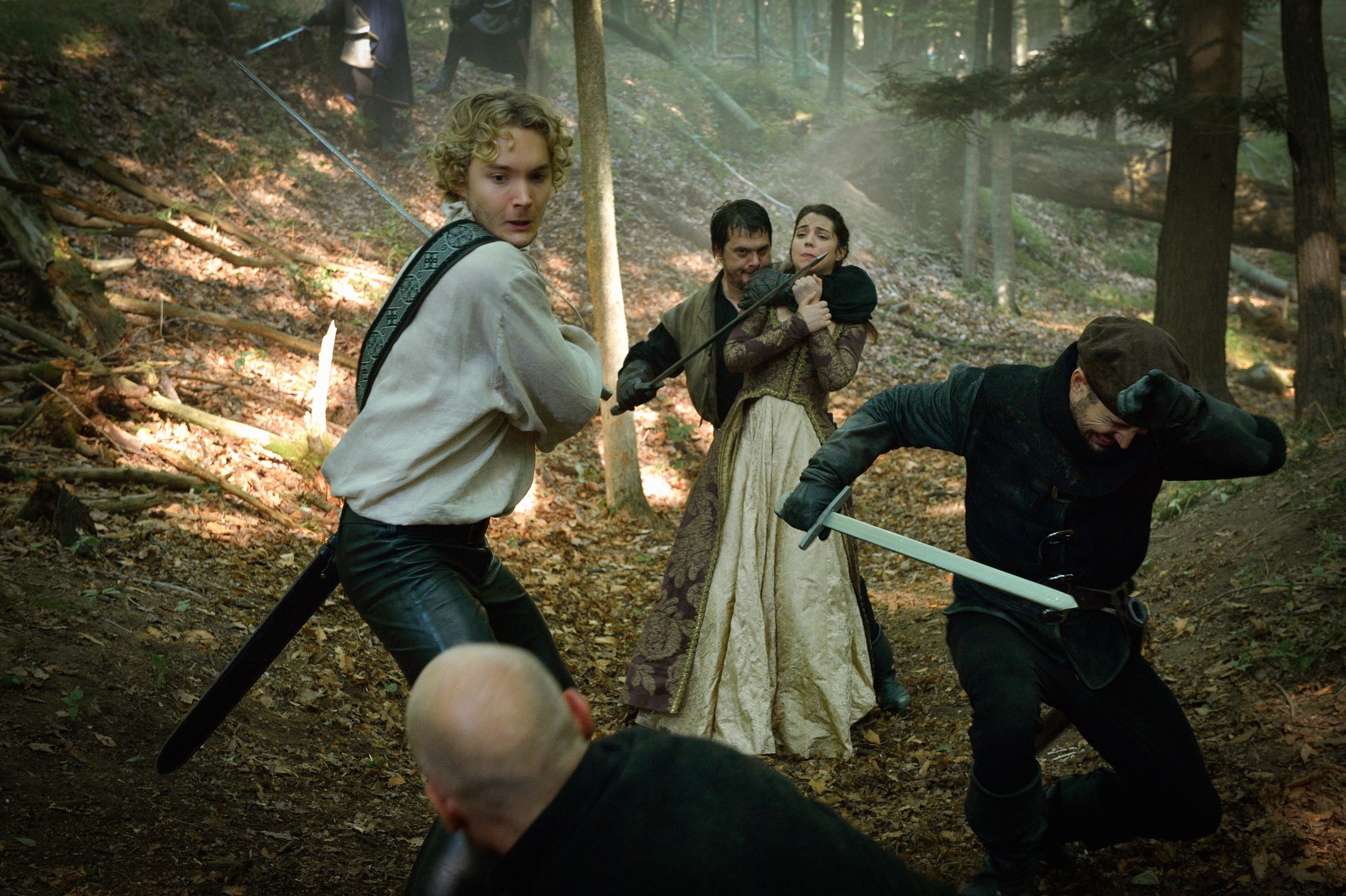 by: Emily Konopka
Francis is overjoyed at his second chance at life, and wants to spend every moment with Mary. From teaching her to sail on the boat they built together to going on trips around France, he wants to do it all. The King and Queen aren't the only ones giddy over Francis' new lease on life, Catherine is buzzing about the castle in a particularly good mood. She's taken to redecorating Francis' bedchambers so he won't have to be reminded of death while he and Mary get cracking on producing an heir.
Now that things are warm and happy again Elizabeth thinks this would be the perfect time to propose a peace agreement. The war between England and Scotland isn't really benefitting anyone at the moment, so in exchange for peace between the two nations Elizabeth asks that Mary sign away her claim to the English throne. Francis advises Mary not to do it; her birthright is her most prized possession. But she agrees to do it, because Francis is her most prized possession. Say it with me now…awww!
But happiness is of course short-lived because guess who's back in town, the OG bearer of bad news, Nostradamus. Seeing as Francis did technically die of an ear infection, his original prophecy came true, so that means he's in the clear right? Wrong. Big N tells Catherine that he had seen other things in regard to Francis' death. In particular a tree with white petals and blood falling from the sky, which he has recently started dreaming about again since Francis' resurrection. Catherine of course takes his prophecy to heart and rushes to tell Francis. However now that he's got a fresh start at life the last thing Francis wants to do is stay locked up in the castle. He can't be tamed! So it's off to Paris for the royal couple so they can dance under the stars.
And of course this whole new lease on life wouldn't be possible without Delphine. Mary doesn't seem too troubled over the fact that her mother kicked the bucket right as Francis was saved. She takes comfort knowing that since her mother was suffering so she no longer is in pain. Bash extends his deep gratitude to Delphine for saving his brother and asks her to say at court. Delphine decides that since Bash is being such a swell guy, she'll unbind them. She didn't really ask for his permission when she did it so it's the least she can do. Unbinding them however is not for the faint of heart. It involves Delphine almost drowning Bash. No one ever said black magic was a cake walk right?
Now that they're unbound, Delphine has heightened awareness of the serial killer that's been running around murdering people. Her sixth sense leads her and Bash to a barn. Bash discovers a secret door and inside they find a collection of hearts in jars. Delphine gets a feeling that someone else is about to die. The heart collector shows up to his barn with a fresh heart in hand, but before Bash can chase him down, he gets away leaving the murder mystery unsolved once again.
Francis and Mary are on their way to Paris, and they're enjoying basking in their love for each other when Mary tells the driver to pull over. She recognizes where they are and she suggests she and Francis take a little skinny dip at the lake that's near by. The royal couple ditches their guards at the carriage and heads off to take a dip. It's such a spontaneous moment and they take the time to really enjoy each other's company, if you know what I mean. After their swim and other activities Mary leaves Francis to rest, his head still gets a little woozy post resurrection, while she goes to the carriage to fetch them a bite to eat.
However Mary is attacked by a group of assassins. Francis hears her screams and as he goes to save her he comes across a tree with white petals, just like the one in Nostradamus' vision. But Francis can't waste time being freaked out his wife is in danger. Francis fights off Mary's attackers, but gets his head bashed in a few too many times during the fight. Once the assassins are all either dead vanished Francis collapses to the ground. At this point he's accepted that this is the end. His second chance at life was short lived but at least he got to spend those few extra days being happy with Mary. With his dying breath he asks her to stay in France until his mother is officially regent, and most importantly to love again. Mary tells him that she'll never be able to love anyone the way she loves him. And with that the young king is gone forever.
Bash gets word of what's happened and fetches Catherine. The two of them find Mary still clinging on to Francis' lifeless body, unable to leave him. Catherine has to come to her side and pull her away from Francis, telling her that the body lying there is no longer Francis he's gone. Mary and Catherine cling to each other in a very touching moment that shows even in their differences the one thing they could always agree on was that they both loved Francis more than anything. Bash and the guards hoist Francis' body over their heads to carry him away, and a drop of blood falls on Nostradamus' face, completing his prophecy.
Mary is distraught over the loss of her husband, and she's ready to point the blame for his death at her cousin Elizabeth. She demands the English ambassador tell her if Elizabeth ordered the assassins to attack them. He swears that England had nothing to do with the attack. Mary however doesn't care; she rips up the peace accord and throws it in the fire. Still filled with anger and grief she heads to the throne room where she rips down the tapestries that show the crests of England and Scotland together and screams in agony as she does so, all while still wearing the dress that is stained with Francis' blood.
Once it's time for the funeral Mary's anger has turned to quiet sadness. Narcisse offers her some information, they were able to capture the escaped assailant, and he was not English, but Scottish, radical Protestant who wanted to get rid of Mary before she could appoint a new regent (joke's on them though because she was going to appoint her Protestant half brother James, he's tolerant and at least he's family). Since they have all the information they need from him, Mary orders Narcisse to hang the traitor.
As the funeral procession is about to leave Mary lays a kiss on the casket telling Francis that this was not the way they were supposed to go to Paris. One of the guards tells her that customarily the queen of France rides in the first carriage; she replies solemnly that she is no longer the queen of France. She instead walks behind the funeral carriage.
Alright Royals, are you still okay? I know I'm a wee bit behind with things (I recently moved to a new city) but that doesn't make the pain any less real. How are you dealing since Francis' tragic death? Do you think the show will ever be the same without him?
Twitter: @TheVRO
Facebook: Variety Radio Online
Tumblr: Variety Radio Online
//