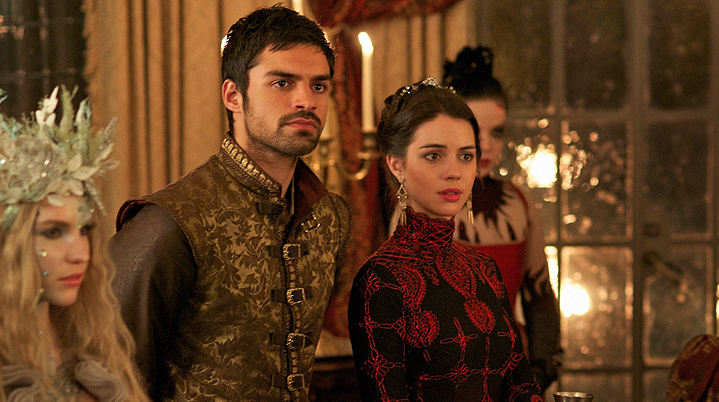 by: Emily Konopka
Reign returned from its winter hiatus and tensions were still high between Francis and Mary.
With her husband as a constant reminder of her assault, Francis and Mary are leading separate lives. However, Francis isn't keen on sitting back and having a marriage like his parents' so he still is caring towards Mary. Since her plan of leading separate lives isn't unfolding as she imagined, Mary tells Francis that she's going to leave the castle for a while, spend some time alone at their chateau in Chambord she hasn't had a chance to visit yet.
Since the Protestant rebels attacked the Vatican has had their hands in Francis' business. The guards at the castle discovered at all the traitors they executed bore the mark of the three dark riders. Cardinal Perazzo, the Vatican's representative, takes this a sign that the mark was used as a symbol of the Protestant rebels and declares anyone bearing the mark is a traitor. This proves to be problematic, since Prince Conde now bears the mark.
Knowing the implications of the mark on his chest, Conde needs to flee the castle. Mary offers to help him. She will take him from the castle in her carriage and instead of heading for Chambord, they will try to get him to his brother, the King of Naverre who is staying at an estate a days ride away. From there Conde will be able to travel to Naverre until the protection of his brother.
Meanwhile Catherine is busy with the ghost of King Henry, who is whispering sweet nothings in her ear about how he loves the way she mixes garlic with arsenic. Oh Henry, death hasn't changed you one bit. Kenna has caught on to Catherine's subtle poisoning of her daughter and decides to investigate the matter personally. She starts by intercepting the poisoned porridge and bringing Claude new food to eat. When Claude's health starts to improve Kenna knows for sure what Catherine had been doing. While Kenna views this as a deed of good faith with her sister-in-law, Claude views it as Kenna sucking up to her. So she tells her that she and Bash were lovers once upon a time.
Conde and Mary managed to escape, with Leith and Greer in tow, and Conde's brother is quite surprised to see that Mary has joined him, since he is supposed to be gathering intel for him. Lucky for the travelers from French court, Antoine is throwing a party of secret desires. It appears Conde's brother enjoys playing games. Sadly for all those out there still shipping Leith and Greer (me!) and those shipping Mary and Conde, the two women retire to their chambers before the king can call upon them to act on any secret desires.
Understandably so, Mary is still dealing with the effects of her rape. She tells Greer that all she feels lately is distance. But she clings to the distance because she can barely stand to have any man touch her. Even if it's just a simple touch of the hand. She worries that it is never going to get better. Meanwhile, Conde has been selected for a round in his brother's game. However no matter how appealing Lady Atley is, he can't get Mary off of his mind. She helps divulge his fantasy by blindfolding Conde so he can imagine she is the woman he truly desires.
Francis and Bash are hatching a plan to stop the Vatican's witch hunt of people branded with the mark of the dark riders. They decide the Cardinal will have to cease his mission if a loyal Catholic turns up with the mark. So Bash attacks Perazzo's cleric Randall, who also happens to be his lover, branding him with the mark of the riders. When Francis orders Randall to the dungeon the Cardinal is conflicted claiming that it is a matter for the church, not France. Francis insists that he wants to handle the matter as a sign of his allegiance to the Pope.
After his fantasy romp, Conde goes to bid Mary farewell. He asks her if she's considered going back to Scotland, since Francis' decisions have done nothing but endanger her as of late. Mary tells him that problems with Francis aside, she doesn't trust Conde's intentions because she knows he's in love with her. The next morning the Pope's Swiss guards arrive to apprehend Prince Conde. Mary calls upon the help of Leith in this predicament. The only way to save Conde's life is the burn off the brand. For the first time since her attack Mary is able to make physical contact without flinching. On their way back to court Mary tells Greer that she has a new found strength, and that she'll continue to fight for Conde. But don't worry Frary fans, this boost of confidence also gives clarity. She realizes that she isn't the only one hurting, that Francis is too. She's not sure if she's ready to jump headfirst back into their relationship, but she is willing to try. Frary lives! Er, well, sort of.
Back at the castle Francis is trying to break down the Cardinal's resolve. He knows that he and Randall are lovers and he knows about love. Francis reveals that he knows just how deeply the Cardinal cares for Randall. He knows the pain he has brought on himself to keep him safe and comfortable. Because according to Francis love means caring about someone else's suffering more than your own.
Claude finally takes the information Kenna gave her and confronts her mother. The ghost of Henry and the twins linger in the room with Catherine egging her on, trying to convince her that Claude needs to die. Catherine tells her daughter about the horrible thing she did as a child. Claude argues that she was only a child, and if she did what her mother is saying she didn't know what she was doing. Catherine shows mercy to Claude and that is enough to make her stop seeing visions of her late family members.
With the Cardinal taken care of, Francis stops by to see his fussy son who has been giving Lola hell the past few days. Turns out all he needed was some quality time with dad. When Mary returns to the castle she finds out that Francis took a stand against the Vatican. She goes to find him, but when she does she sees him sound asleep with his son and Lola. The picture of the perfect little family.
So, what did you think of the episode? How long do you think Francis and Mary will stay apart? Are you glad Catherine is done seeing ghosts? Let me know, I'd love to chat with you about the show!
Twitter: @TheVRO
Facebook: Variety Radio Online
Tumblr: Variety Radio Online
//