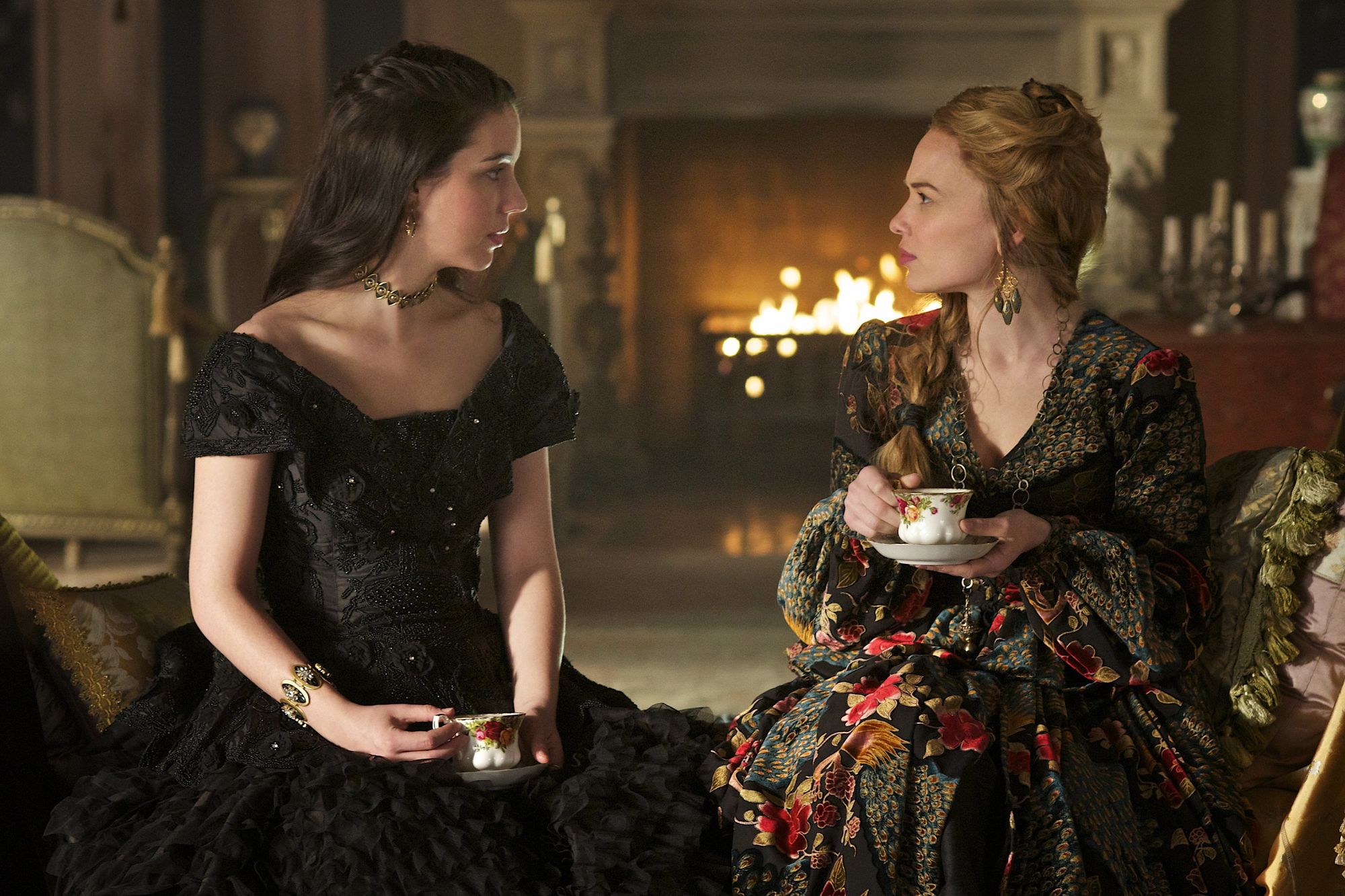 by: Emily Konopka
Now that Conde's attempted marriage to Queen Elizabeth is no longer a secret he is the most wanted man in France. And despite Mary's pleading, Francis has no choice but to order Conde's death.
Mary blames herself for Conde's misfortune and begs Francis to let Conde flee the country surely banishment is punishment enough? However, Francis knows there is no way Conde will make it out of this ordeal alive.
Francis has General Renaude's men waiting at every border checkpoint with instructions to question any man that fits Conde's description. In the meantime the general is getting closer to Kenna at the castle. Lady Kenna is all hot and bothered after having a dream about her famous staircase interaction with Henry from the pilot episode, however this time instead of King Henry the man who approaches her is Renaude. Kenna is pleased to know her new crush has ambitions and he let's her know that he always loves it when he can please a lady. I think we all know he doesn't mean it innocently.
Elsewhere in the castle Catherine is busy getting her world rocked by Narcisse, however she can't get over the fact that Conde is on the loose not to mention she heard rumors he interacted with Lola at a brothel in town. She wants him to make a grand gesture showing that Lola is nothing more than a passing flirtation. So Narcisse has a nice little sketch of Lola naked in the bath drawn up and passes it around to all the noblemen in the castle. And as you can suspect Lola is PISSED.
Even after trying to marry her arch-rival, Mary still wants to protect Conde. She pays Greer a visit in disguise and asks if her girls can keep their ears peeled for any word of Conde or who might have started the fire. For her troubles Mary gives her friend a large sum of money. And apparently money is the most important thing to Greer right now.
Leith has been doing chores for the Cardinal, and getting pushed around as Claude's servant. Claude is heart broken over the fact that her lover, who is in town, doesn't want to stay and become her suitor. Even though she is bitter Leith has found his true love in Greer she hands over a pair of her earrings that will cover the cost of asking the Cardinal for an annulment. But not so fast, when he brings the money to Greer and proposes her first thought is that they should invest the money into her brothel. She finally feels security and has control over her life, and sadly not even the promise of Leith's unconditional love is enough to make her give that up.
Mary has received a message from Conde asking her to meet him. She tells him she can have fake papers drawn up so he can flee the country. However Conde doesn't make it past the border with his fake identity. Mary is devastated when she learns her backstabbing boyfriend has been captured. But what no one realizes is that General Renaude is also a traitor and instead of apprehending Conde he helps him escape into the arms of the English.
Elizabeth has agreed to continue with her marriage to him, but there's a new condition: he has to be a king first. That means he has to overthrow Francis and take the French throne. When Francis finds out Conde has escaped he also learns that he had official papers with him when he was captured, papers he could have only gotten from one person. Francis is furious with his wife and warns her that this choice is the most dangerous one she has ever made because Conde is probably out there right now rallying troops against Francis.
Mary's actions have been a bit misguided as of late, and Bash offers her some perspective and a shoulder to cry on. Let's not forget that Bash was once in Conde's position (I'm starting to miss those days, at least then Mary was less insane and was only trying to protect Francis). This makes Mary realize that it's not the men she choses that make things go crazy it's her. Her position as Queen poisons any relationship she might try to pursue, unless it's with a king. With this realization Mary goes to Francis to plead for his forgiveness, but he can't seem to find it in his heart to forgive her while her lover runs free, most likely plotting Francis' downfall.
Twitter: @TheVRO
Facebook: Variety Radio Online
Tumblr: Variety Radio Online
//