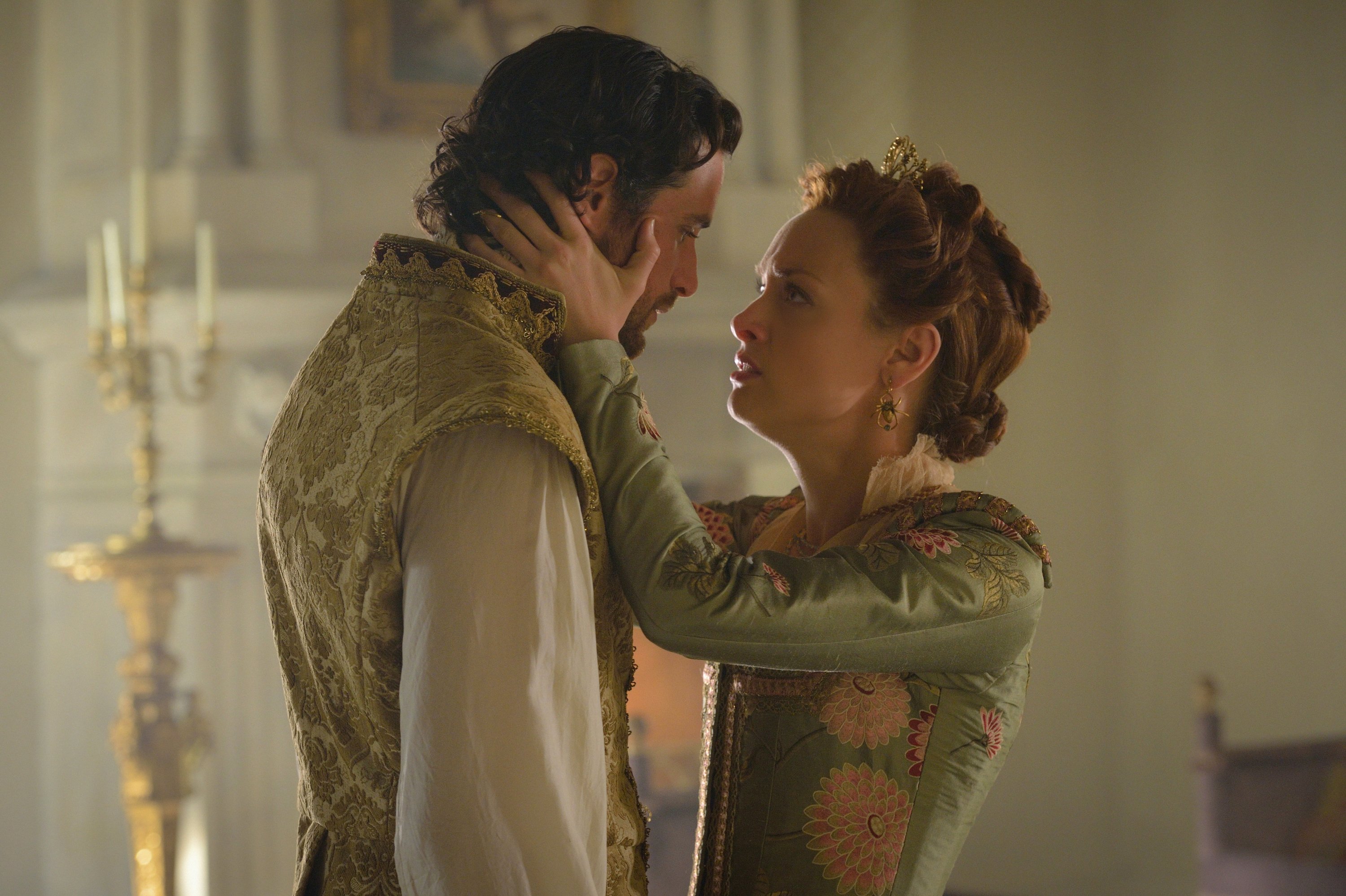 By: Emily Konopka
Need a refresher? Read my review of the last episode "In a Clearing".
With Francis gone the future is up in the air. Charles is now the king of France, but he holds no real power since he's not of age. That means the race to find a regent in on, and Catherine isn't the only one who has her sights on the position. Lord Grenier seems to be building, rather buying, support from the council. In the few weeks since Francis' death Catherine has not left her chambers, which has allowed the Privy Council to meet multiple times without her there. If Catherine has any hope of becoming regent, she'll have to get out of her room and make herself present for political meetings with Charles. Charles tells Mary about how Lord Grenier seems to be buttering up the rest of the council so she sets out to discover what he's up to.
Turns out, he recently sold off his biggest vineyard. So she does some digging to figure out why. With the help of Greer and her ladies, Mary is able to weasel some information out of Lady Grenier. She finds out that he didn't sell his vineyard to get money to bribe the council; he's actually a war profiteer. He makes money on every soldier that dies in Scotland. The majority of the council wants the troops to be brought back from Scotland, so Grenier would be deceiving them if he were to act as regent, keeping the troops in Scotland so he can make more money for himself. Mary shares what she's learned with Catherine, and the two of them head to see Grenier and take him down like the powerful badass females they are. Mary is absolutely disgusted with Grenier. She may love Scotland, but she would never be willing to risk thousands of French lives to hold on to it. The queens give him an ultimatum, leave the council or they'll expose him.
One important thing Catherine realized from Grenier's betrayal is that the regent must listen to what the people want. And the people clearly want France to abandon Scotland and bring the troops home. The only reason the alliance with Scotland has lasted this long was because it was Francis' way of showing Mary how much he loved her. Now that he's gone, there's no real reason to keep it going. However, Catherine recognizes how hard Mary fought to get her the support of the Privy Council, so she tells Mary she will keep the troops in Scotland once she's regent. Mary however can't let her do that. Mary and Catherine attend a meeting of the council where Mary announces that as the other half of the alliance, she relives France of her duties in Scotland. The council is impressed with Catherine's ability to win Mary over and get the troops sent home, so they invite her to the next meeting. Charles tells them it would be a great comfort to him to have his mother ruling by his side.
Catherine feels on top of the world after her mini victory with the council, so she does what Catherine does best, goes to Narcisse to rub it in. Narcisse is in the process of getting changed when she barges in, it's all right it's not like she hasn't seen it before. She gloats that Narcisse's blissful happiness with Lola will soon be over. She'll see to it that he is destroyed once she is regent. But there's one thing Catherine doesn't realize. Since Narcisse is John's guardian and proxy, he gets a seat on the Privy Council. Destruction and take downs really get their blood boiling, so Catherine grabs Narcisse where the sun don't shine and offers to finish the job for him. Her sexual exploits of Narcisse were less for her pleasure and more a way to find his weakness. Lola doesn't seem to be as willing to please her husband in all the ways that he asks. She plans to use it to her advantage.
Now that his mother is one step closer to being his regent Charles asks Mary what she'll do next. The truth is, Mary has no idea. She doesn't know how she'll be received in Scotland if she returns. Charles tells her that she should stay in France, and court her potential new suitors there, where people she knows, people who will look out for her, can surround her. Mary is a little hesitant at the idea of courting a new husband in the home of her deceased one (hate to be a downer but Mary you already had two flings with other guys in Francis' home, but I know, I know, it's different now that he's dead right?).
Mary goes to Catherine for comfort. She doesn't know a life outside of France. She's been there since she was six years old. She doesn't know who she is without France, and Francis for that matter. Catherine tells her what we all know to be true, she's a queen. Always has been always will be. She advises her to entertain Don Carlos of Spain's offer to meet. She has her favorite portrait sent to the prince with a message, she's ready to accept his offer and she'll be staying in France.
Over in England Elizabeth has been dealing with some romantic problems of her own. Her lover Dudley has left court and won't return any of her letters. Being the devious queen that she is, Elizabeth invites Dudley's wife back to court to be the royal keeper of the swans, sounds like a great gig right? Amy knows she can't refuse an offer directly from her queen, so she has no choice but to return to court and wait for her husband to find his way there as well.
However Dudley's wife is a bit more cunning than Elizabeth gives her credit for. She gets a doctor to diagnose her with a condition, which is of course brought on by great stress in her life. Her only hope of survival is to remove all stresses from her life, and head to Cornwall where there is another doctor who can treat her. Dudley leaves just as soon as he returns, and he tells Elizabeth that this time it will be for good. Elizabeth tries to get him to see that maybe this illness is fate telling them that they can finally be together, all the have to do is wait for Amy to kick it and they can be happy. Dudley couldn't bear the guilt if she died and he did nothing to try and help her. So it's farewell to court for Dudley.
The heartbroken Elizabeth now has only one thing to focus on, her feud with Mary. Now that the French troops are leaving Scotland, it's prime for the taking. Elizabeth's armies have already successfully taken Mary's birth town. Her ambassador Nicholas advises that with no husband Mary is less of the treat than ever. Elizabeth doesn't like that her representative has taken such a shining to her cousin. She decides to send another man who is better suited for the job to France in his place: Gideon Blackburn. Who until this point has been wasting away in the Tower of London. He's got a permanent residency card because while her half sister Bloody Mary was in power, she used Gideon to spy on Elizabeth. Turns out, Gideon is quite the charmer, and he tricked Elizabeth into falling in love with him. She says she'll grant him his freedom if he'll use his charm to make Mary Queen of Scots fall in love with him.
Twitter: @TheVRO
Facebook: Variety Radio Online
Tumblr: Variety Radio Online
//