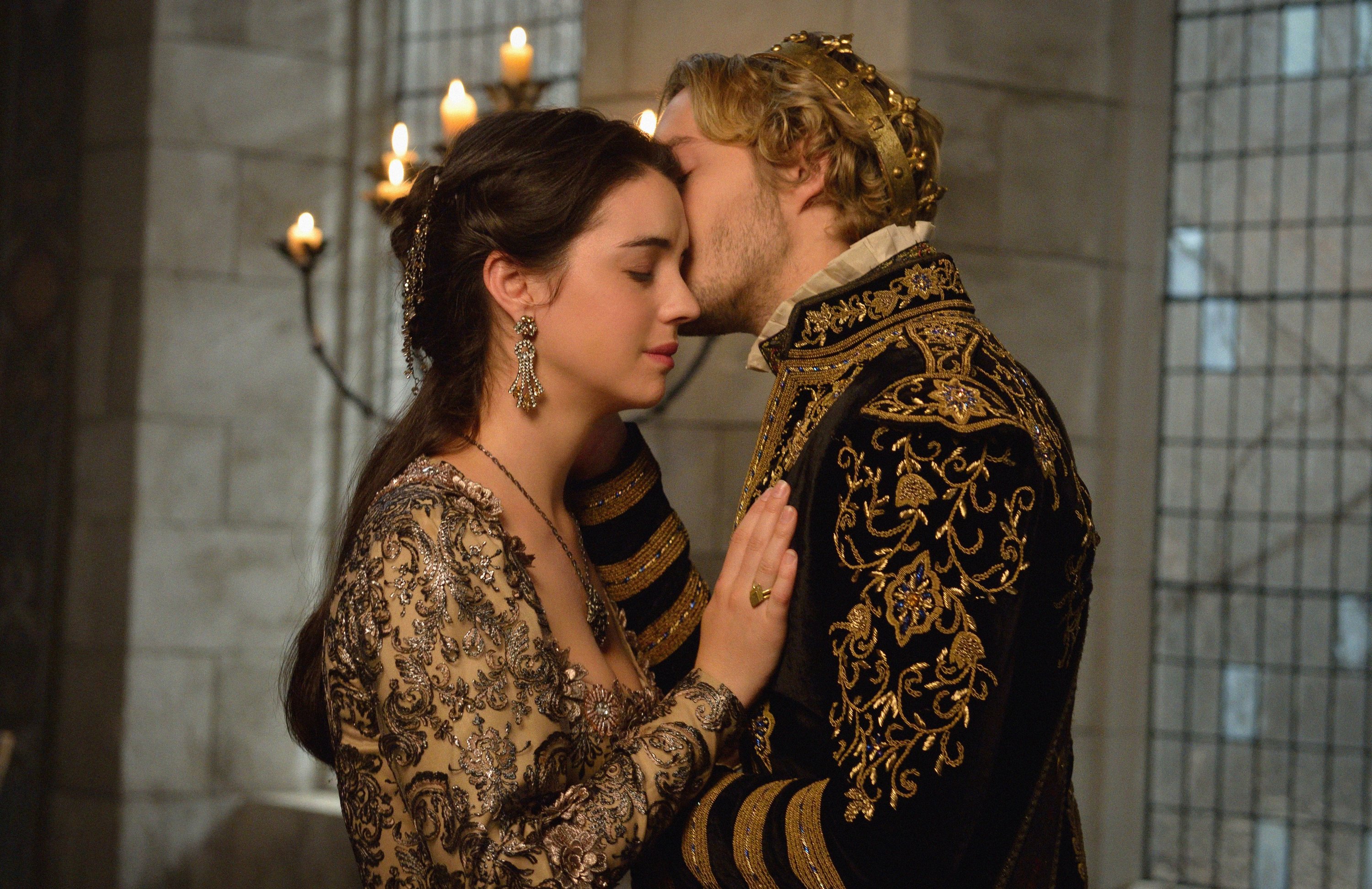 by: Emily Konopka
Francis continues to get sicker as the days pass, which makes it even harder to hide his condition. People at court are starting to wonder where he is; the running lie is that he's retreated to a church for prayer and seclusion. The new English ambassador to France Nicholas shows up to court to make things even more complicated. But Mary and Francis soon have more to worry about than one of Elizabeth's puppets snooping around.
Meanwhile Catherine has been in the infirmary with self-inflicted wounds. She bashed her head against a wall one too many times to try and get Francis' attention. It didn't work because all she gets is a visit from Mary. The ladies get in a heated discussion. Catherine blames every problem Francis has ever had on Mary, and tells her she's a "vampire bitch" who's sucking the kingdom dry. Mary tells her that her son never wants to see her face again. She orders Catherine to be taken back to the dungeon regardless of the harm she may try to inflict on herself. Boom mic dropped. Point one for Queen Mary.
As if there wasn't enough trouble going on, King Antoine arrives to ask for their help in securing his brother's return. You remember Conde right? Well mercenaries have captured him and the only secure path to bring him safely home is through territory controlled by Francis' army. Mary by no means wants to help save Conde's life, she says he's a traitor and he should die in France. But she reconsiders when she and Francis realize this is a chance to make sure the Bourbon's are no longer a threat to the French throne. Francis musters up as much strength as he can for his chat with King Antoine.
There just so happens to be a party going on that night, typical night at court. So Mary and Francis walk in together arm and arm. They see a seat next to Antoine wide open but before he can sit down the King of Navarre asks the band to play something for the King and Queen to dance to. Darn. So Mary and Francis share a dance, in typical Reign fashion to a top 40 hit played by a string quartet. Appropriately so, Stay With Me serenades the couple as they share a dance together. Something Francis points out they didn't get to do enough of at their many different ceremonies across France.
And speaking of weddings before the big party Lola and Narcisse are snuggled up in the sack, and she agrees to marry Narcisse. But that decision doesn't stick for long because when Francis finds out he implores Lola to think of their son. She sees his point of view so she lets Narcisse know that she doesn't think she can marry him. Man what a roller coaster these two are on and it's not over yet.
More on that later but first, Prince Charles has been having a grand old time with an old friend Constance. He snags some opium that Francis refused to take from the doctors and they have themselves a little party. You know what they say; a little party never killed anybody, except in Charles' case. Constance has a little too much fun and ends up over dosing. He tries to get his sister to help out, but the only person she knows of who could do anything is Narcisse. Narcisse notices that Constance is still breathing, but barely. Good thing he spent so much time in opium dens in the past, so he knows how to flush out her system. Ah 16th century stomach pumping. Narcisse manages to save the girl and he lays some hard truth down on Charles. The weight of her life was in his hands, but Francis has the weight of an entire country on his shoulders. This gives Charles a bit more respect for his future job.
While she wasn't trying to revive a dead girl Claude continued her flirtation with Leith. Leith however tries his hardest to resist the forbidden fruit, by shacking up with one of Claude's ladies. The princess finds them and is upset at first. But when she hears him admit he did it to fight his feelings for her, he's flown too close to the sun before and gotten burned and we all remember how that turned out (forever and always mourning the loss of Greith), she's not so upset anymore. I guess I can get on board with this little ship if it means Leith is going to be shirtless more often.
Mary and Francis find out that Antoine is really in France to meet with the English ambassador and form a stronger alliance. So, they get Catherine to help solve that problem. She blackmails Nicholas into leaving Antoine high and dry. She says she'll spill the beans about how Elizabeth was the one responsible for trying to tarnish Mary's name, she'll even throw in that the Virgin Queen isn't so much a virgin. Nicholas backs off because everyone knows you don't mess with an angry Catherine de Medici.
The time of reckoning has come, Francis and Mary meet with Antoine and their conditions for Conde's safe transport are simple. Antoine must sign away his claim to the French throne. Since they know he was really at court to meet with England's ambassador so this is their only offer. Antoine realizes that something is off with Francis. He calls him out and Francis admits to being gravely ill. Antoine isn't about to sign away his claim to a dying king's throne, but Francis threatens war if he does not do it. He says he will invade Navarre and destroy his country; looks like Francis did inherit some of his father's qualities. Antoine eventually signs away his claim to the throne.
Francis notices the change in his brother and tells Narcisse that maybe there is still some honor left in him. He gives him and Lola his blessing to be married. But they must do it as soon as possible. Wouldn't want Lola's reputation to be tarnished any further. Though we all know the real reason for Francis to want them to have a shotgun wedding.
There's a lot of reflection going on because Mary realizes that maybe Catherine had a point. She does not see a future as the Queen of France panning out well for her or Scotland. She decides to break off her engagement with Charles and tells Francis that he should allow his mother to become regent. The only reason the alliance between France and Scotland has lasted this long is Francis' undying love for Mary. When he dies the alliance will likely die with him. Mary has received word that the next king of Spain is secretly looking for a wife. She decides Spain, with it's massive navy, is the best way to ensure Scotland's safety. Mary leaves Catherine to spend some time with her son. She realizes that Catherine was the one who got the information from Spain. Catherine says she couldn't let her leave France empty handed. Every once in a while these two have a tender moment, when they're not at each other's throats.
Apparently Lola just happens to have a wedding dress lying around because she and Narcisse scurry down the aisle that very day. Everything is happy go lucky for the couple until who should appear but the HBIC herself, Catherine. Now that she's back in Francis' good graces she'll be around to witness their hopefully long and healthy lives. Oh goody, the cat is out of the bag and now she has some mice to play with.
Twitter: @TheVRO
Facebook: Variety Radio Online
Tumblr: Variety Radio Online
//