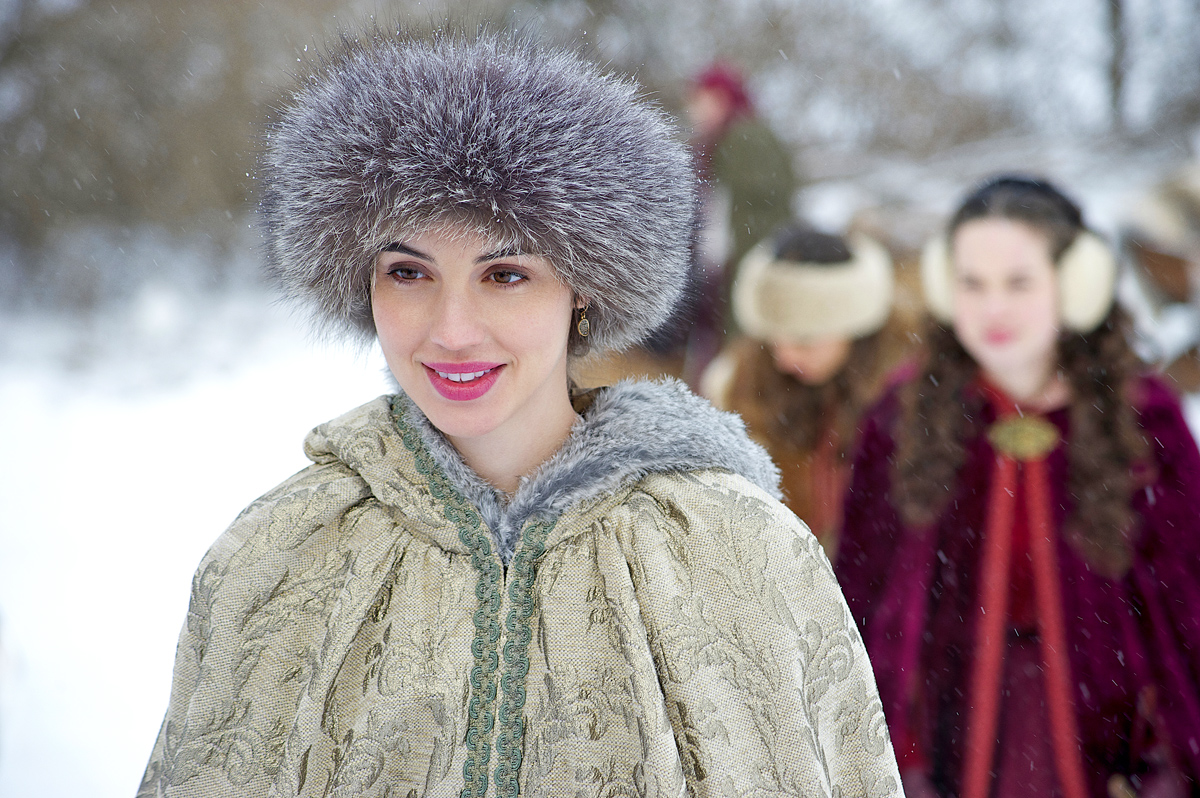 by: Emily Konopka
How's it going my fellow Royals? If you're like me and just caught up on all the drama at French Court (school can be such a drag sometimes, right?) here's a brief recap of the craziness that led us to this week's episode.
Catherine banished the ghosts in her life (bye bye Henry), oh and she choked Diane to death with her necklace (how BA was that?!). Diane was the one who killed the twins, she framed the nanny, who then framed Claude. Phew, these girls have got some claws.
Conde made it apparent to the entire court just how deeply he feels for Mary when he and Francis came to physical blows. What's Francis and Mary's solution? Set up Conde with Lola.
Francis and Mary found out that Lord Castleroy unknowingly funded the attack on the castle. Greer was stripped of her title, and relieved of her duties as one of Mary's ladies. The only other option was losing her head, so I guess this is better?
Conde's brother has it out for Bash, who apparently killed their brother during the Italian wars.
Bash and Kenna had some marriage quarrels over the fact that she almost caused his death when she told Catherine about Diane's attempt to legitimize him. That seems like centuries ago now doesn't it? But they quickly patch things up proving they're the strongest relationship on the show at the moment.
And of course Francis and Mary have about 2.5 seconds of happiness before things crumble around them once again.
Catherine thinks she has syphilis, but it turns out she has been poisoned from Henry's bible. Which means the King's descent into madness was caused by poison. GASP.
Oh and England is planning to attack…what else is new?
So on to this week!
Now that the cat's out of the bag, the search is on for Henry's poisoner, and there are plenty of snakes in the garden.
Speaking of snakes Narcisse has been slithering about trying to gain favor with Francis and others at court. Narcisse conveniently provides the royal family with a lead to pursue, Henry's old valet. And if Narcisse wasn't slimy enough for you, Mary's uncle the Duke of Guise shows up. Remember him? Disgraced from his title for double-dealing and having eyes for Catherine…that's the one.
Narcisse's digging around has led him to believe that Conde may be connected to the crime. Since he and his brother are set to leave court soon, Francis asks Mary to convince him to stay long enough for them to find out the truth. In an attempt to convince him to stay, Mary tells Conde that she doesn't want him to be with Lola, making him think it is because she can't bear to see him with someone else. Francis has a similar idea and suggests to Lola that they end their courtship. He tells her of their suspicions against him. She confides in Francis that she misses his friendship. Since he is practically the only family she has left, his recent distance hurt her.
Mary's Uncle has been trying to make Catherine swoon, and Narcisse is getting…jealous? Whatever his reasoning, he doesn't like the Duke very much. It could be that he is getting great enjoyment out of seeing Narcisse's downfall. While Bash is following leads in the case, Narcisse is off following his own leads.
Part of convincing Conde to stay involved convincing him to attend a dinner in his honor, a small royals only dinner. Unlucky for Conde, Bash finds out that the valet died just after returning to Conde's region. And the plot thickens. The valet had debts that were paid off right before Henry started going mad, seemingly by Conde. Francis decides his only option is to confront Conde and his brother at dinner.
Remember how I told you Greer went from almost princess to pauper, well she's been living in an inn with a prostitute for a neighbor, how quaint. She's also too poor to afford a good meal, so she's been on a strict diet of stout. She has a plan however, to seek work with a noble woman from another country who does not know of her reputation. In the mean time she may have accidentally become the whore next door's pimp, which ends up jeopardizing s her chances at impressing a noble woman from Hungary.
Francis wastes no time at dinner getting to the dirt. Conde is appalled at the accusation. He and his brother start to get defensive, and Francis isn't convinced that Conde is innocent. But before things could get out of hand Catherine arrives to spoil the fun. Conde is not responsible, it was the Duke of Guise. Even though he has just been proved innocent, Conde can't get over that Mary betrayed him like this. He can't handle the fact that he was just accused of murder when the Valois family murdered his brother. Bash apologizes, telling Conde that he was merely following orders to please his father.
Antoine is not happy that his brother spilled the beans on his revenge plot. However, Conde was doing it to protect their family. If Bash were to turn up dead now they'd both die for it. Antoine may not be able to kill Bash, but he vows to still make him suffer as much as he can. I sense the King's flirtations with Kenna are long from over.
With the Duke taken care of, Francis is left to wonder what life would be like if they had only noticed Henry was being poisoned sooner. Francis wouldn't have had to kill his father, Narcisse wouldn't have been able to black mail him, and all the bad decisions he made that led to Mary's attack might not ever have happened. Mary tells him that it is time to let their hearts go whatever way they will. But the only direction Francis' heart wants to go is towards Mary. He refuses her offer for him to see other people. She's the only one for him. Is anyone else utterly heartbroken lately over these two?
What would an episode of Reign be without a good plot twist? When I sad there were many snakes in the garden I meant it, and Antoine is revealed to be one of those snakes. Narcisse warned him that Catherine was on the hunt. The king is impressed that Narcisse was able to find out the truth even though the valet was dead. Antoine pays him a ransom fit for a prince for framing the Duke. And Narcisse isn't the only one who is on to the truth. He confronts his brother about it and confirms his suspicion that he was responsible for Henry's poisoning. Conde can't trust his brother after what he has done, but in Antoine's eyes all he did was right the scales by making sure Henry will be remembered for what he truly was: a monster and a butcher.
While Francis decides to open his heart back up to his son and Lola, Mary has some confessions of the heart to make…and they're not to Francis. She tells Conde that she tricked him because she didn't want to lose him, not to another and definitely not to the charges of treason. But even though her heart stirred for a moment at the thought of Conde dead, she stands firm that she is still married to Francis in the eyes of the church and the world. Conde responds with a heartfelt speech about how he has to fight every urge in his body when he is around her. He is aware of every breath she takes when he his near her and when he is away even the wind in the trees reminds him of her. Mary declares that he will be the death of her and she of him.
FIN.
So what did you think? Do you like this angsty romance with Conde, or do you wish Mary would work things out with Francis?
Twitter: @TheVRO
Facebook: Variety Radio Online
Tumblr: Variety Radio Online
//