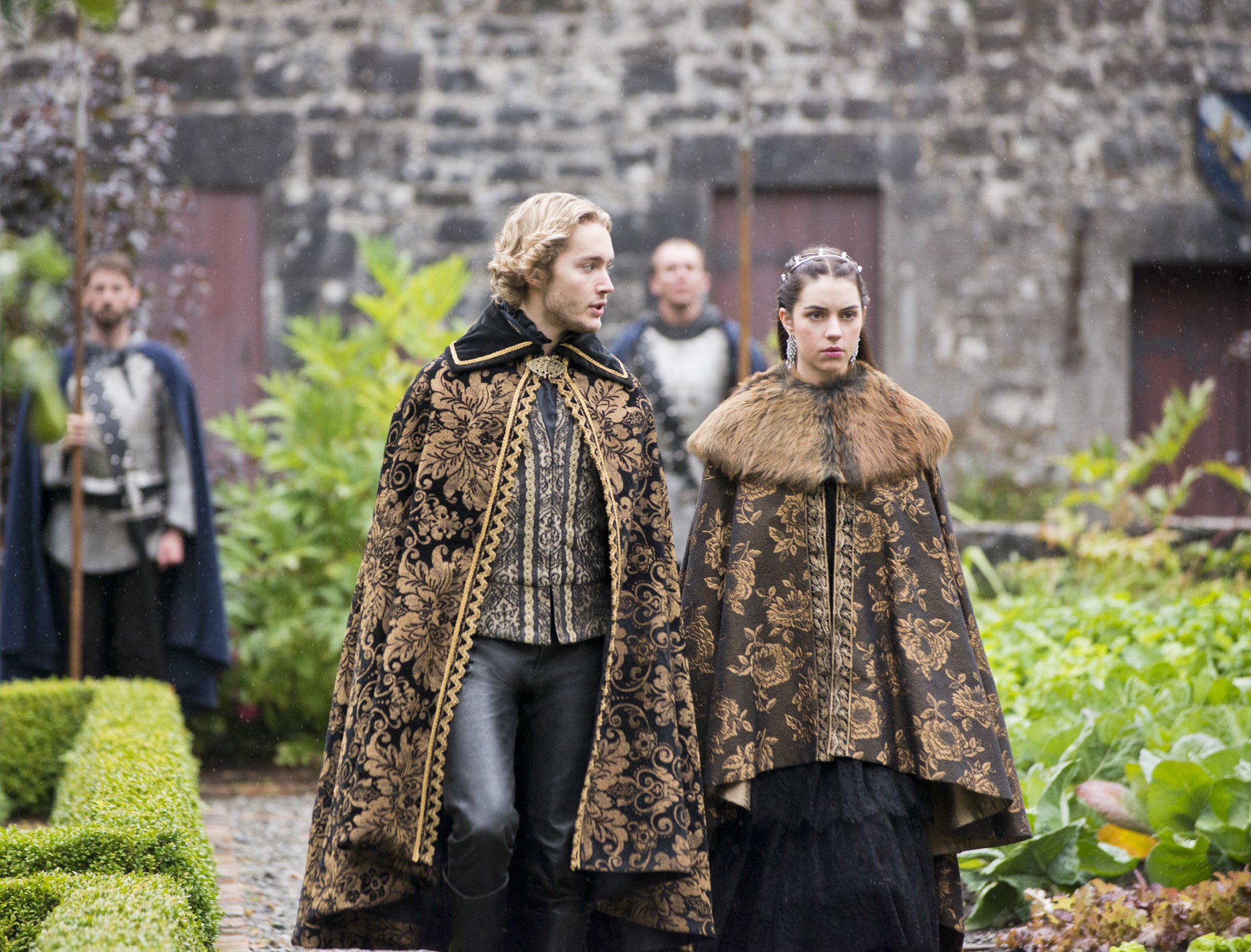 By: Emily Konopka
This week on Reign the plague may have passed, but there was still hell left to pay.
As the dust settled, King Francis managed to make it back to court safe and sound. With Lola, their child, and his cousin, in tow Francis was reunited with his Queen. Bash led the charge when it came to making sure the victims of the plague received a proper burial. However, someone other than Bash retrieved one body. Lord Narcisse discovers his son's body locked up with the plague stricken servants, and thanks to an unlikely survivor he discovers that his son was healthy when he was locked away.
This obviously doesn't sit well with Narcisse, so he confronts Francis and Mary to demand that the man responsible, Nostradamus, be arrested. Francis has Nostradamus taken in for questioning, and Mary knows that she has some explaining to do. She tells Francis of what happened while he was away, and tells him that since she made this mess, she will clean it up.
When Mary goes to talk to Narcisse, he tells her something that peaks her interest. She finds out that his son was marrying into land, so the story he told her was untrue. Mary realizes that there is another reason Narcisse wanted Valond dead. Mary heads to the Valond family's suite to look for any evidence, and while she is there Lola comes to help. The two estranged friends have a heart to heart. Mary tells Lola she shouldn't feel guilty in feeling joy over being a mother. While they are searching through Valond's things they find a letter that shows he was seeking an audience with Francis right before he died. Mary asks Lola to see if she can find out why.
Meanwhile, Greer and Leith have drama brewing of their own. Lord Castleroy blames Leith for his daughter's death, since if she hadn't met him she never would have been in the Valond's suite when they were all poisoned. He also thinks that Leith intentionally picked his daughter to cause Greer pain. Later Greer goes back to visit Leith on her own, and she tells him that he shouldn't feel guilty over Yvette's death. She says she hopes that one day she can overcome the regret she feels for loving him. Castleroy isn't too pleased when his fiancé tells him that she went to go visit Leith. He tells her that he is leaving town to inform his other children of their sister's death, and he doesn't know if or when he'll ever return. Poor Greer, does this mean she's in the market for a new fiancé?
Bash discovers some interesting information about Lord Narcisse. A villager tells him that Narcisse used the plague as a cover for killing people he didn't like. There is proof, but it could only be found if Bash wants to dig up mass graves of plague victims, which could cause the disease to spread again. Hovering around the mass graves is a woman muttering prayers. Bash asks her what she is doing. She tells him that if she doesn't give these people a proper burial their souls won't be able to move on to the next life. She claims that those who were unjustly killed will have unfinished business. Like the ghost of the small girl told Bash last week, the woman warns of a reckoning.
Lola is able to find out that Valond took confession the day he died. Mary seeks out the priest who heard his confession and convinces him to tell his confession. The priest tells her that Lord Narcisse and Vaolnd were responsible for the death of a cardinal. Valond wanted to confess to their crime and that is why Narcisse had him killed. The priest is unwilling to use this confession to testify against Narcisse in fear of his own life. Mary is desperate to find a way to prove that this confession is true, and she is running out time since Nostradamus is to be executed at dawn.
By morning Francis and Mary still have found no concrete evidence against Narcisse. Catherine goes to visit Nostradamus before his execution, and she finds out that he believes Clarissa might still be alive. This terrifies Catherine because if that is true then the vision he saw could still apply to Francis. Nostradamus is taken out to the courtyard to be drawn and quartered. Just as his slow and painful execution begins Mary comes in and orders everything to halt. She claims that she has a confession letter written by Valond detailing the murder of the cardinal. Mary threatens Narcisse telling him that she has sent the confession letter to the Vatican.
Francis arrives and intercedes with his wife's plans. He has had his riders intercept Mary's letters. He orders her to leave. Francis promises Narcisse that he will burn the letters in exchange for his loyalty. Narcisse agrees and Francis burns the letters. When Francis finds Mary they celebrate. Their plan was successful. There was never any letter written by Valond, and Francis was able to burn the letters before Narcisse found out they were fake.
After nearly being excecuted, Nostradamus is eager to escape the castle. Mary insists that he wait because he is too injured to ride his horse, but he says that he needs to leave. Mary tells him that she will tell Catherine he had a vision of a better life. Is this the last we'll see of our premonitory friend?
Now that they have the nobles under control, Mary tells Francis that he should claim Lola's son as his own. She tells him that she will learn to love the child, unlike what Catherine did with Bash. She says that their marriage will be stronger for it. Francis goes to visit his child in the nursery, and something creepy happens. While he is speaking with the nanny Henry's spirit takes over her body and talks to Francis. Looks like the reckoning is upon us.
Next week Francis and Mary have their coronation ceremony, and they prove how different their rule is going to be.
Twitter: @TheVRO
Facebook: Variety Radio Online
Tumblr: Variety Radio Online
//