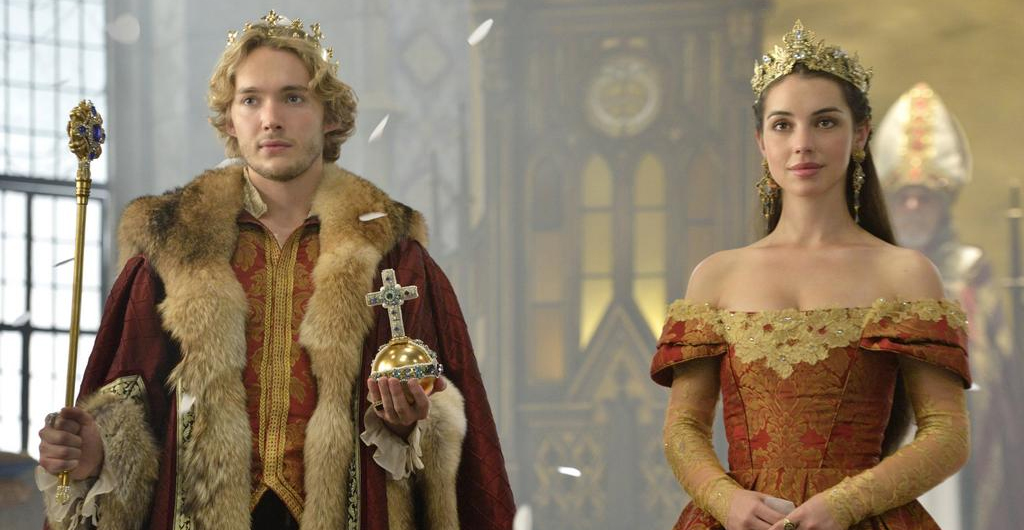 by: Emily Konopka
This week on Reign the castle was buzzing with anticipation for the coronation, but the rest of France was slipping further into famine.
Francis and Mary were getting up to date with all the details for their big day. Catherine led the charge in planning the event, and she spared no expense (but she did pass up some dancing elephants because that would've just been a bit too flashy). The royal couple feels extremely guilty that they are spending money France doesn't have to spare on such an event. Catherine reminds the young lovers that the world rulers are looking to them, so they have to appear stronger than ever, even if their country is falling to ruin around them.
Their biggest problem right now is that Narcisse has yet to come through with his promised grain, and they're running out of time to find other options. It seems that money is on everyone's minds. Francis has officially claimed his son, who still doesn't have a name, so Lola and the child have inherited land and titles. Unsurprisingly, the ladies at court are as catty as ever, making snide comments about their summer homes at Kenna's expense. She and Bash lost their home in one of the village fires, and since Bash became the King's deputy, they have received no land or titles.
A potential solution to Mary and Francis' problems comes in an unexpected way. A German Duke seeks out Mary to offer her a deal: grain in exchange for the freedom of his friends that Henry imprisoned. Mary sees this opportunity as one they must take, but Francis is wary. Making a deal with Germany could anger all the French Catholic nobles they're trying so hard to hold on to. It doesn't help that Lord Narcisse blackmailed Francis' newest nobleman into withholding his grain. Francis asks his wife to give him two days to investigate why the men were imprisoned.
Francis has become obsessed with finding out why his father's spirit is haunting him. He has the nanny brought to a medium who is visiting for the coronation and Henry makes another appearance. He tells Francis that he remembers his death. He knows it was his own son who killed him. And looking back he can recognize the change in Francis' eyes, plotting against his own father. Henry doesn't know what is preventing him from moving on to the next life. So what transgression is keeping the dearly departed King among the living? He's got a long list of sins, but it seems this reckoning is filled with souls who were unjustly killed…so there's that.
Francis' hesitation does not sit well with the Duke, so he decides that it is time to pack up and go home. Mary tries to find her husband to warn him, but he is too busy contacting the dead in secret, so Mary has to take matters into her own hands. She promises the Duke that he will be taken to the prison where his friends are being held, and they will be released. Mary's diplomatic stunt has some repercussions, because it wouldn't be right for a political move she makes to go swimmingly would it?
The morning of the coronation the German Duke returns from the prison and disrupts the pre-ceremony celebration. He showed up at the prison to find his friends had been transferred two days prior. Not only that, they were tortured while they were there. Francis tries to calm the Duke by telling him that he and his wife had nothing to do with any of this. He promises they will find out what is going on. Mary takes the charge and does what most of the nobles would consider a woman's job, cleaning up the mess.
She has the guards from the prison brought to her and while she is questioning them she finds out a useful bit of information. They were distracted by a lady of the night who had two different colored eyes. Mary remembers seeing this woman with Condé a few days prior. She goes to confront him and finds out that he had the prisoners moved so that he could use them as leverage with the Duke. His lover's ship was intercepted on its way to the Netherlands. Mary asks him to bring the prisoners back to the castle and she will make sure his lover is returned home safely.
Condé delivers the prisoners and the German Duke keeps his promise to send grain. In addition Francis is able to secure Lord Narcisse's grain as well. He sticks it to him good when he tells him that his wife is his Queen and not someone who needs to learn her place. They will make all their decisions together, and Narcisse should do well to remember his place when he speaks to her. The nobleman retreats like a wounded animal and the royal couple enters their coronation ceremony a powerful united front.
Francis and Mary take their thrones, and afterwards celebrate with some very steamy lovemaking. When the episode closes the new King and Queen can't get enough of each other. It left me begging for more, which I'm sure is what Mary was doing by the looks of it. It's no surprise next week they tease that Mary is with child.
Twitter: @TheVRO
Facebook: Variety Radio Online
Tumblr: Variety Radio Online
//