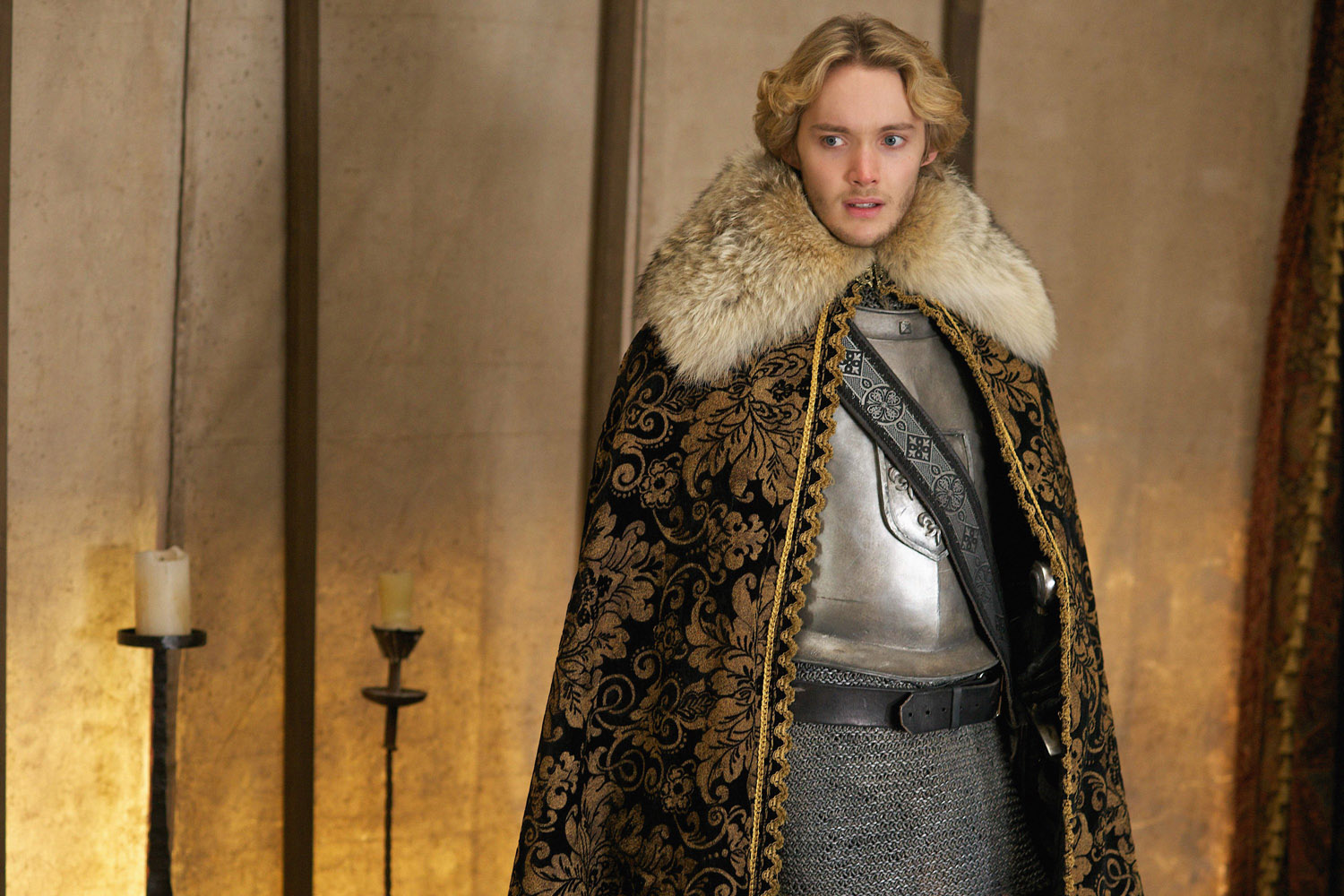 by: Emily Konopka
Mary takes matters into her own hands and helps bring down the coup. However once Conde has fallen Francis must decide if he is worth more to him alive or dead.
Mary is feeding Conde false information about Francis' forces, in hopes of getting him to halt his attack. She tells him Francis has cannons, and continues to appear frightened for her life and their unborn child's. Mary has some more tricks up her sleeves. She has hired some of Greer's ladies to pretend to be plagued. However Conde realizes they're pretending and immediately knows Mary is behind it.
When he confronts her about it she pulls out a knife and stabs him right in the side. As he bleeds out he asks if anything she has said since coming to his camp has been true. She tells Louis it was all a lie, and that she loved him, past tense, but apparently her love for Francis has become present tense again.
Before she fled the castle Mary left a package with Bash, claiming it was for Greer, which lets Bash know Mary's exit from the castle wasn't a betrayal. Francis agrees when he finds out Conde's men are running around terrified they'll catch the plague. Francis rides off with his small army to Conde's camp and when he arrives finds Mary crying over his bloody unconscious body.
Francis hauls Conde off to the dungeon, and then has to decide what to do with him. Catherine feels they should no questions asked execute him. Francis feels he might be worth more alive. They can use him as a bargaining chip with Navarre, and make the two brothers relinquish their claim to the French throne forever.
Meanwhile Delphine has been running amuck in the castle, supposedly as the beast Leith and Claude saw in the secret passageways. So not only is Delphine a witch, she's a shapeshifter? (I didn't realize the CW got the rights to the X-Men). Bash confronts Delphine about her voodoo doings, and she denys performing any such acts. There is on thing however, Kenna has reconciled with Bash, so he has to tell Delphine it is o-v-e-r.
However she provides some parting knowledge, Kenna is with child, has been for weeks. Meaning that baby is not Bash's, but the traitor Renaude's. Bash is furious with Kenna and asks how long she has known. The only reason Delphine knew was because of her gifts of foresight. Kenna had hoped if she reconciled with Bash he would believe the child was his and then it would be legitimate. She tries to plead with him using his life as a bastard child, but Bash is not feeling it. The couple's brief reunion is now over.
Francis has officially decided Conde will not die for what he has done. Once his fate is sealed Francis receives some information that changes his mind. Baby John's blanket is brought back to the castle covered in blood. Someone kidnapped him and Lola on their way back to the castle. Francis is furious and devastated. As far as he knows, his son is dead and Conde's siege is to blame. Francis is now out for blood, and tells Conde he will loose his head by day's end.
Not so fast Francis, Narcisse has a hunch about where Lola is and he wants to follow it. He tracks down his lead and finds Lola and little John alive and unharmed. He confirms his suspicions that Catherine is behind this and heads back to the castle. While he was gone however, the English helped Conde escape the dungeon. When he arrives Francis is off at an abbey praying for his son's soul, so Narcisse has to spill his intel to Mary. He tells her to do with the information what she pleases because the only thing worse than being an enemy of Catherine de Medici is being loved by her…harsh.
Mary heads straight for Catherine and confronts her. Catherine claims she did this all for the safety of her family. She knew they second Conde became Mary's lover that he had to die. Mary has sent word to Francis that his son is alive, and she is going to tell him the truth about his mother. When Francis finds out he strips Catherine of her title, kicks her out of court, and tells her he wants nothing to with her.
Meanwhile, Delphine has been caught doing some more witchy woo woo spells so it's off the to pyre for her. Bash starts having a vivid sex dream about her as she is about to be executed. Delphine has bound their spirits, so everthing she feels he feels too. That means when the flames begin Bash also feels like he is being torched alive. However, Delphine really is some crazy feral monster and she escapes from the Pyre.
All of Mary's ladies are taking some time to relax together before they are separted once more. Mary has found Kenna a family she can hide out with in Sweeden until she gives birth and then there is a family there that will adopt her baby. Before she leaves she meets a young soon to be king from an island near Russia who will also be aboard the ship she is taking. Looks like Kenna's romantic prospects aren't totally dead yet.
And speaking of romance, after all the drama, Mary and Francis have a chat about their relationship. Mary says that all that they can do is love each other, and Francis seems to want to get back to the way things were. So they seal their rekindled love with some steamy lovemaking. However, Francis is hiding something.
Francis goes to Nostradamus (what up buddy, missed you!) and tells him he hopes Mary gets pregnant soon because he's still dying. Nostradamus gave him some herbs but they aren't working so well. Looks like that ear infection is still going to be the downfall of our young king. Boo for historical accuracy.
In the final moments Catherine heads to England to meet with Mary's rival and offers Elizabeth something she has always wanted, the destruction of their now mutual enemy Mary Queen of Scots. Looks like season 3 we're heading to England!
And that does it for Reign season 2. In the fall Reign is moving to Friday nights (which a lot of times is a death sentence so we'll see who survives longer Francis or the show). Until next time follow me on Twitter @emkonopka and make sure you stay up to date on all things entertainment with The VRO.
Twitter: @TheVRO
Facebook: Variety Radio Online
Tumblr: Variety Radio Online
//