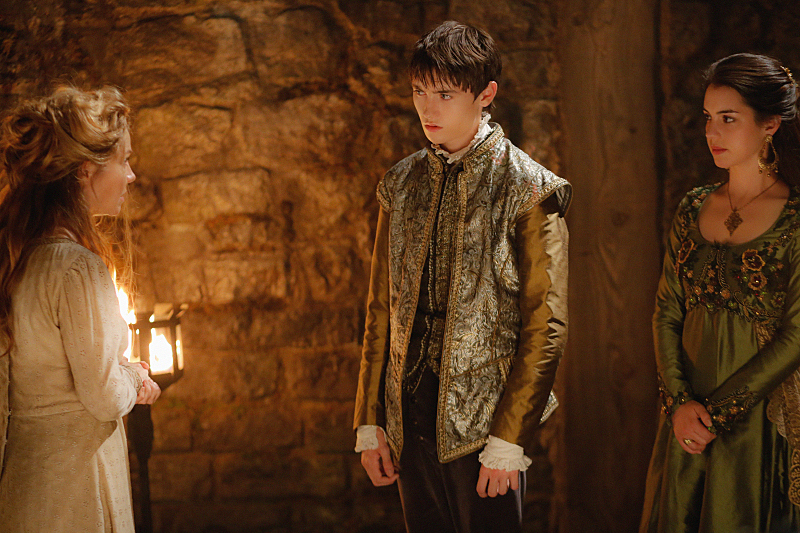 by: Emily Konopka
Now that Mary and Francis have somewhat come to terms that their time left together is limited they begin to look towards Mary's uncertain future. Francis determines that the best way to protect Mary is to have her marry his brother Charles once he is gone. Since they have been unsuccessful at producing an heir, it wasn't for a lack of effort; her most secure option is to wed the young prince who will need a regent until he's old enough to rule. It's a perfect match. Mary is not keen on the idea, because she and Francis actually love each other she can't imagine just marrying his brother like it's no big deal. But ultimately Mary realizes royal duties trump matters of the heart and she agrees to wed Charles for the good of France and Scotland.
All that's left is to tell the rest of his family; well minus Catherine she isn't privy to family secrets any more. Charles is not feeling the fact that his freedom is about to be stripped away from him, and he certainly doesn't want to marry Mary. His first reaction is that he wants to consult with his mother. He doesn't even know why they have her imprisoned. Francis decides to let him see mommy dearest, but first he goes to tell her the bad news.
Charles isn't the only Valois sibling who will be affected by Francis' death. Claude is worried that once her brother is gone she won't be able to marry for love. Francis promised her he wouldn't force her into an unwanted marriage, but she isn't so sure about what Charles will do. Leith is still at Claude's every beck and call, and he tries to empathize with the bratty Princess. Since Catherine is in prison Leith doesn't technically have to stick around Claude, so something tells me that he has grown to like her. I mean he was too low born for Greer (I'm still upset about it okay?) so he should definitely aim higher and go for a princess, right?
When Catherine meets with Charles they talk about his marriage situation. She convinces him to humor Mary and agree to the proposal. But only until Francis is gone, then he can toss her to the side and appoint Catherine as his regent. She asks Charles to send word to Lord Germain, who will be able to help him learn all about the financial responsibilities of ruling France. Unfortunately for Charles, he hasn't spent much time with his mother, but Francis and Mary have. The message he sent to this mysterious Lord Germain was actually a secret code that ordered the murder of the entire Burboun line. Mary and Francis were able to prevent the hit man from acting out his orders and are able to convince Charles that Catherine is not to be trusted. He now willingly agrees to take Mary as his wife.
The only other person who doesn't know about Francis' impending doom is his baby momma. She's been too busy trying, and falling, to resist Narcisse. She finds a rat in her bath that is carrying a message in its grimy little mouth, "one rat down, two to go." It's pretty obvious to her and Narcisse that Catherine is behind it. This just makes Narcisse want to be with Lola even more. However, she's decided that even if she won't wed him, she might as well bed him. But that's not what Narcisse is looking for anymore. He confesses that he is in love with Lola.
But her love problems seem pretty trivial when Mary finally drops the bomb that Francis is dying. Silver lining for Lola though, when Francis is gone she'll be free to marry Narcisse. She goes to him and confesses her love to him. She tells him that there is a chance they'll be able to get married someday, he just has to be patient.
Meanwhile in England Queen Elizabeth is dealing with the fall out of trusting Catherine de Medici. She tries to use her friend has a scapegoat saying that Catherine is her long lost cousin, and she was only with her because her friend at court was giving her asylum. When that excuse doesn't pan out, she's got some other problems to deal with. Her lover boy's wide is hell bent on getting her husband out of English court. She's banging one of the dudes on Elizabeth's privy council so she can get her husband's name thrown in as the only contender to be an ambassador for England in France.
But Queen Lizzie isn't ready to let her sidepiece go, so she denies the motion to have Dudley become an ambassador and basically makes him seem like he's unfit for the job in front of the rest of the council. Dudley doesn't take very well to the fact that his Queen made him look like an incompetent fool in front of the rest of the council. If it weren't for his pesky marriage she wouldn't have these problems. Apparently when Elizabeth told Dudley she couldn't marry him he ran directly into the arms of another. Looks like someone is hella bitter about it. Green doesn't look good on you Lizzie, red is more your color.
Twitter: @TheVRO
Facebook: Variety Radio Online
Tumblr: Variety Radio Online
//