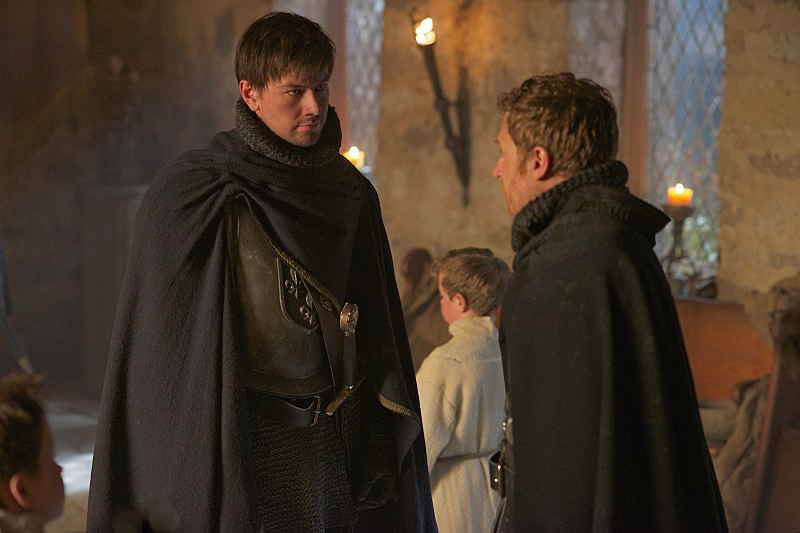 by: Emily Konopka
Mary aligns herself with France, which could mean the end of her love affair with Conde. To protect himself, Conde makes a bold political move that ultimately backfires, branding him a traitor.
At this point, France is no stranger to turmoil between the Protestants and Catholics, but this time things get taken to the extreme when Protestant rebels bombard a monastery killing a bunch of people and taking a group of young boys hostage. With the majority of France's military force in Scotland, Bash rounds up some of the guards as a makeshift army, but they don't have the ability to infiltrate the monastery thanks to some bad intel. However while his forces retreat Bash finds some bodies laying in front of the monastery that bear Conde's crest on the armor. He takes this knowledge straight back to Francis. In the meantime Francis gets Narcisse to send his private army under the command of General Renaude to rescue the boys from the monastery.
On a lighter note, Kenna and Lola pay a visit to Greer and find out how she's been paying the bills. Kenna declares that they're all fallen women in the eyes of society so to hell with what anyone thinks. Kenna, whose marriage to Bash is all but over, sets her eyes on General Renaude, who is celebrating his victory with his soldiers at the brothel. She's had a few brief encounters with as of late and decides it may be time to move on with another. Bash seems to have found comfort in Delphine's less refined ways, so why shouldn't she move on with another?
Conde starts to get concerned that Francis or someone else in the castle has it out for him (he's right Catherine and Narcisse do) so he tries to convince Mary to flee to Scotland with him so they'll both be safe. However even though she still loves him she can't leave Francis looking week in the eyes of the world, because without France's support Scotland will surely fall. She tells Conde she'll talk to Francis about it and assure him Conde had nothing to do with the attack.
However Conde is starting to realize just how many enemies he's made in France, and when he happens to run in to Elizabeth's envoy he finds out the Queen of England has accepted his offer of marriage and she has a proxy ready to seal the deal ASAP. So Conde decides he wants to become King Consort of England since his future with Mary is basically gone. He marries Elizabeth by way of proxy, but the marriage doesn't last for long. Someone found out about the secret ceremony and while Conde is on his way to board a ship to England, his home is burned to the ground with the priest and the proxy still inside along with all the documents that prove the marriage occurred. So Conde is out of luck, his marriage to Elizabeth could be over before it begins and now he's trapped in France and wanted for treason.
When Mary learns of what Conde has done she tells Francis she knew he had been meeting with Elizabeth's envoy, but as far as she knew he told her he turned down the offer. She says she feels like the only reason he considered the offer is because of the position she put him in. However if his marriage did survive, he would be the King Consort of England creating a stronghold for Elizabeth in France. Francis warns this could be the end of their reign.
Twitter: @TheVRO
Facebook: Variety Radio Online
Tumblr: Variety Radio Online
//