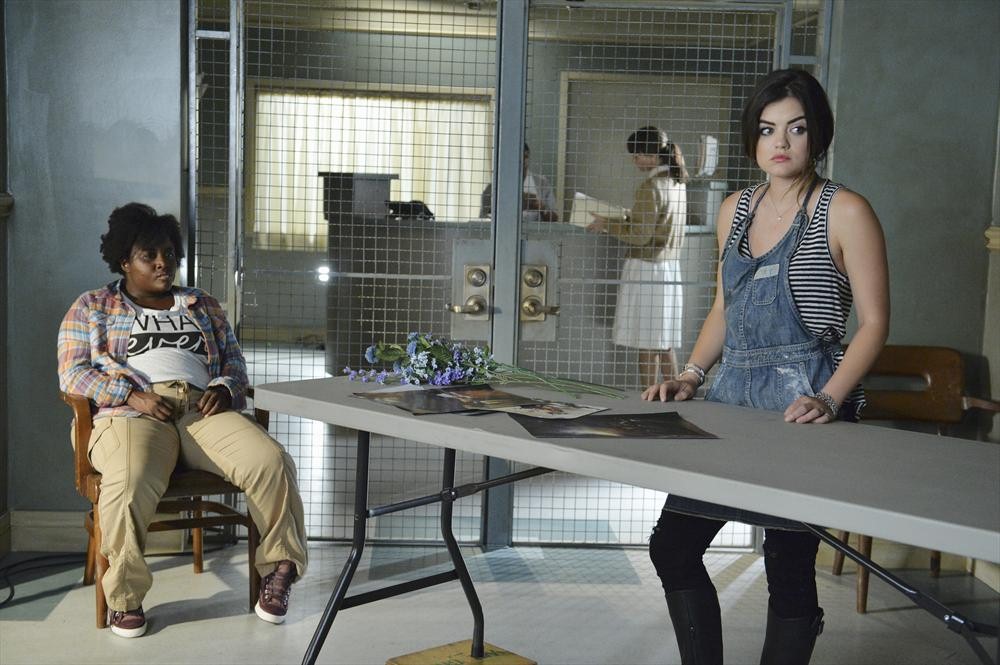 By: Kristin Trujillo (@kristin0409)
Emily's mother is back in town and is accompanying Emily to school for a parent/teacher conference. She tells Emily to invite Ali and the other girls over for dinner. As the girls gather in the restroom to discuss the invitation, Ali seems suspicious and wants Emily to postpone. Aria will be volunteering at Radley and Spencer is planning on visiting Fitz to help get rid of his research boxes. Ali tells them that maybe they should just get it over with, and Hannah responds with "Your wish is our command." This annoys Ali, and Hannah walks out of the restroom.
It seems like Hannah is the only one who isn't willing to jump aboard the Ali train so quickly. Spencer has her moments of doubt, but she's been more concerned with issues within her family in recent episodes.
Before leaving the restroom, Ali asks Emily to walk her home after school because she's still afraid from the scuffle they had with A in last week's episode. As they're discussing what happened with A, Sydney walks out of one of the stalls. Was she there the whole time?? This girl is so shady!
Sydney and Emily are having a conversation at their lockers and Sydney tells her about the incident with Paige and the rat that was left in her locker after practice. Mona walks by, so Emily asks her what she knows about it. As always, Mona denies knowing anything, but suggests that a dead rodent has 'boy' written all over it. Emily notices that Mona has a notebook with Noel's name on it and asks if it was Noel who did it. Not revealing any information, Mona walks away and then turns around with her trademark wicked smile.
Hannah spots Caleb sitting by himself and decides to join him. He can tell something is wrong with her and seems pretty annoyed when she tells him that all of the girls have to go to dinner at Emily's house to support Ali in case Mrs. Fields grills her about anything that's been happening. She tells him that it's not about losing Ali, it's about not wanting to go through a custody battle with their friends. Caleb, the Rosewood sweetheart, tells her that if she loses them, she'll always have him.
Aria begins her volunteering stint at Radley and runs into Eddie Lamb. He tells her that he feels like they've met before, but she denies it and he walks out.
Ali runs into Caleb in one of the empty classrooms and tries to have a conversation with him. She's thrown off a bit when he decides to tell her what everyone else wishes they could. He tells her that he doesn't know her well, but that he knows all she does is leave a tornado in her wake.
At Radley, Aria is helping out with an art class. She spreads out some drawings for the class to choose from and adds the one Fitz received at his apartment. One of the girls in the class, Rhonda, begins to call Aria a thief, saying that she stole her painting. The instructor tells Aria that the police might've upset her because Bethany, the girl who was buried, was her roommate.
Spencer's sister, Melissa is back in Rosewood in an attempt to change their mother's mind about divorcing Mr. Hastings. She tells Spencer that when her sober buddy left their barn, he left food out. Spencer tells her that she'll take care of the mess and tries to take the garbage bag from her. As she grabs it, she asks what's inside and finds a dead rat. Could Melissa have been the one who supplied the dead rat that was found in Paige's locker?
Hannah sends Caleb an SOS, and gives him an earful when he finally shows up at her house. She wants to know what he told Ali because she left her an angry voice message. He doesn't seem phased by the questioning and asks why she cares if she's going to dump Ali anyway. He also informs her that he walked out of his exit exam, as he's opening up a beer. Hannah tells him that he's making great life choices and asks him to leave after he insults her by saying that at least he can make decisions.
Spencer arrives at Fitz's apartment and is shocked to see how many boxes he has to get rid of. He expresses concern about Aria volunteering at Radley to try and get information, but Spencer reassures him that she'll be fine. He begins to pack up one of the security cameras he has, but Spencer asks if she can borrow one because there's someone she wants to keep her eye on. He agrees to let her borrow one.
As construction workers are working at Toby's house, Emily walks by to find Mona staring at the house. Mona tells her that it's crazy how quickly things change in Rosewood, and Emily responds by telling her that she better not find out that Mona or someone in her newly formed army had anything to do with the Paige/rat situation. Mona tells her she's no amateur and to give Ali her love.
Spencer and Fitz are locking up the shed where he's storing all of the boxes when he reveals that he originally wanted to write his book about his family. He couldn't go through with it, so he now feels as though he made things worse by trying to solve the situation with the girls. Spencer can relate and the two have a nice conversation. She tells him that she believes that her sister is tied in to the whole mess and that's why she needed the camera. He suggests that maybe they should put the puzzles down and just walk away. Spencer responds by telling him to let her know when he figures out how to do that.
Aria is putting things away in a dark room at Radley when Rhonda creeps up behind her and touches her hair. Why in the world would Aria be alone in the dark, in an empty classroom at a mental institution?! Either way, Rhonda tells Aria that she's a thief for stealing the drawing out of the book that Bethany had given her. She also tells her that thieves get their hands cut off. Eddie walks in and asks Rhonda what she thinks Aria stole from her, but she doesn't answer him. She tells Aria she has to go take her shower and walks out of the room.
As Hannah is throwing beer bottles away, Emily walks in on her. Apparently Hannah tried to bail on dinner, using cramps as an excuse, but Emily wasn't buying it. She tells her that Aria is stuck at Radley, Spencer can't make it and she really doesn't want it to just be her, Ali and Mrs. Fields. Hannah tells her that she's hit her Ali limit for the day and that being around her all the time sucks so much energy out of her. She asks Emily what's going on with her and Ali, but Emily doesn't tell her the truth. Instead she tells her that Ali has just been really needy and begs her to join them. Hannah reluctantly agrees and Emily leaves.
Aria is sneaking around a dark and extremely creepy Radley and sees Rhonda walking towards the showers. She runs into Rhonda's room in search of Bethany's book of drawings. As she's searching, she hears Rhonda complaining about someone taking her shower stall. She slides under Rhonda's bed and is almost crushed when she enters the room and lays down on the bed.
Hannah arrives at the Fields residence and Mrs. Fields asks Emily to help her set up dinner, leaving Hannah and Ali alone after the Caleb incident. Ali suggests that Caleb will be trouble and tells Hannah that maybe she should cool it for a bit to make sure she's doing the right thing for everybody. She walks away and Hannah grabs a bottle of vodka.
After her first day at Radley, Aria is rushing to her car to get over to Emily's house but is being followed by Eddie. He asks her what she's been looking for, but Aria clutches her bag and gets in her car. As she drives away, Eddie calls Fitz.
The dinner at the Fields' house is underway and Hannah is delivering epic drunk sarcasm. Ali dives into a typical dramatic speech about what supposedly happened to her, which only pisses Hannah off more.
Spencer and Aria are looking over Bethany's book that Aria found underneath Rhonda's bed. They find that the earlier drawings were very normal, but they eventually turn into very dark drawings. One of the darker ones are of a woman falling beside a building that looks like Radley. Spencer thinks Bethany might've seen when Toby's mother fell out of the window. The drawings that follow are very dark portraits of Mrs. De Laurentis with devil horns and 'Liar' written all over it. The girls believe it's possible that Bethany witnessed Mrs. D pushing Toby's mother out of the window and that Mrs. D might've tried to bury her to keep her silent. Aria has to return the book before Rhonda notices it's absence, so Spencer takes pictures on her phone so that she can show them to Toby.
Upon discovering that Hannah was drinking vodka at dinner, Emily takes her car keys away. Hannah tells her that when Ali was telling them that she blamed herself, she was looking at Mrs. Fields and doesn't think she bought it. She walks out and Emily looks like she might agree with her.
Hannah goes to the café and runs into Sydney. Sydney convinces her to stay and join her. Don't do it, Hannah!! She's trouble!! They sit down for coffee and Hannah spots the news article about the explosion at Toby's house. Sydney plays dumb and asks Hannah if she knew who lived there. She continues to act dumb when Hannah mentions Jenna's name. Hannah tells her that she feels like the whole time they had an issue with Jenna, they were just fighting someone else's battle. For some reason she says Shauna instead of Jenna and then mentions something about New York. Hannah just needs to stop drinking alcohol!!
Spencer and Melissa are home arguing about how to handle their parents and each other. Melissa tells her that sometimes people do things they regret, but that it's still about love. She walks out and the motion sensor camera alerts Spencer when Melissa reaches the barn.
After the girls have left, Mrs. Fields walks in to speak to Emily. She tells her that she wanted Ali over because she sensed that Emily thought of her as more than a friend before she left. Emily confesses and tells her that she's trying to figure everything out. Mrs. Fields continues to tell her that Ali's story at the police station has some issues with it and that she may have saved Ali once, but she doesn't have to keep saving her.
Sydney offers to take Hannah home, but Hannah declines once she sees that Caleb has entered the café. He sits down with her and she tells him that she wants to talk about what's going on with them. He tells her that he's changed after experiencing what he experienced in Ravenswood and that he doesn't see things the same way. She asks if he sees her, to which he replies 'Of course I do." She leans over and kisses him. Hannah & Caleb fans rejoice!
Spencer is still pouring over the nonexistent camera footage. She sets the iPad down and walks over to the window. The alert goes off, so she walks back over to check the footage. She pauses on a hooded figure only to discover that it's Ali.
Emily calls Paige to check up on her and leaves a message to apologize for what happened with the rat. She feels as though it's her fault for asking Paige for the names of Mona's crew. As she hangs up, she receives an SOS from Spencer. Aria receives the same SOS but as she tries to leave her house, Ezra, who is standing at the door, interrupts her. He asks her if she ran into Eddie when she left Radley and tells her that Eddie called him to set up a meeting, but he never showed up.
Spencer is showing the girls the footage from the cameras and they're trying to figure out what Ali is up to. Emily informs them of Hannah's drinking at dinner and tells them that she probably won't show up because she knows Emily is mad. The three girls get texts at the same time and Hannah walks in. They ask if she received the text, but she says no. Spencer hands her the phone and Hannah reads a text that says "New York, New York, it's a hell of a town. Ali's keeping secrets. Maybe that's because of Hannah's big mouth." The only person we've seen Hannah say anything about New York to is…Sydney!!
The episode concludes with A opening an engagement letter and then resealing it with some sort of nail polish looking glue. They flip the envelope over and it's addressed to Emily's mother, Pam Fields.
Is anyone else curious as to what happened to Eddie Lamb??
Tune in next Tuesday, July 29th at 8/7c to see if the girls finally figure out what Ali has been up to!
Twitter: @TheVRO
Facebook: Variety Radio Online
Tumblr: Variety Radio Online
//