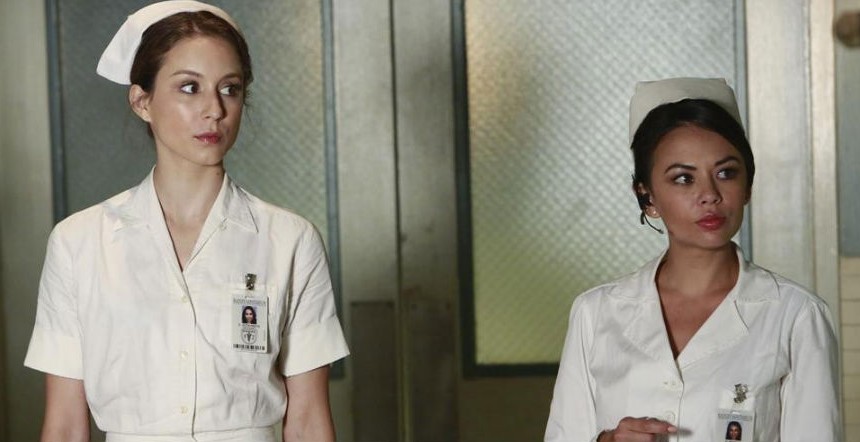 By: Kristin Trujillo (@Kristin0409)
Brace yourselves for this season's "fatal finale!" Season 5 has had its share of lies, murders, scandals, returning characters (i.e. Jason, Noel and Jenna), along with some new faces to make us wonder if they're with the girls or against them. We saw the return of Ali (for real this time) and were subjected to more of her lies and games. The fatal finale did not fail to deliver!
This episode begins on Thanksgiving Day with Aria, Hanna, Emily and Ezra standing outside of someone's house as police are scattered around putting out caution tape. While Emily consoles a crying Hanna, Aria tells Ezra that there's no possible way that someone could have survived after losing that much blood. The question we should all be asking is WHO?! Whose blood? Whose house is this?? The girls all receive a text that says, "It's all your fault. – A"
We then shoot back to thirty-six hours earlier, where we see Ali taking a lie detector test at the police station. One of the officers asks if they should wait for Detective Tanner, but Detective Holbrook simply gives him a look and allows the test to continue.
At Mona's house, we see a rather creepy room full of antique dolls. Her mother walks in and informs her that he has company. Mona is shocked to see Hanna, Aria, Spencer and Emily with grim faces asking for her help. The girls express concern over what Ali might be telling the police, so they enlist Mona to join forces against her.
Back at the station, Ali is admitting that the girls were with her at the barn the night that she disappeared.
Mona apologize to the girls for taking her Ali anger out on them, and tells them that she focused so much on Ali that she almost forgot who she was. As her and Hanna separately say goodbye, Aria and Emily question Spencer about what she's going to do with Melissa's going away present (Reminder: Melissa recorded a confession to burying Bethany Young after believing that Spencer might have killed her.). Hanna stays behind to accept cookies from Mona's mom and Mona overhears Hanna saying that she's no longer friends with Ali. Mona rushes to her room and makes a phone call telling someone to send out a Code A because "she's" plotting something big.
Over at The Brew, Mona tells Lucas to lock the door because she feels as though someone is following her. She realizes that her anti-Ali army isn't there, and finds out that Ali got to all of them and convinced them that she's not a bad person and that Mona is just crazy Mona.
After a meeting in the girl's restroom at Rosewood High, Mona tells the girls that Ali volunteered to take the polygraph test. She believes that Ali is desperate because she feels as though the girls are slipping away and she's not able to "play with her dolls anymore," as Mona put it. She also suggests that Ali is A. After explaining that Ali assembled the perfect group to manipulate (smart, loyal, admiring, compassionate), Mona does actually make sense. In an attempt to keep the fact that the girls are working with Mona a secret (what else is new?), they try to act casual when two twins walk into the restroom and into two stalls. As Hanna, Spencer, Emily, Aria and Mona exit the restroom, the twins walk out of the stalls and smile at each other.
Paige volunteers to help Emily decorate her house for Christmas and then plants a kiss on Emily after telling her she's tired of talking. Nice one, Paige!
As Spencer is looking through a photo album at her house, she comes across a picture of the girls with Ali. There's writing on the picture that says "My Four Besties. Kisses, Ali." Is this more proof that Ali is A? Someone telling her to put her hands behind her head interrupts Spencer, and she realizes that it's Toby in uniform. She hands him a graduation present and as he opens the box, he reveals a beautiful pocket watch that's engraved with, "You are my once upon a time. –S."
Lucas goes over to the police station and pretends to be interested in applying for some sort of program. He plugs something into the officer's computer and sends Mona a text. Mona sits in a bathroom stall with her laptop and beings to download all of the files from the officer's computer.
Paige, Hanna and Caleb are enlisted to help Emily decorate her house for Christmas. Complete with a snowman pitcher of eggnog and a shirt that reads, "This girl loves Christmas," Emily seems oddly content. When Caleb asks Hanna what's wrong with Emily, she simply tells him to read her boobs. Emily is getting the manger set up in the front yard and notices that baby Jesus is missing. Paige calms her when she tells her she has him. Hanna receives a phone call from Mona and lies to Caleb by telling him that it's her mother. He can tell that she's lying and asks her what happened.
The girls are all gathered around listening to Ali's lie detector test. After being asked about who was with her at the barn the night of her disappearance, the interrogator begins to focus on Spencer. He asks Ali about Spencer's pill addiction and Ali tells him that she found out about it that night because Spencer dropped the pills. She'd gone to Ali's house after the rest of the girls had fallen asleep in order to ask Ali to keep the discovery a secret. Ali makes it clear that Spencer was angry and emotional. He asks if she has anything else she wants to tell him, and Ali takes the opportunity to tell him that she had nothing to do with Bethany Young's murder.
Over at Ali's house, Detective Holbrook pays her a visit and, again, mentions that he should probably wait for Detective Holbrook, but he wants to give Ali a heads up. The two sit on the couch to talk.
Upon hearing Ali's polygraph, Mona suggests that the questions say more about the investigation than Ali's answers. She seems to believe that the police are more interested in Spencer due to their focus on her with the questioning. Caleb walks in and the girls are frustrated that Hanna told him what was going on. Mona quiets them by telling them that she was the one who invited Caleb to help with hacking. He was able to find an Affidavit that was sent to the DA's office that states Ali is no longer a person of interest in the investigation of Bethany Young. However, they now seem convinced that Spencer was the one who killed her in order to score points with Ali. Spencer knows that they're close to issuing an arrest warrant, so she tells the girls to call Toby as she tries to get in touch with her parents. Mona suggests that they find out what the police know, and the girls decide that they should get back into Radley to find something that ties Ali to Bethany.
Spencer and Mona dress in nurse uniforms and Caleb gains them access into Radley. Mona has an earpiece in, where she's in constant contact with Caleb and Hanna. As they walk through the locked doors, Caleb continues to hack into the system to get them access. Spencer tells Mona that she has to make it to Toby's graduation ceremony, so they decide to speed it up.
Emily is on the phone with Paige and is startled to hear Ali say her name after she hangs up. Ali tells her that she was shocked to receive her message and asks what she's doing there. Emily gets a text from Hanna asking where A is. Emily tells Ali that she hates that they're not speaking, but Ali admits that she was hurt when Emily turned her back on her. She attempts to walk out, but Emily stops her and says that she doesn't want things to be this way. Before turning around with an upset look on her face, Ali sneakily gives a sly smile. Ugh. This girl is so utterly conniving!!
As Spencer and Mona creepily stroll through Radley, they stop in front of the window where Aria is helping some of the girls paint a picture of a cornucopia. She purposely knocks over a jar of red paint in an attempt to distract the nurse who is on duty in the room. With the distraction, Mona and Spencer sneak in.
Caleb and Hanna are in the car outside of Radley and see Detective Holbrook pull up. Hanna warns the girls that they have company, and Mona realizes it after they gain entry into the file room. Detective Holbrook walks up to Aria as she's cleaning the red paint off of the floor and tells her that she's made quite a mess of things. He asks her when all the lies, cover-ups and murders started and it stops Aria in her tracks. Except he didn't really ask that…it was her imagining it. He really wanted to know when she started her volunteer program at Radley. He asks her if she began volunteering before or after the police discovered Bethany Young's body and whether or not her volunteering was Spencer's idea.
Caleb finds a list of colleges in Hanna's car and finds out that she did really well on her SAT's…so well that her guidance counselor accused her of cheating (she didn't). It's amusing to me that these girls can be doing well in school when it doesn't really seem like they're ever there! Between the lies, schemes, police investigations and plotting, I'm not sure where their schoolwork fits in!
While Emily continues her attempt to keep Ali busy, Ali asks her for some tea. Emily goes to leave the room to get her some and turns around to find Ali with her phone. She sees a text from Hanna asking if she's still keeping her busy and asks if she's A, prompting Emily to ask if she is. After telling Emily that she actually believed her, Emily says that it must hurt being betrayed by the loyal one. Ali walks out and congratulates her on a great performance. Paige arrives at Emily's house in time to see Ali leave and get into her car with someone in the passenger seat. Paige gets back in her car and follows Ali.
Spencer and Mona are going through Bethany's files and discover that Mrs. DiLaurentis was having an affair with Bethany's father. A recording from one of Bethany's sessions has Bethany saying that she thought Mrs. DiLaurentis liked her, but it was all a lie. She then asks if she can trust anyone in their family…like mother like daughter. They realize that Ali might've known Bethany. As Spencer and Mona try to leave the file room, they see Detective Holbrook and take Hanna's suggested route through the stairway instead. Toby finally gets in touch with Spencer over the phone as he's driving to his graduation and the phone begins to cut out. We see a large flash of light on him right before another car slams into him. Spencer hears this happen and screams his name.
Back on Thanksgiving day, the girls are visiting Emily as she's working at The Brew. Toby is in a wheelchair with a leg cast and we can all breathe a sigh of relief now that we know he's not the one who dies! Paige walks in and tells Emily that she needs to speak to her. She tells her and the other girls that she saw Ali leaving Emily's house and that Cindy and Mindy (the twins from the restroom at school) were her ride. They drove out to an abandoned farmhouse where there were about a dozen cars. When she tells them that she believes Ali is building an army of her own, Detective Holbrook storms in to arrest Spencer for the murder of Bethany Young. The girls are desperately trying to get them to stop by telling them that she didn't do anything, and poor Toby can't get out of his wheelchair to come to her rescue.
Mona is in her room listening to the tapes they took from Radley when her mother calls her to go downstairs. She receives a text from Hanna about Spencer's arrest. She helps her mother take some last minute things out to her car and promises to be on the road to their families Thanksgiving dinner once she's done with her report. She heads back inside and stops when she hears leaves crunching in the yard. She rushes inside and behind her we see someone with a hoodie and blonde hair curling out from underneath! Is it Ali??? Once inside the house, Mona peaks out of the window and the hooded figure is gone. She quickly locks the door and heads upstairs.
Ezra arrives at the Montgomery home when Aria receives a phone call from Mona. Mona informs her that Ali lured Bethany to Rosewood because she knew about the affair. She set Bethany up and wanted her dead. As she's telling Aria what she found, we see A picking the locks at Mona's house. A makes her way inside and walks up the stairs as Mona tells Aria that Ali is, in fact, A and that she can prove it. Aria tells Ezra to grab his coat and they leave quickly. Mona looks in the mirror and says, "Game over Alison. I win." She might be celebrating too soon because she hears a creak in the floor and turns around to find the hooded blonde.
Aria, Ezra, Hanna and Emily arrive at Mona's house to find blood and broken glass everywhere.
In the present, Detective Holbrook goes on record stating that Mona Vanderwaal was murdered, despite not finding her body. The girls are visibly upset, and we see Ali standing between two news vans with that Ali smirk on her face.
We then see A removing the baby Jesus from the manger in front of Emily's house and replacing him with a doll of Mona. They take the baby Jesus and place it in the trunk on top of Mona's dead body. A is then seen cutting out a photo of Spencer, Aria, Hanna and Emily and placing it inside of a snow globe.
Ok, liars! What are your reactions to this fatal finale? Feel free to tweet me your thoughts at @Kristin0409. New questions have presented themselves! Is Ali really A? The blonde hair looked like Ali's at first, but when Mona saw her in the room it looked like a blonde wig. Does anything feel like Paige could be a suspect? What was A's reasoning behind replacing baby Jesus with a doll of Mona? Aside from that being extremely odd. Will Spencer be cleared of all charges? Ahhh!! The classic season finale cliffhanger! #RIPMona
Although the season has concluded, we'll be able to catch up with the liars when they air a Halloween Special on Tuesday, October 21 at 8/7c along with a special cast commentary. Stay tuned!
Twitter: @TheVRO
Facebook: Variety Radio Online
Tumblr: Variety Radio Online
//