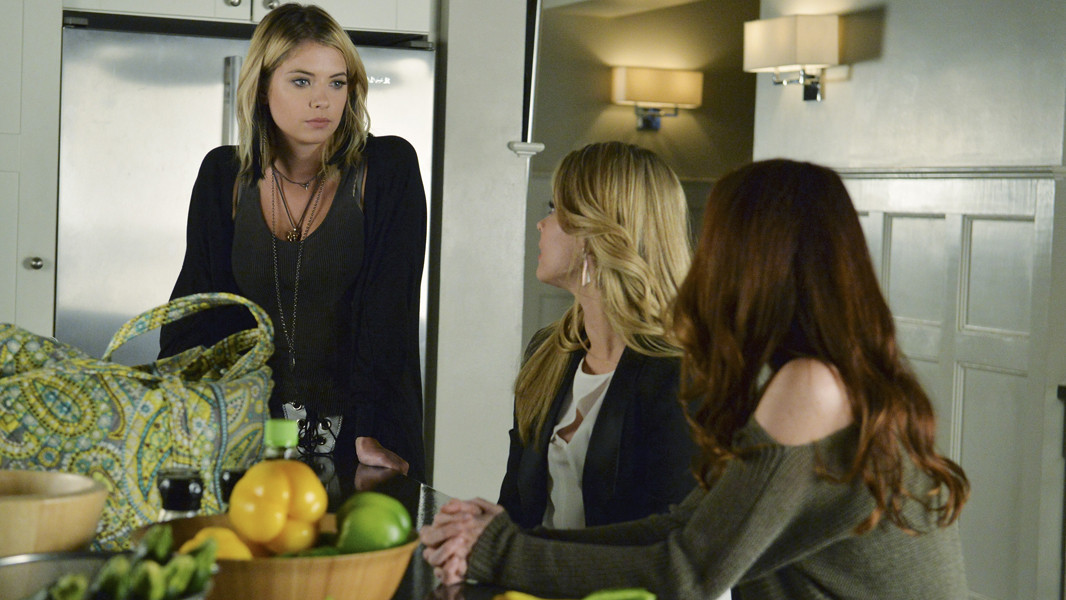 By: Kristin Trujillo (@kristin0409)
This week's episode begins with the liars singing in their school choir while Detective Tanner interrogates Ali, again. Ali informs the girls that the whole interrogation was regarding Shana. Aria clearly still isn't happy with Hanna's drunken slip with Sydney in last week's episode, so she leaves to fill Ezra in. Ali takes a look at her sheet music and they notice that all of the 'A' notes are circled in that familiar red ink, along with a message that reads, "Glad to hear you singing. Last time you were all choked up. – A." Clearly this is a reference to when A attempted to strangle Ali with her own scarf two weeks ago.
Emily and Spencer are walking to their locker when they see Hanna drop an empty can. They're concerned about her recent behavior, but in typical Hanna fashion…she denies her gradual spiral into crazy town.
Aria steps outside of the school to leave a message for Ezra and sees her mother, Ella, walking over. She quickly ends the call and is told that Ella would like to introduce her as her maid of honor. As Ella is speaking to her, she receives a call back from Ezra and tells Ella she has to get back to class.
Emily goes to see Sydney after swim practice and tries to cover up for Hanna's slip at the coffee house. She thanks her for helping Hanna sober up, and tells her that Hanna makes up stories when she drinks. Emily lies and says that Hanna called her and mentioned going back to New York, but that they'd never been to New York together. Sydney joins in the lie fest and tells her that Hanna never mentioned anything about New York. She then changes the subject and asks Emily if she's thrilled about the team nominating her as the assistant coach for the swim team. Emily's reaction, however, doesn't seem like she'd heard anything about it.
Caleb oversleeps and misses his lunch with Hanna. Ali spots her and walks over to join her. She tells Hanna that her father is going out of town for a few days and, seeing as A won't allow her to leave town, she needs a place to crash. She asks if she could stay with her, but Hanna says that she'll have to ask because her mother has a lot going on. Seriously, Ali…take the hint. Hanna is not on board the Ali train lately!
Spencer is showing Toby the pictures of Bethany's drawings that she took with her phone. He reveals that he's joining the police academy, which shocks Spencer.
Over at Radley, Aria is trying to sneak Bethany's album back into Rhonda's room. On her way to return the stolen goods, she finds out from one of the nurses that Eddie Lamb no longer works at Radley, but fails to attain any more information. She finally reaches Rhonda's room and is caught red handed as Rhonda walks in on her. Fortunately for her, though, Rhonda agrees to forget the incident if Aria gets her a soda and a bag of chips.
Hanna gets home to find Ali giving Mrs. Marin her sob story. Her lies convince Mrs. Marin to allow her to stay with them, which doesn't sit well with Hanna. She tells Mrs. Marin that she can't stay for dinner because she promised Caleb that she'd help him study for his exit exams.
Aria gives Rhonda what she requested and they begin to have a conversation about Bethany. Rhonda tells her that Bethany was receiving gifts and being taken on trips to the circus by 'some rich lady'. Aria finds out that it was Mrs. DeLaurentis! She also finds out that Mrs. D took Bethany to the stables to adopt a horse named Custard. In an attempt to get more answers, she tells Rhonda that Mrs. D was murdered and buried next to where Bethany was buried and that there's a very strong possibility that the same person did it. One of the nurses walks in and catches Rhonda with the chips and soda, and instructs Aria to leave.
Hanna is in Caleb's car complaining about Ali as they're drinking whiskey. She decides that she's hungry, so she walks into the coffee house that Zack owns. He tells her that he closed up early in preparation for the engagement party for himself and Ella and that she just missed Ella.
Emily is in her room and sees a mysterious shadow appear on her door. In walks shady Sydney. She hands Emily a jacket with her name on it, as well as Asst. Coach. Emily jokes that she just won't take no for an answer, to which Sydney replies that since their training sessions ended, she just wants to know that Emily will be there to support her. She reveals that her father is barely home because he runs multiple yogurt shops, and then slips by saying that Emily might've seen one of the shops when she was in New York with her friends. Emily catches the slip and denies being there.
Back at the coffee house, Zack brings Hanna something to eat and tells her that he can smell her from a mile away. He says that he always had a thing for the bad girls. Um…excuse me?! Isn't he marrying Ella? He creepily rubs Hanna's back as he tells her that he can keep a secret and asks if she can. I'm sorry, but this is just gross. Hanna walks out and he watches her leave.
Hanna tells Caleb that he should take her home, but he's not able to drive because they've both been drinking. She insists on leaving, despite the fact that he's coming on to her.
Emily tells Spencer that Aria found out the name of the stables where Mrs. D took Bethany, and they agree to check it out after school. Hanna walks in looking extra sloppy and the girls see something stuck in her hair. They sit down as Emily tries to remove the rice krispy treat from her hair and Hanna confesses what happened with Zack the night before. They question her on whether she was buzzed and could possibly be reading too much into the incident, which really pisses Hanna off. She tells them that the only reason she mentioned anything to them is because she's debating whether or not she should tell Aria.
Mrs. Marin walks in to find Ali sitting near the window in Hanna's room. She asks why she's not at school, and Ali gives her yet another sob story. She tells her that she heard someone outside of the window the night before, and that they were trying to get in. She says she tried to get up, but she couldn't move. Mrs. Marin looks around and asks if Ali slept in the closet. An extremely sympathetic Mrs. Marin tells Ali that she'll call the school and that she's going to take the day off from work to stay with her. As she walks out, Ali's face does seem sincere and fearful, but this could be one of Ali's famous acts.
Emily and Spencer make it out to the stables and come across a man named Declan. They ask him about his horses and Spencer tells him that their neighbor, Jessica DeLaurentis, used to talk about these stables all the time.
Mrs. Marin walks in and suggests that her and Ali go out to dinner since Hanna is having dinner with Caleb again. Cue the thunderstorm rolling in.
Declan asks Spencer and Emily if the lady they're asking about is the woman who came to the stables with the girl who wanted to ride in her slippers. He doesn't know much more information, and tells them about a bucket incident. Apparently, Mrs. D wanted the girl, Bethany, to call her Aunt Jessie. This angered the girl into throwing a bucket at Mrs. D. Spencer decides to take a look around the stables despite the increasing thunder.
Hanna is sitting in her car as the rain begins, and someone climbs into the passenger seat…Zack. He tells her that he didn't mean to scare her and that he saw her outside and thought they could talk. Apparently he's not sure what she got out of their encounter the day before and is under the assumption that she was on the same page as he was. I'm fairly certain he's wrong because as he's writing down his phone number, we see #CreepedOutHanna come across our screen. I'm assuming that the reason Hanna decided to sit in her car, alone, in front of the coffee house was to confirm that she didn't blow things out of proportion as far as what happened the night before when she was buzzed. Zack hands her his phone number and tells her to hit him up. He jumps out of the car and she promptly tears up the paper.
Mrs. Marin is walking around her house and, of course, no lights are on. She notices that the kitchen window is open and rain is puddling on the countertop. She hears a noise and calls out to see if it's Hanna or Ali, but Hanna isn't home and Ali is upstairs. As she turns around, she sees a hooded figure run for it. She grabs something off of the table as Ali walks downstairs. They see a shadow against the wall of the hooded figure holding a knife, but said hooded figure runs out of the house. Mrs. Marin calls the police and, of course, Detective Tanner shows up. They tell her that they believe the shadow was that of a man, but the Detective doesn't seem convinced by Ali, yet again.
Aria is making place cards for her mother's upcoming festivities as she receives a knock at the door. Hanna walks in soaking wet and confesses to Aria about the situation with Zack. Aria, however, turns on Hanna and makes it out to be her fault. She rightfully accuses Hanna of spiraling out of control and tells her to leave.
Back at the stables, Spencer finds a riding helmet with her sister, Melissa's initials on it. As they're looking at the helmet, A locks them in the stable with a distraught horse. Spencer manages to get hit in the face somehow, and the girls are able to escape before any further damage is done.
Spencer is home, taking care of her eye when she hears a knock at the door. She tries to see who it is but her vision is blurry. As it begins to clear up, we see Toby peaking in through the window, rather creepily. She lets him in and explains where her and Emily had been and that they found Melissa's riding helmet. He's tired of feeling powerless and not being able to help those he loves. She apologizes for not supporting his interest in joining the police academy initially and that if him joining the academy means that everything will get better, she's all for it.
Zack is at Aria's house helping her and Ella with more decorations. She seems suspicious of Zack now after what Hanna told her, but she agrees to watch a movie with him and her mother.
The girls are trying to meet up at Ali's house as she's packing some clothes before being transported to where her father is. She tells Emily and Spencer that she asked Noel Kahn to break into Hannah's house in an attempt to get people to stop questioning her. She continues packing her bags.
The song that the girls were singing in the beginning of the episode begins to play and we see A inside of Spencer's room. They open some sort of box underneath the cushion in Spencer's red leather chair and the episode ends.
Although Melissa wasn't shown in this episode, somehow she's always tied to the craziness. Does anyone believe that Melissa could be the original A? Or do we think it'll end up being someone we least expect? Will Aria see Zack for the creep he is and save her mother before it's too late? Will she forgive Hanna when she realizes that Hanna was actually telling the sober truth? What lies will Ali come up with next?
Tune in next Tuesday, August 5th at 8/7c to see if any of our questions get answered!
Twitter: @TheVRO
Facebook: Variety Radio Online
Tumblr: Variety Radio Online
//