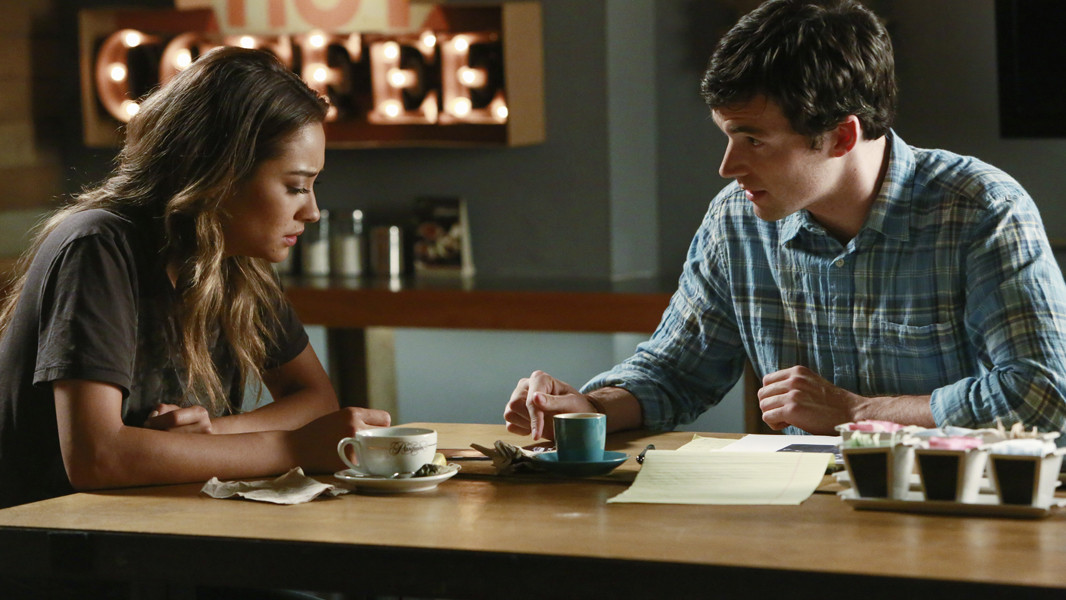 By: Kristin Trujillo (@kristin0409)
The girls are on the way to the police station to tell the truth about Ali's story when they pass a storefront with several televisions in the window. The televisions all show a picture of Ali (wearing the candy stripe uniform), which Hanna realizes is from outside of her hospital room when Hanna had been admitted; proving that they knew she was alive. Big, red letters appear on the screens that read, "We're all in this together". (Random thought: Did anyone else think of the song the cast sang in High School Musical?) Spencer attempts to throw a brick through the window, but the other girls stop her. The TV's switch to a live feed of the girls standing in front of the store and a screen says "Act normal, bitches."
Ali is failing at getting any of the girls to answer her phone calls.
Emily goes to see Fitz and tells him everything that's going on with Ali to see if he knows who Cyrus Petrillo is after his extensive research.
Aria goes home and catches Mike and Mona doing homework together on the floor. She tells their father that the two hanging out together is a bad idea. He tells her that they can't physically say anything to him about it because it'll only push Mike closer to Mona, but suggests that they keep their eyes on them.
Hanna asks Spencer if she's still in touch with her sober coach, Dean. She reassures Spencer that it's for Caleb and not for her, but Spencer tells her that there's someone better she can talk to. She calls Toby and asks him to come over. As she closes her bedroom door, Hanna sees a letter on the floor. Spencer reads it and realizes that it's a letter from Melissa and that she's been taken to the airport.
Hanna has been having bad thoughts when it comes to A and Ali. She mentions to the girls that A originally told Ali she couldn't leave town, but all of a sudden Ali is gone with her father. The girls wonder if Ali made a deal with A. As they're discussing the possibility, Lieutenant Tanner creeps up on them and asks if she can ask them a few questions. Of course you'd like to sit and talk to a group of underage girls without their parents around. The award for Worst Detective in History goes to…
Spencer talks to Toby about Caleb and his drinking. She tells him that when she looks at him, she feels he seems haunted. Toby tells her that he noticed the same thing after Caleb came back from Ravenswood.
Tanner sits down with the girls and asks if they know who killed Bethany Young. She hints that she believes they did it. Hanna calls Spencer afterward and tells her about the conversation with Tanner. As she's on the phone with Hanna, someone knocks on her door. She asks Toby to answer it for her, and he retrieves a package containing the video that Melissa recorded for her at the end of last week's episode. Toby gives her privacy so she could watch the video alone. In it, a distraught Melissa explains that she saw Spencer and Ali arguing the night that Ali disappeared. She saw Spencer dragging a shovel and then she saw Ali's body on the ground. She thought Spencer killed Ali with the shovel so, to protect Spencer, she pushed Ali's body into the hole in the ground and buried her. Except it wasn't Ali, it was Bethany…and she wasn't dead yet.
Hanna, Spencer and Toby meet up at The Brew in an attempt to get Caleb out to talk about what's been going on with him. Toby wastes no time and Caleb is immediately on the defensive, but can we all agree that Toby just has a way about letting people feel like they can open up?
Mr. Montgomery invites Aria to the theater and promises that Aria's mother and Mike will join them. When she arrives, however, she finds Mona instead of her mother. As they're watching the film, Aria whispers something into Mona's ear that clearly upsets her. She excuses herself and walks out of the theater.
Toby is sitting down with Caleb alone, trying to get him to open up. His persistent questioning seems to be working, but right before Caleb gets to the real reason for his spiral, he angrily gets up and walks out.
Emily meets with Fitz at The Brew to look over the pictures that she'd taken from Noel's car. One of the pictures she'd given Fitz was of Ali at an ATM. When they meet at The Brew, he shows her a picture he found within the same time frame, but Cyrus is in the picture.
After realizing that Mona has been gone for a while, Aria goes to the restroom and finds Mona drying her eyes. She gives her usual sob story about trying to protect herself from Ali. Was anyone else wondering why everything Mona is wearing in tonight's episode had food on it?
Spencer is pouring over the video that Melissa left for her and is using it to say her goodbyes to her sister.
There's a knock on Aria's door and Mr. Montgomery informs her that it might be Lieutenant Tanner. Apparently she wants to speak with him about something. She tells him that she's been speaking to the parents of all of the girls. He's the only person on the show that mentions that she's also been speaking to the girls unsupervised. Thank you for being the only person who seems to realize this! He tells her that he's not interested in anything other than what any of this has to do with Aria. In response, Tanner tells him that they're interested in Aria because they believe she's involved with the complications of the case, and that she's been waiting for one of the girls to come to her with the truth. He's shocked to hear that one of the girls has done exactly that, and is shut down by Tanner when he asks which one wants to talk. This woman is so sketchy! We know it's not any of the girls who want to tell Tanner the truth, which only leaves Ali.
Spencer decides to show Emily and Aria the video that Melissa left her. They discuss whether or not Bethany was always supposed to replace Ali, considering she was wearing the yellow top that Ali was wearing that same night.
Caleb finally opens up to Hanna about what happened in Ravenswood. He tells her a story about how they were in the woods and millions of fireflies were released among the trees. When they rose up and flew away, Miranda was dead. He tells Hanna that he's not the same person that he was before he left, and that he's afraid of his own dreams. He's afraid that Miranda will be in them and tell him that she's not ok. Hanna tells him that she's not the same person either, but that they'll make it through this. They begin to kiss and the camera moves over to the Quija board on the table. The piece points to the words "Good Bye." After he finally falls asleep, Hanna is looking out of the window and we see fireflies flying surrounding the house.
The episode ends with something creeping over on the outside of the window where Caleb is sleeping. As the camera pans out, we hear something that sounds like footsteps in the grass.
What does this mean?! Caleb better not die! What is A's next move? Where is Tanner going with her questioning? Will anyone find Cyrus or discover that he had a deal with Ali?
Tune in next Tuesday, August 26 at 8/7c for the fatal finale!
Twitter: @TheVRO
Facebook: Variety Radio Online
Tumblr: Variety Radio Online
//