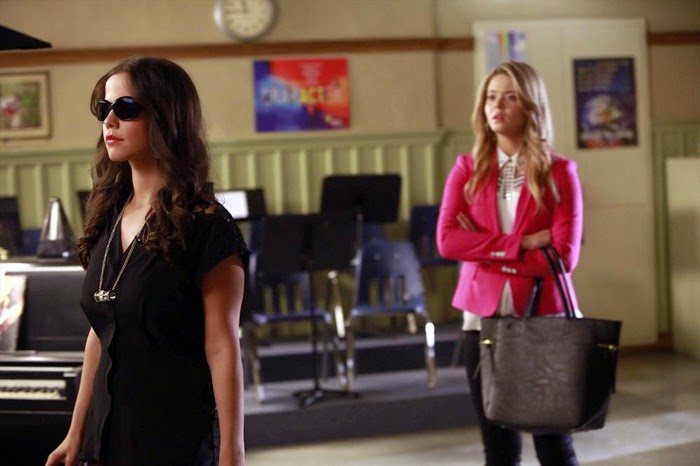 By: Kristin Trujillo (@kristin0409)
This week's episode picks up where we last saw Emily, Spencer and Ali. Ali revealed that she'd asked Noel Kahn to break into Hanna's house so that Mrs. Marin would stop questioning what happened to Ali while she was gone.
The girls are at Hanna's house and none of them are happy with Ali's actions. In true Ali fashion, she turns it around on the girls and accuses them of not having her back. Hanna is continuing her spiraling out of control in the form of drinking from a flask and gets touchy when Spencer acknowledges it.
On Emily's way home, she stops to fix something on her bike and overhears Ali's voice. She turns the corner and finds Noel sitting in his car listening to a recording of Ali. She stumbles into something and hides just in time for Noel to miss her, and he drives away.
Hannah is clearly done with having Ali as a roommate and is getting her things together to get out of the house. Her mother walks in and asks if her and Ali would like to join her at the mall to buy something new for Ella and Zack's engagement party. Hannah fails to mention the blow-up between her and Aria, but she tells her mother that she's not attending the party due to a test. As she throws something onto her bed in frustration, her flask falls out of her bag and she's lectured about the dangers of turning to alcohol as a coping mechanism.
Lieutenant Tanner is speaking to Aria and Ella and begins to question Aria's relationship with Ezra. Ella asks what that has to do with what happened at the Marin house, but receives a bleak answer from Lieutenant Tanner. Instead, Lieutenant Tanner asks Aria if she's aware of Mr. Fitz being involved with any other students, such as Shana. This makes Aria a bit defensive.
Spencer texts Emily that Noel is at the school. Ali rushes up to Spencer and tells her that Lieutenant Tanner is back to question the girls. She reminds her that if one of the girls falls, they all fall. As Spencer tries to walk away, she spots Hanna walking in, clearly tipsy. Ali tells her that Caleb dropped her off and that Spencer should be following Hanna instead of her.
Emily is interviewing for the assistant swim coach position at the school when she sees a binder with the Boys Locker Assignments. She purposely leaves her phone on the coach's desk as she leaves, and then comes back in to get it – and snaps a photo of Noel's combination.
After Ella and Aria wrap up their conversation with Lieutenant Tanner, Aria sees Noel walking through the hallway and is momentarily distracted. Emily sneaks into the boy's locker room, goes into Noel's locker and steals his keys.
Spencer stops by Caleb's place and asks if Toby – or the Board of Health – has been there recently. His place is a disaster, and she makes it a point to tell him that Hanna has been a mess ever since he came back. He denies it and tells her that it's more about Ali. She makes a comment about Hanna not wanting to toast to Zack, but when she realizes that Caleb has no idea what she's talking about, she covers her tracks by mentioning the recent feud between Hanna and Aria.
Hanna finally stands up to Ali and tells her that her "stupid stunts affect a lot of people." As they're talking, Jenna walks in…giving Hanna the opportunity to walk out. Jenna and Ali have a quick conversation about Shana. Ali wants to know how Jenna turned Shana against her, but Jenna tells her that she didn't…Ali did.
Aria is sitting in the courtyard texting Ezra about the questions that Lieutenant Tanner was asking about him. She looks up and sees Hanna walk out by herself. Not wanting a run-in, Aria gets up and walks away.
Spencer is at the ophthalmologist to have her eye examined after the injury she sustained from the horse in last week's episode. She receives drops in her eyes, and begins to see blurry. She looks over at the receptionist's desk and sees Jenna. What's even more odd about this is that Jenna is accompanied by Sydney, who looks exactly like her. Both are wearing black sunglasses and identical clothing. Cue the hashtag #TwoJennas.
Emily takes Noel's keys and goes into his car. She finds an envelope with pictures of Ali and a recording device. She takes the envelope and gets a phone call from Spencer. Spencer tells her about Jenna and Sydney being at the ophthalmologist's office and then turns around and sees a message from A on the eye exam screen. It reads "Can U C Me Yet – A. "
After running some errands for the engagement party, Aria is left alone with Zack. She tells him that she had to update the guest list because Hanna can't make it. He makes her a bit suspicious when he begins to question why she can't make it. Emily rushes over to meet Spencer at the office and they run into Jenna and Sydney. She questions why Sydney never mentioned being friends with Jenna, and Jenna never gives Sydney a chance to answer any of their questions.
Hanna goes to Caleb's place and immediately grabs a beer. He begins to question why they're not attending the engagement party when Hanna has never turned down "free food and a chance to dress up." He asks if it has anything to do with the man that Ella is marrying and Hanna fesses up. Caleb tells her that there isn't any food at his place, so he's just going to stop by her favorite restaurant and pick something up.
Aria is preparing for her mother's engagement party and asks Ella if she's sure she wants to marry Zack. Ella immediately asks if Aria is mentioning this because Zack was inappropriate with her. She denies it and says that he might've been inappropriate with Hanna. Ella confesses that there was an incident with Zack and someone else before they came back to Rosewood.
Caleb drives over to The Brew to question Zack about what happened with Hanna. He denies it and makes it seem as though Hanna was the one who came on to him. He hands Caleb a note that reads "Sorry if I acted shy before. I promise I'll make up for it. – Hanna." Caleb knows that this wasn't Hanna, so he punches Zack in the face. He goes back to his place – without the food he promised her. He tells her that he went to see Zack and shows her the note. He asks if there's a possibility that A got a hold of Zack. She realizes that A wrote the letter and gave it to Zack, prompting him to get in her car in last week's episode.
Emily is getting into her car and is interrupted by Sydney. Sydney gives her a sob story to try and cover up the reason she'd been with Jenna, but Emily doesn't buy any of it. She tells her that she's taking the coaching position so that she can watch her as much as possible and that she wants to see Sydney's face when she gets sucker punched as well. She walks away, leaving Sydney stunned.
Spencer goes to hide the envelope that Emily retrieved from Noel's car. Behind her, a sheet covering one of the chairs begins to move. She notices the movement and reaches for one of the pokers from the fireplace. She pulls the sheet off and finds Noel sitting in the chair. He tells her to give him the key so that he can take back what they took from his car. She asks if he's friends with Ali or not, and he gives her probably the most logical response regarding Ali. He tells her that Ali likes to throw people away when she's done with them and that he has to be prepared for it. He claims that Ali doesn't know he has any of the pictures or recordings that he has – which turns out to be proof that Ali was never kidnapped. Spencer asks if he's going to blackmail Ali, but he denies that and claims that the proof is insurance. He reveals that Shana was the one who had the items and she'd sent them to Jenna. Ali asked Noel to take them from Jenna's house. He broke into Jenna's house minutes before it blew up and he thinks it's odd that Ali keeps telling him he's lucky to have gotten out alive. He believes that Ali might've had something to do with the explosion. Spencer asks him what Ali has on him, but he refuses to answer. He reaches for the key and Spencer stabs his hand/arm with the poker.
Hanna is at Caleb's place pouring out all of the alcohol when Aria walks in. Aria tells her what happened with Zack and apologizes for not believing her.
Ali is at the Marin's house, and Ashley receives a phone call from the police station. Apparently they found the man that broke in and they want Ali to go down to the station to answer some questions. Ashley tells her that she'll go with her and reassures her that she's not alone.
After cancelling the engagement party, Ella is home crying when Mr. Montgomery walks in. Ella informs him that her and Zack are no longer engaged. Can we all just join hands and hope that Ella goes back to her ex-husband? He is obviously aware of how amazing she is!
Ali goes down to the police station and sees Lieutenant Tanner talking to a man who is confessing to everything that Ali has told the police since she returned to Rosewood. She seems surprised and isn't quite sure who the mystery man is. I mean, how is a stranger backing up Ali's fake story?
The episode ends with A sitting in the ophthalmologist's office. The assistant tells them that the doctor will be in shortly. As she walks out, A sits back and puts headphones on…where we hear a recording of Ali's lie about what happened to her while she was gone. It's exactly what the man in the police station is saying.
Could the mystery man be yet another one of A's minions? Does Ali know who he is? Will we ever find out what Ali has on Noel? Where has Melissa been? Stay tuned next Tuesday, August 12th at 8/7c to see if we get any more answers!
Twitter: @TheVRO
Facebook: Variety Radio Online
Tumblr: Variety Radio Online
//