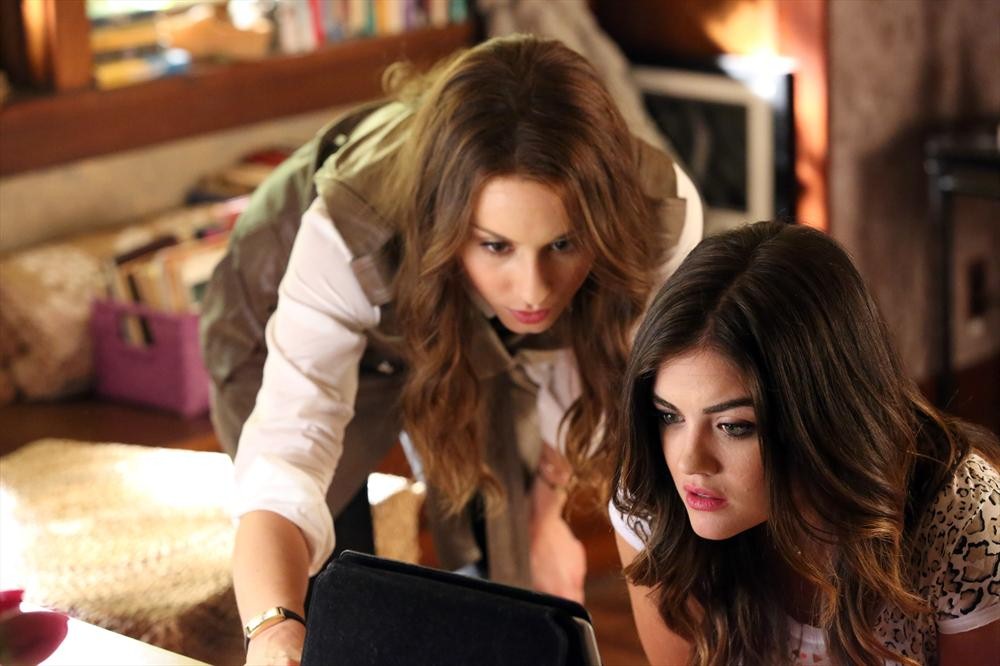 By: Kristin Trujillo (@kristin0409)
This week's episode picks up with Cyrus, the suspect who confessed to kidnapping Ali, sitting in the interrogation room. Mr. DeLaurentis goes to see Ali and asks if Cyrus is the man who hurt her, but she says she doesn't know.
After returning home, Ali tells the girls what happened, and they're confused as to why she claimed not to know when she wasn't actually kidnapped at all. They're convinced that A hired Cyrus and, as always, Ali tries to convince the girls to follow when he's released because he'll run right to A.
The girls ditch Ali and nominate Emily to go back inside to convince her not to ID Cyrus. Spencer shows Noel's insurance policy to Aria and Hanna and tells them that she's going home to stash it in a spot only she knows about. I sure hope it's not underneath the cushion on her red, leather chair because A definitely knows about that spot! Emily goes in to talk to Ali, but Ali tells her that she can't just say that Cyrus is innocent. They're interrupted by Mr. DeLaurentis before Emily can do any further convincing.
Hannah is cleaning up at Caleb's place while simultaneously explaining to him what's been going on with Ali. She tells him that she's tired of Ali being the driver of her life and that she's not going to sit back while Ali drives her off a cliff. She also reveals that, in an attempt to worry about normal things that don't have to do with Ali, she's going to attend a chorus audition.
Spencer is on the phone with Emily while preparing to hide the pictures and recording device they took from Noel's car. Where is she going to hide it, you ask? Why, underneath the cushion on her red, leather chair! Of course! She goes to open the box under the cushion and notices that the recorder that Ali had given her with the information she gave the medical examiner is now missing. She begins to frantically search around her room when Melissa walks in on her. Spencer receives a phone call while Melissa is in the room, and she thinks it's Emily. When she picks up, however, she hears Ali's voice from the missing recorder. When Melissa walks out, Spencer receives a text that reads 'Check Mate. – A'.
Hanna and Caleb are taking the road less detrimental and are out jogging together when they run into Spencer. Hanna doesn't seem interested in anything that Spencer has to say and just seems to want to stay out of all things Ali at the moment. She tells her that she has to be at an audition in an hour and literally runs away. Caleb tells Spencer that she asked him to help Hanna and that's what he's doing.
In an attempt to get one of the girls to watch the footage that Spencer gathered of Melissa, she goes over to Aria's house. In the video, they see Melissa talking to a guy in their backyard. She hands something to him and says, "Do it. Trust me. Do it." Spencer tells Aria that the footage was taken less than 24 hours before Cyrus confessed. She believes that the guy in the video could be Cyrus and that Melissa gave him the recording so that he could corroborate Ali's story to the medical examiner. Spencer suggests that they tell Lieutenant Tanner the truth so they can cut the cord with Ali before all of them get dragged down with her. Aria doesn't seem to like the idea because she's afraid that Cyrus could lead Tanner to the theater and simultaneously find out the truth about Shana, but she goes to Ezra for advice. He wants to speak to Ali, but Aria doesn't want him jumping back on the Ali crazy train and asks him to promise that he won't speak to her.
Hanna arrives at the chorus audition and as she's writing her name on the chalkboard, she turns around to see Mona warming up her vocal chords. Ugh!! This girl is everywhere!
As Ali is preparing for her father to return, Emily is talking to her about not letting an innocent man, Cyrus, to go jail. Ali confesses that he's the one who gave her the scar on her thigh that Hanna saw when they were at the medical examiner's office. A chopped flashback shows Ali in an abandoned basement, and she explains to Emily that Cyrus believed that she was just on the run. He told her she was special, but Ali realized that he didn't want her; he wanted her belongings and her money. Emily tells her that even so, she needs to let him go. Ali agrees.
Back in the chorus room, Mona is showing off some serious singing skills! Who knew that crazy Mona was such a great singer? Hanna is clearly annoyed at the showboating and makes it known. The girls are all called in for their audition, but behind Hanna we hear the music stands falling over. Hanna turns around to see Mona sprawled out on the floor. Does anyone else find it ironic that Mona was belting out part of "Gravity" by Sara Bareilles before gravity failed her?
Emily goes home and finds Spencer in her room with Noel's "loot" spread out on the floor. Aria told Emily about Spencer's plan to turn on Ali and she tells Spencer that it's not going to happen. She says that Ali isn't dangerous; she's hurt. Spencer doesn't seem convinced and even more so when Emily tells her that Ali asked her not to say anything to anyone. She tells her that Ali is going to wait out the 48 hour hold on Cyrus and that the whole thing will be over then. She suggests that Spencer talk to Melissa because she believes she has more to do with the whole situation than they initially thought.
After Mona comes to, she asks Hanna where her bag is and desperately asks her to bring it to her. Hanna goes over and can't resist the opportunity to take a peak inside. She finds a piece of paper with mugshot pictures of Cyrus.
Ezra is at The Brew and notices Ali sitting alone at a table. He attempts to keep his promise to Aria, but changes his mind and walks over to Ali. He tells her that she's not in this alone and that a lot of people have stood by her and gone along with her stories. Ali takes this as a threat and the two are interrupted by her father. Ezra says that he was just saying hello, and walks away…but not before Aria catches him doing exactly what she asked him no to do.
Hanna jumps into Mona's car, which turns out to be a rental, as she's listening to some sort of radio that picks up nearby Bluetooth signals. She notices that Mona recovered quickly after fainting in the chorus room, and questions her about the mugshot of Cyrus from her bag. She tells Hanna that she wants to find out who's behind the Cyrus situation as well. As they're sitting in the car, they notice Lieutenant Tanner exiting the building along with Ali and her father. They get into a car and Mona taps into Tanner's phone. Hanna wants to follow them, but Mona tells her that she's not there to follow them; she's there to follow Cyrus.
Aria asks Ezra what he said to Ali and makes it very clear that he made a horrible decision by speaking to Ali in the middle of town. If Tanner connects him to Ali, they'll face a whole new slew of questions. He apologizes, but she's not letting up. He asks why she's so upset, and she finds a picture of her mother with Zach. Does anyone else have the feeling that her anger towards Ezra is somehow related to the conversation she had earlier with her mother about love and letting go?
Spencer tries to sneak into her house after poking around the barn, but she's caught by Melissa. She confesses that she looked at Melissa's computer and saw that she was looking into flights to several places, including London, Zurich and Taiwan. Melissa doesn't like being questioned, but Spencer asks her if someone is making her do something that she doesn't want to do. She's suspicious because she knows Melissa was working with Mona, but Melissa insists that she was only working with Mona to prove that Ali was still toxic. She tells Spencer that they both know that Ali wasn't kidnapped. Spencer asks what she did, but Melissa tells her that she can't tell her and that honesty doesn't come easy to their family. She tells her that it's not safe for her in Rosewood anymore and suggests that maybe Spencer should go with her.
Tanner takes Ali and her father to the abandoned basement that Ali was thinking about earlier. In a flashback, we see Cyrus stealing her bag from the basement and then stabbing her in the thigh. Tanner asks if she remembers the basement and Ali responds by saying that she could never forget it.
Hanna and Mona are discussing their distrust for each other and Mona tells her that she started having panic attacks since Ali came back to Rosewood. Hanna gets a phone call from Caleb, and lies to get him off of the phone. The two girls overhear Tanner calling the station to report that Ali identified the basement and for them not to release Cyrus from police custody. Typical Ali! Hanna sends an SOS text to the other liars informing them that Ali has gone rogue…yet again.
When Ali returns home with her father, Emily, who isn't happy, greets her. Ali tells her that she has a plan, but Emily doesn't want to hear it. She tells Ali that she's done with her and walks away.
Hanna is home, explaining everything to Caleb. She tells him the truth about where she was and whom she was with. The girls meet up, and Emily tells Spencer that she was right; that they need to cut ties with Ali as soon as possible.
Cyrus somehow escaped from police custody and is standing alone in the woods. He's met by Ali…or is it Vivian Darkbloom? She hands him a ticket and tells him to use the opportunity to start over.
The episode ends with Melissa on video attempting to tell Spencer the truth. It cuts to A neatly folding clothes and a candy stripe uniform.
Ah! The usual onslaught of questions following each episode! What will happen now that Cyrus has escaped police custody? Why was Ali dressed as Vivian Darkbloom and why did she help Cyrus escape? Will the other liars find a way to finally cut the cord with Ali? Who was Melissa meeting with in the footage that Spencer found? What secrets will Melissa's video reveal? What's the deal with the candy stripe uniform?
Stay tuned next Tuesday, August 19 at 8/7c to see if any of our questions are answered!
Twitter: @TheVRO
Facebook: Variety Radio Online
Tumblr: Variety Radio Online
//