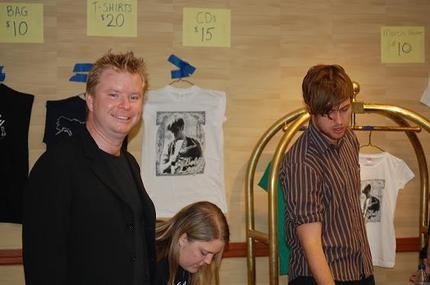 Two great interviews with Phil Taylor wanted to be involved in the music business since learning to read the sleeve notes on the back of Beatles records when he was about 4 years old. He decided he wanted to be a music manager by the time he was about 13. Having moved to London as soon as he could, he met the song writer Tim Rose in a coffee shop on the Kings Rd and followed the advise Tim proffered. "Just get on with it kid, find some one who can write songs and sign them". At around this time Phil started working as a personal assistant for an act signed to BMG in the UK. Vicki Wickham managed the act and the two have been friends ever since. "Vicki is the most helpful person I know. She was there with the great managers of the 60's and 70's and helped shape popular culture as we know it, and she is still at her desk offering me her wisdom now!" Phil set up his production company Up All Night Music in 1998 and began promoting bands and acoustic acts in and around London. "At that time it was all that awful dance music and no actual musicians could get a gig, so Phil bought a little PA system and started booking acts hisself. Pretty soon He had 6 nights each week and an office in Denmark St. Phil thought he had finally arrived, He was 23!
For our first interview with Phil click HERE.
For our 2nd interview with Phil click HERE.
Twitter: @TheVRO
Facebook: Variety Radio Online
Tumblr: Variety Radio Online