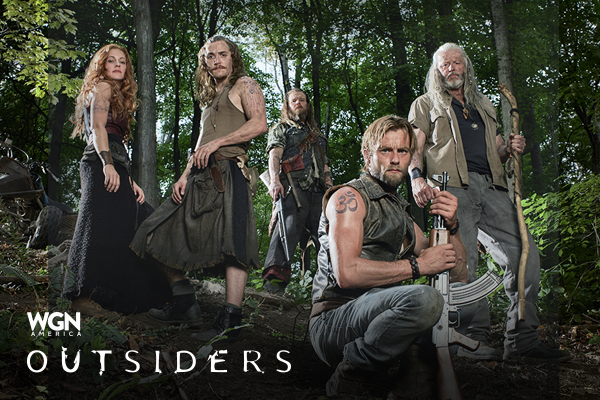 Ryan Hurst and Kyle Gallner Call into Variety Radio Online to talk to Mike(TheMoiveGuy) to talk about their hit show #Outsiders
RYAN HURST (Lil Foster)
Ryan Hurst is recognized as a formidable creative presence who humbly and consistently brings unforgettable characters to life. On the smash hit Sons of Anarchy, sritics and fans worldwide celebrated Ryan for crafting one of the most compelling characters in cable drama history as "'Opie' Winston." Hurst's television credits include in A&E's Bates Motel, a recurring series regular role on NBC's Emmy award-winning Medium, series regulars roles on TNT's King and Maxwelland their action-packed cop drama Wanted; and Steven Spielberg's miniseries Taken for the Sci Fi Channel. Film credits include his breakout performance starring opposite Denzel Washington in Disney's highly successful Remember The Titans, for which he also directed the film's second unit footage. Additional roles include Steven Spielberg's Saving Private Ryan, the Coen brothers' The Ladykillers with Tom Hanks, We Were Soldiers with Mel Gibson, Patch Adams with Robin Williams, Rules of Engagement with Samuel L. Jackson and Disney's animated feature Rango with Johnny Depp. Hurst is an accomplished writer, director, producer, editor, veteran freefly skydiver, motorcycle enthusiast and a devoted teacher and student of Kundalini Yoga.
KYLE GALLNER (Hasil)
Kyle Gallner began his acting career in his early teens out of Westchester, Pennsylvania, debuting in the classic feature Wet Hot American Summer. He then moved out to Los Angeles and worked steadily in films. He later gained further popularity as a series regular on CW's hit series Veronica Mars playing "Beaver" and continued on in great guest appearances on dramas like Cold Case, Medium, The Closer and Criminal Minds. He also had recurring arcs on Jack & Bobby, F/X's The Shield, CSI: NY, HBO's Big Love, and as "The Flash" in Smallville, to name a few. Gallner's feature credits include: Dreamworks' Red Eye and Ariel Vromen's Danika opposite Marisa Tomei, Fox Atomic's Jennifer's Body with Megan Fox and Amanda Seyfried, New Line's Nightmare on Elm Street produced by Michael Bay, and the Lionsgate hit A Haunting in Connecticut opposite Virginia Madsen. In 2011, Gallner was singled out by the Hollywood Reporter as one of the next Breakout Stars of Sundance where he starred in Kevin Smith's Red State opposite Melissa Leo as well as in Little Birds opposite Juno Temple, Kate Bosworth, and Leslie Mann. Other Sundance hits Kyle premiered in included the feature Smashed with Aaron Paul and Red opposite Brian Cox. Kyle was also singled out for his work in the feature Beautiful Boy opposite Michael Sheen and Maria Bello as well as in SXSW comedy indie Cherry. Kyle continued on to the indie films CBGB playing "Lou Reed," Just Before I Go opposite Garret Dillahunt, Gardens of the Night with John Malkovich, and many more. Kyle's more recent work in television includes appearances on AMC's The Walking Dead, web hit series Jan opposite Stephen Moyer and CW Seed's comedy Play It Again, Dick. Last year Gallner gave a memorable performance in the Sundance favorite Dear White People directed by Justin Simien and Warner Bros smash hit American Sniper, directed by Clint Eastwood, alongside Bradley Cooper and Sienna Miller. Gallner will next appear in Walt Disney Pictures' The Finest Hours opposite Chris Pine and Casey Affleck and recently wrapped the feature's Band of Robbers with Matthew Gray Gubler and Hannibal Buress, Zen Dog with Clea Duvall, Welcome to Happiness with Nick Offerman, and Master Cleanse opposite Anjelica Huston and Johnny Galecki.
Variety Radio Online – – Bringing you all things Entertainment including News, Reviews and Interviews. Check out our website, like us on Facebook ,follow us on Twitter ,Tumblr and Instagram