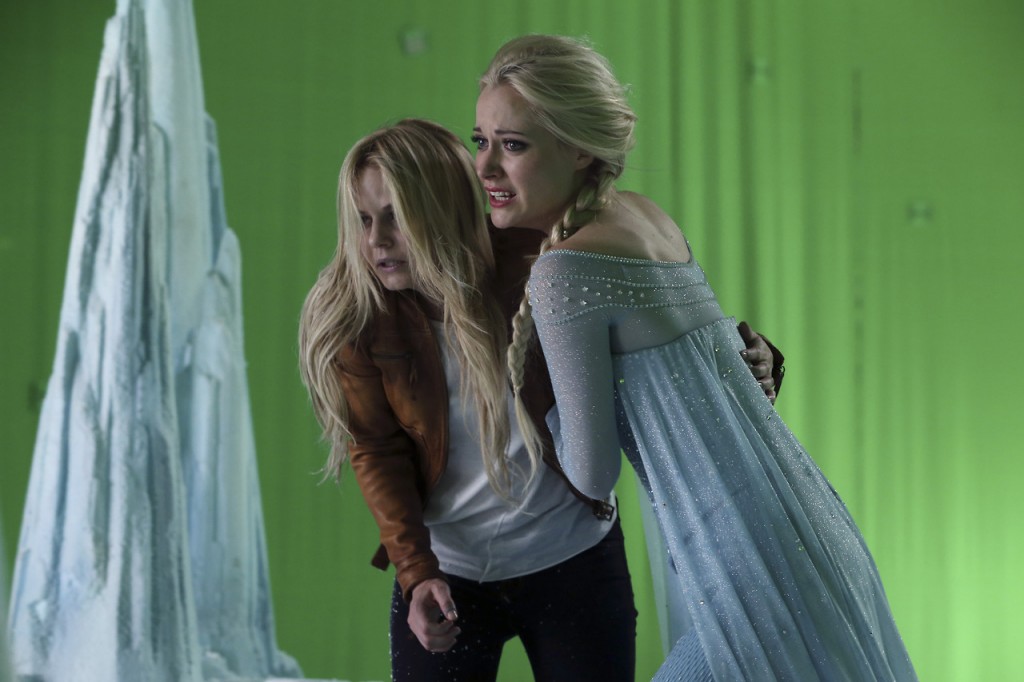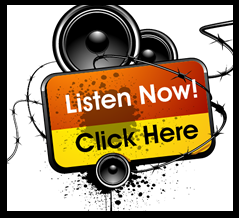 by: Emily Konopka
Hopefully the cold doesn't bother Storybrooke, because Elsa encased the town in a frosty cage on this week's Once Upon a Time.
Continuing right where last week left off, Elsa is determined to find her sister. She decides that until she finds Anna, no one will be able to leave Storybrooke. In a nod to one of the biggest themes of the night, Elsa erects a wall of ice and snow around the border of the town.
Speaking of walls, Henry has started to put some distance between him and Emma. He is upset that his other mom, Regina, has closed herself off even from him. See what I meant about walls? And just wait, there's more. Not only did Elsa's frozen wall cage the town in it also knocked out the power for the entire town. As Emma and David go to inspect the town line ice wall, David notes that Henry's distance is not a surprise, since both of his mothers put up walls when they're troubled. To David's dismay Hook shows up soon after he and Emma.
Once again facing an icy threat, Hook jokes that he should have brought some champagne. Since he and Emma never have time for a formal date, he might as well count their adventures as dates from now on. Emma notices someone behind the wall and goes to investigate. David turns on protective daddy mode, and says he thinks it is time he talk to Hook about his intentions with his daughter. Ready to prove him wrong, Killian says that whatever happens between he and Emma is as much her decision as it is his, consent for the win!
Lingering behind the wall is a frightened Elsa. Emma tries to talk to her but when David and Killian try following Emma, Elsa gets startled and ends up trapping Emma inside the wall with her. When the snow settles, Killian and David realize that Emma is trapped inside with this powerful unknown sorceress. At first, everything is just fine, Emma gets Elsa to talk, and she finds out that all she wants to do is find her sister. Elsa keeps insisting that she wont bring down the wall until she is reunited with Anna. Little does Emma know is that Elsa literally cannot bring down the wall without Anna, because Anna is the person who helps Elsa focus her magic.
On the other side of the wall Killian is nearly distraught that Emma is trapped behind this thick block of ice. David concludes, since Killian's hook won't make a suitable ice pick, the only way to bring down the wall is with magic. Emma communicates with them via her walkie, and let's them know Elsa is searching for her sister Anna. When they reach Mr. Gold's shop, David comes to the realization he knows exactly who Elsa is looking for.
In the fairytale land of the past, Anna finds her way to a small farm. Apparently Kristoff has one friend in the Enchanted Forest and that one person is David. Anna, or Joan as she's calling herself (nice Frozen reference there Jane Espenson), lets him know that she's on a top-secret mission and just needs a place to stay for the night. The ever-perceptive David notices the ring on Anna's finger immediately recognizing that she is Kristoff's fiancé.
Things aren't all happy go lucky for David and his mother though. A vicious warlord named Bo Peep, yes you read that correctly, has been terrorizing their village extorting farmers left and right. It was a slow month for the farm, so they don't have the money. To assure she'll receive her payment, Bo Peep brands David and his mother with her shepherds hook. This hook possesses the magical ability to track her "flock" at all times. Later on, Anna tells David that he should fight back, because the impossible fights are the ones most worth fighting. We find out that David's father was a drunk, and his addiction cost him his life. Now it makes so much sense why David had so many fears about being a failure of a father.
Anna decides that she is going to help David fight back by teaching him to sword fight. He gives up at first, because let's face it shepherds weren't made to sword fight, but Anna convinces him never to give up, and teaches him a few of his trademark sword tricks too. Love seeing how a humble shepherd was able to fall so easily into the role of daring Prince Charming. Thanks to Anna, David is able to defeat Bo Peep. Before she goes on her way, Ruth tells her of a man who might be able to help her…Rumplestiltskin…I don't foresee that going well for Anna.
Back in town things behind the wall aren't so great anymore. Emma is freezing to death, and Hook is getting more frantic by the second. Somehow even though she's on the brink of hypothermia, Emma manages to bond with Elsa over the fact that they both have powers they don't know how to control. I am all here for an Elsa/Emma friendship. Since David has realized the person Elsa is looking for is his old friend Joan, he knows just how to find her. Bo Peep, in one of the more hilarious Storybrooke identity reveals, is working at a butcher shop. They take her staff and bring it to the town line.  With a promise they'll be able to find Anna, and some familiar encouraging words from Charming, Elsa manages to control her powers enough to forge a hole in the ice wall.
After Killian spent the entire hour distraught over Emma's well being, he finally proved to Charming that me means business. Emma immediately seeks warmth in Hook's arms, and cue the girlish squeals of an entire fandom (again, thank you Jane Espensen). Back home at the loft the power restored, thanks to newly appointed? Mayor Mary Margaret, Henry and Hook tend to the nearly frozen Emma. It's as if the world melts away, pun not intended, and Killian is the only one in the room for Emma. They link hands, they're practically snuggling for warmth, it's safe to say Hook and Emma are serious about this whole couple thing. Bo Peep's staff is unable to specially locate Anna, but one thing does register…her heartbeat. David promises Elsa that they will find Anna, because their family never gives up on finding people.
Now that Elsa has control of her powers, she goes with Emma to try to take down the wall, but for some reason it just won't budge. Right before the credits rolled we got a chilling introduction to the true villain of the Frozen arc. Cleverly hidden as the town's ice cream shop owner, we meet Elizabeth Mitchell's secret character, The Snow Queen.
Next week it looks like the Snow Queen wastes no time in starting to terrorize the town.
Follow me on Twitter so we can chat all things Once Upon a Time!
Twitter: @TheVRO
Facebook: Variety Radio Online
Tumblr: Variety Radio Online
//