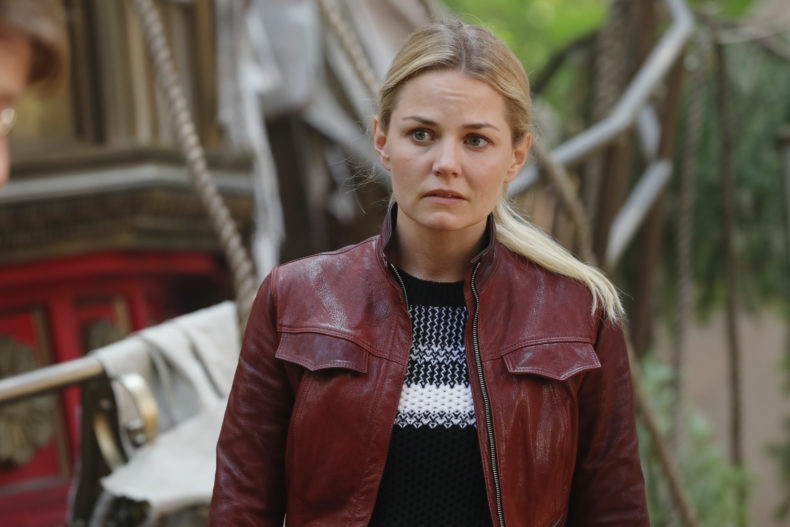 Once Upon a Time is back and so is the Evil Queen, not to mention hope, redemption, romance, angst, and a whole slew of new stories to tell.
One of those new stories we got a snippet of right out of the gate. If you're an avid Oncer like myself you've likely seen this scene many times in the months since San Diego Comic Con. We meet Aladdin and Jafar and find out that our favorite street rat from Agrabah is in fact a Savior himself. Did you really think Emma would be the only one? This is Once Upon a Time we're talking about here. Things don't look too great for Aladdin when Jafar comes to pay him a visit, but we'll have to put a bookmark in that story for now because that's all we're getting at the moment.
When we find ourselves in Storybrooke we see the yellow bug parked outside Emma (and Hook?)'s house. They're one story, or ship, that is sailing full steam ahead. After becoming a Dark One, turning her boyfriend into the Dark One, killing him to save the town, going to the Underworld to save him, finding out he's her true love, and then having to leave him behind, Emma definitely deserves more than a short-lived tear-stained graveyard reunion with her pirate. It seems like Hook and Emma would agree because we find them tangled up in each other on the sofa of their home. (I'm curious though has Killian officially moved in yet or will that come later?). Since Henry is with Regina and her parents probably won't come knocking, it's time for some of that "fun" Killian promised oh so long ago and in case we weren't aware already, Killian has a thing for Emma's red leather jacket. But before things can get too steamy (yeah I'm salty about it too), a dirigible from the Land of Untold stories flies in alerting the lovers that duty calls.
Dr. Jekyll fills our heroes in on where the mysterious ship came from, and Hyde is there to confirm his evil plan. Rumplestiltskin gave him the keys to Storybrooke so as far as he's concerned, this town is his for the taking. Somehow Mr. Hyde is impervious to magic blasts so he flaunts about warning there is nothing more dangerous than an untold story and the people who don't want them told. Ooh, ominous.
Hyde's warning aside the heroes head straight to where the dirigible landed to see if they can find any of these people with untold stories. The ship however has been cleared out, its residents have fled into the woods. All hope isn't lost though, Dr. Jekyll thinks he can make a stun gun to immobilize Hyde from the wreckage of the dirigible.
Things start to get a little shaky for Emma. She can't quite control the tremors in her hand and she's seeing herself fighting off a hooded figure with a sword. Looks like the Savior troubles have caught up to her. Killian can tell that something is off but Emma assures him she is fine. Oh Emma, haven't you learned by now that Killian can read you like an open book?
Meanwhile Regina has been going through a lot. She's still reeling from the death of Robin Hood and on top of that trying to form a relationship with her sister. Zelena has moved in to Regina's place and it looks like a twister hit her living room, understandable since she has a newborn baby to take care of. Things get a little tense when Regina finds out Zelena has misplaced the gift Roland left for her. The two haven't exactly figured out how their relationship is going to work. For now Regina thinks it's best Zelena stay back with the baby while they take care of Hyde.
When the time comes to confront Hyde, Emma's issues only get worse and he definitely notices. It seems like Hyde is quite familiar with the curse of being a savior. He tells Emma that if she wants to find out what's really going on with her tremors, she'll come to him. Hyde gets hauled off to the asylum, which is apparently the new prison in Storybrooke? Of course Emma's curiosity gets the best of her and she returns to talk with Hyde alone. He tells her that he can sense she's been in prison herself, she has that "caged" look in her eyes. But Emma knows exactly how to hit back to get what she wants from Hyde. Mr. Dramatic monologue won't take too well to being locked up and lonely so if he wants even a chance of company he'll have to fess up. He tells her that she should follow a red bird and it will lead her to the answers she seeks. Gee thanks that's really helpful.
Snow and David happen to find a group of visitors while combing the forest and they offer them food and shelter at Granny's. Emma and Hook were helping to look but once they get word everyone is headed to Granny's Hook is more than ready to get outta dodge. Emma however spots a little red bird and decides staying in the cold, dark, forest sounds like a better idea. Killian is clearly not buying her lies, but he doesn't push her on it because he knows whatever it is she'll tell him eventually. This mysterious bird leads Emma to a girl, who just so happens to be an Oracle. The Oracle tells her that her visions aren't bad dreams, they're a glimpse into the future. Basically since she's the savior she's doomed to be miserable and her demise is inevitable. Emma sees herself battling a hooded figure who ultimate does her in. Say what now? According to this shady girl Emma Swan, our Savior, is going to die? Hands up if you're calling major BS on this one. The Oracle tells her that no matter what she does to try and change her fate the result will always end up the same. So I guess we'll have to see how this all plays out.
You might be thinking, what's Rumple been up to since he handed the town over to Hyde? Before departing to Storybrooke Hyde gave him a little tidbit of information to help him wake Belle. If he heads to the temple of Morpheus he will be able to enter Belle's dream world and wake her. Only problem is he'll have to make her actually fall in love with him again. You see in Belle's dreams she's still a scared servant girl for the mean ol' Dark One. Rumple pulls some Beauty and the Beast inspired tricks, gives her a yellow ball gown and asks her to dance in hopes that she'll see that she loves him. The only thing is she realizes that it all seems too familiar. Morpheus pops back in to congratulate Belle on not falling for Rumple's tricks. Apparently that was his plan all along in getting Rumple to find Belle. Morpheus knows that he can now wake Belle with true love's kiss. Yes you read that right, Belle and Rumple's son appeared in Belle's dreams as Morpheus so he could wake his mother and get her away from his father. Man talk about family issues. When Belle wakes she takes her son's warning to heart and leaves without Rumple.
Regina and Snow have a heart to heart where she finally admits that she was a terrible step-mother to Snow. Snow tells her that as messed up as it is, Regina trying to kill her was what helped her find hope. (Gee, thanks?) Henry helped his grieving mother by suggesting that Hades was lying. Robin's soul wasn't obliterated (and now that we know Sean Maguire is on tap for some kind of arc this season I think it's safe to say that is true), and Regina tells Snow that she is going to have faith and believe that he is right.
Emma returns to Granny's to find Hook drinking alone, but he has a glass waiting for her. She promises him that she just needed to get some help, lie, and that she talked to Archie and is feeling better, lie. It's clear Hook takes this knowledge with a grain of salt but Emma gives him a sweet kiss on the cheek to reassure him.
In other Regina related developments she is still trying to process everything that is going on. She and Zelena get into another fight and she admits that she blames her wicked sister for Robin's death. Zelena on the other hand feels betrayed by Regina because she doesn't confide in her, she'd rather talk to Snow White. Most importantly when she split herself from the Evil Queen, she got rid of the part of her that Zelena identified with most. Zelena retreats back to her farm house with baby Robin, and when she arrives she finds that the Evil Queen is not gone after all. She's waiting with apple martinis for some sisterly bonding.
So what did you think Oncers? I'd give this premiere a solid B. It exceeded my expectations, which if I'm being honest weren't that high. But I am very interested in seeing where this Emma storyline goes even though I don't think there is the slightest chance Emma is really in any danger. How long do you think Emma will keep the secret from Hook and her family?
Twitter: @TheVRO
Facebook: Variety Radio Online
Tumblr: Variety Radio Online
//